The idea of a traditional dining table is gone by the wayside as now the dining table is not just useful for fine dining, but also an important part of the décor. Make this place more than just a table that is surrounded by chairs. A dining area can be everything you need from just a place to eat to a dedicated room to host parties and entertain guests.
In modern times, when everyone is busy in their own lives, the dining room is probably the only place where family members gather and share their stories and spend some time together.
Whether you're looking for a dedicated wholesome dining room and entertainment area or for a modern dining table design, you're bound to find it here. We have rounded up some modern dining table décor ideas for 2023 that can elevate your space. Check it out and we are sure you will want to reconsider the décor of your dining area. Let's get going.  
1. Antique Decor
Let's start by giving your dining room a vintage feel with all the antiques and timeless items. Make the place feel unique by adding vintage chairs and a hutch, timeless vases and rugs, and decorative pieces like pots and paintings. Pair antique silverware with this décor and make the place stand out from others.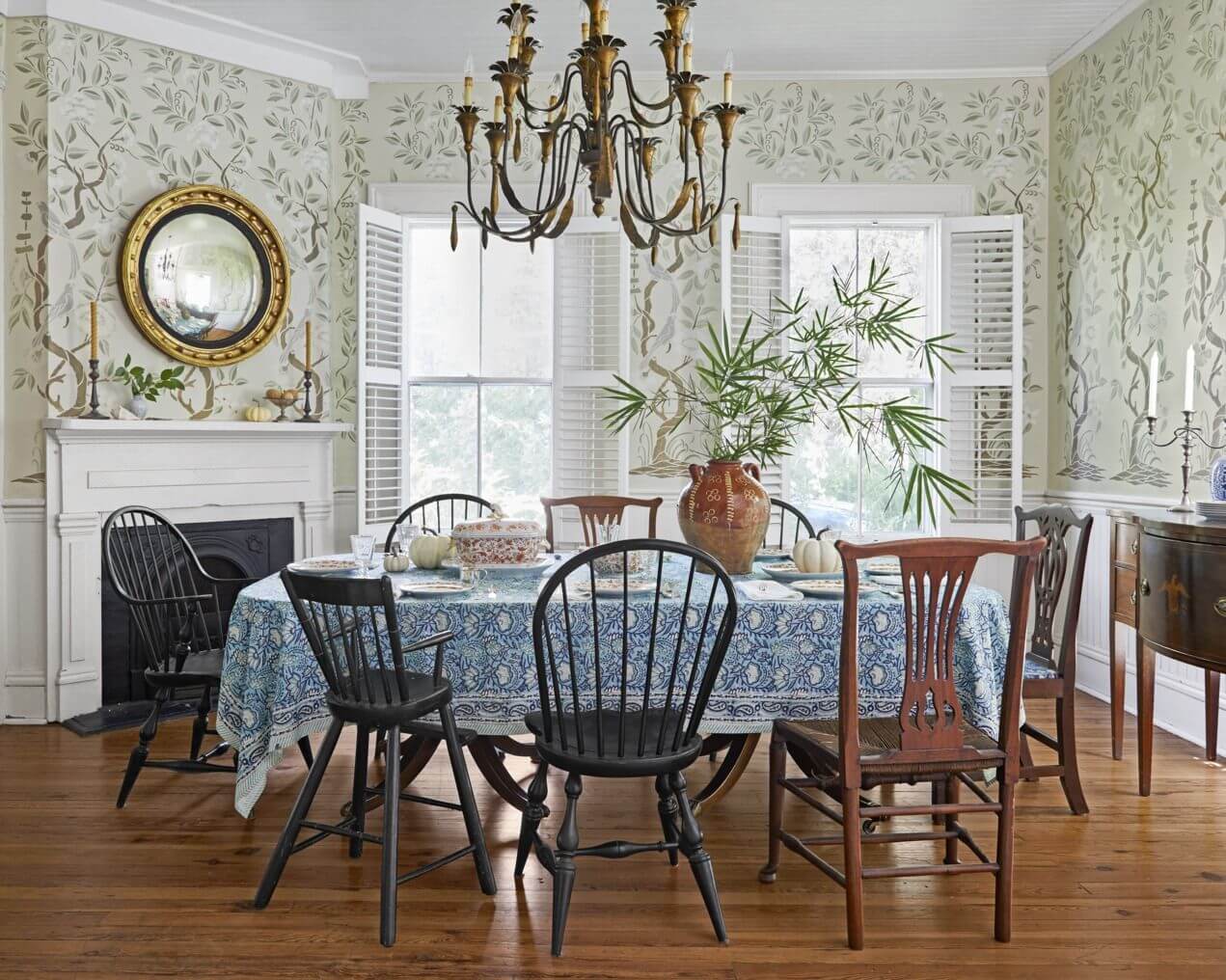 2. Custom Centerpieces
Take your table space to the next level by adding custom centerpieces such as flowers, decorative pieces, or unique candles. You can also add metallic pieces to make the place look shiny and upholstered. You can also cluster your favorite pieces to make a relative and simple centerpiece. Keep the items that are more varied and colorful and make the whole look greater than the sum of its parts.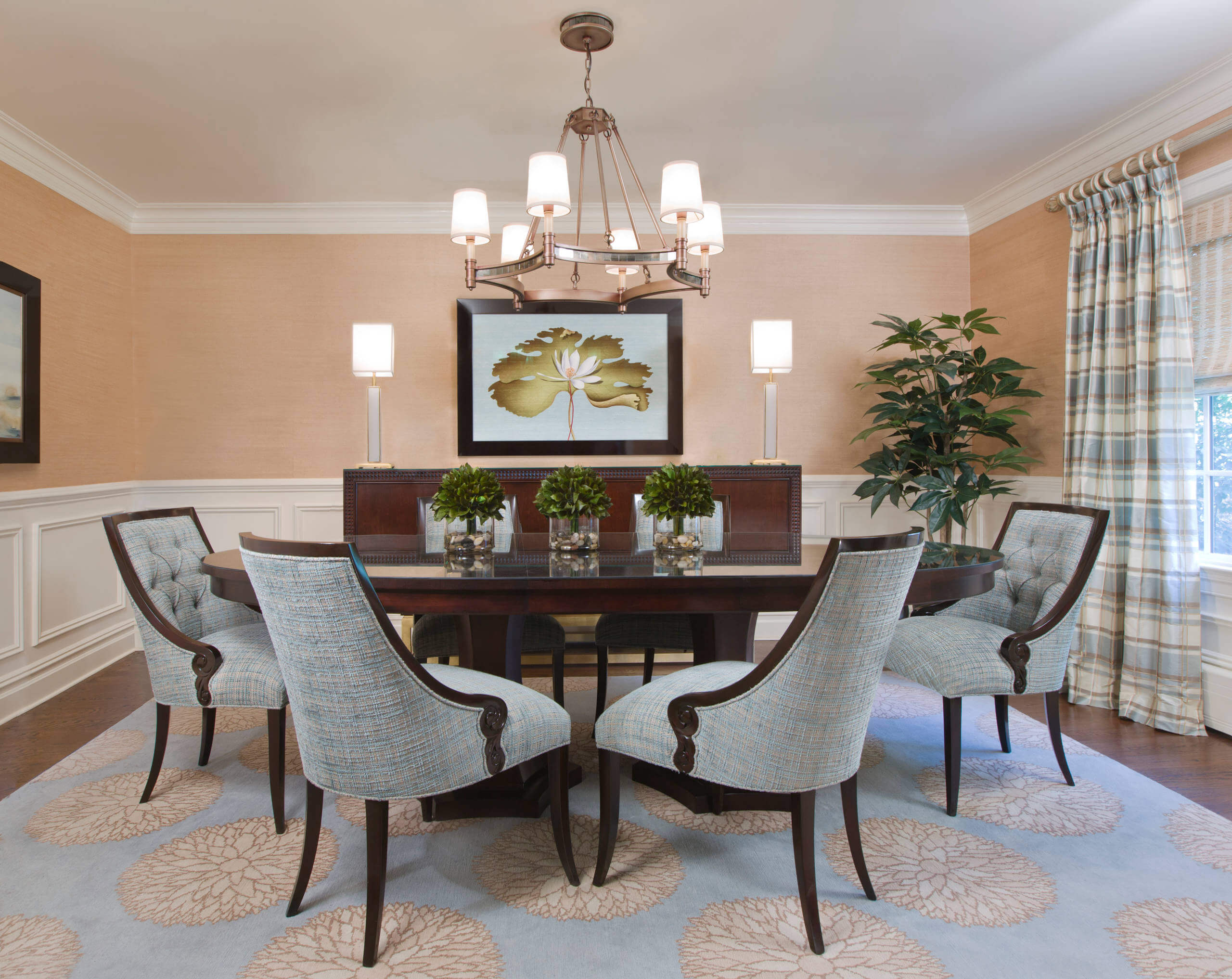 3. Play with color
If you own a smaller area for your dining space, we have the perfect solution for you. Create an illusion of a bigger place just btay playing with colors. You can also add neutral colors along with a touch of bold colors and pair the same by allowing natural light to flow freely throughout the place.
4. Wall decor
For every artistic soul out there, we have a great way to bring a touch of art and aesthetics to your place. Add a work of art that speaks to you and transform the otherwise boring place into an aesthetically rich place. All you need to do is add drawings, quirky illustrations or paintings, or even a mini blackboard can do. You can also make a bolder impact by accenting a wall with a mural wall covering.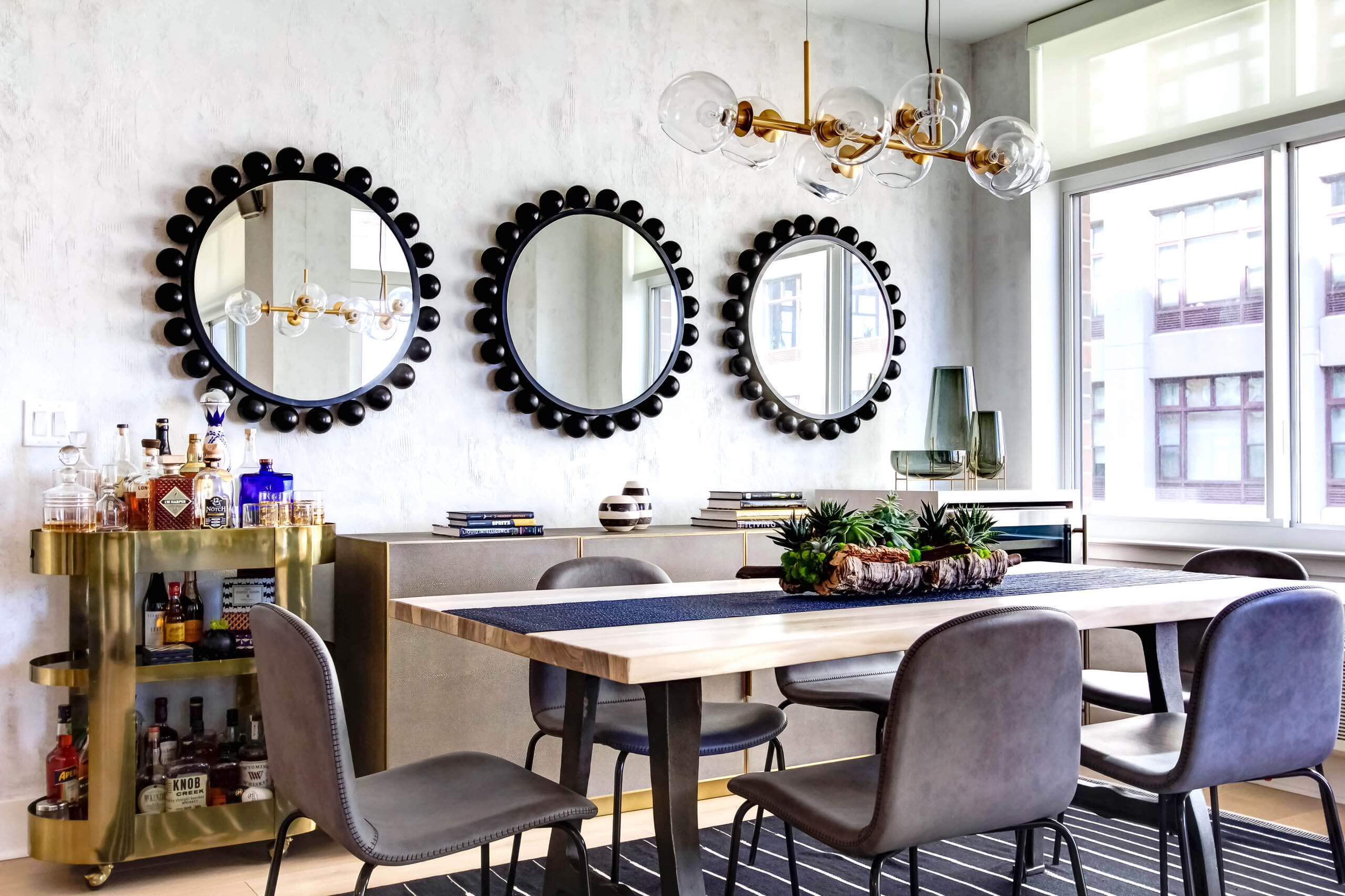 5. Contemporary fireplace
Want a perfect place to host dinners on a chilly winter evening? If a full-blown mantel isn't much to your taste, opt for a contemporary fireplace. Warm up your dining room with a sleek fireplace and make it a combination of both the dining and living room. Make it look more cozy and warm by adding some extra candles. This setup can also make the place perfect for hosting a Christmas dinner.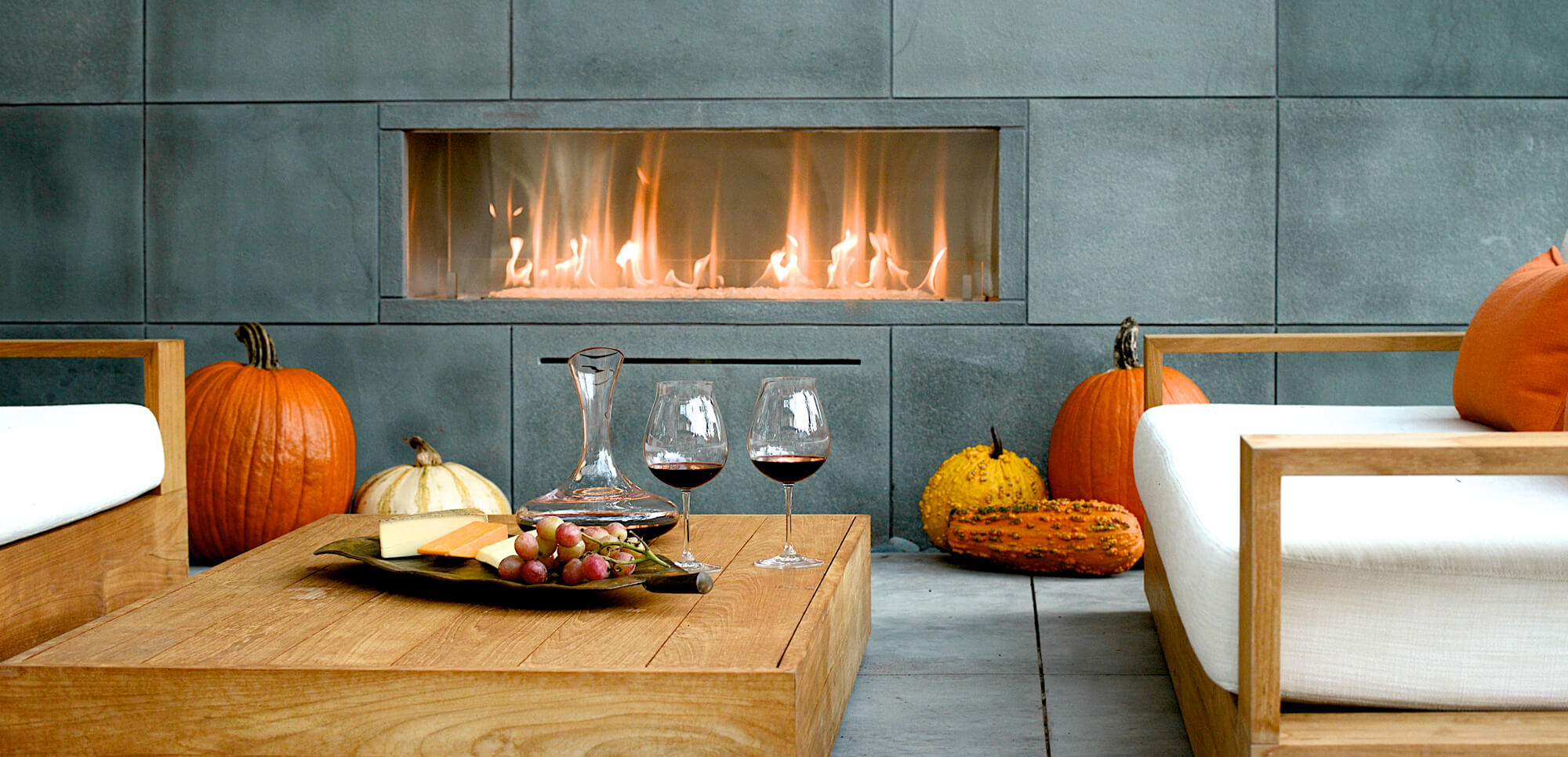 6. Add Table Accessories
Make a classic place look more contemporary by choosing the right type of accessories such as a table runner and luxurious cutlery. You can also pair the color of these table runners and cutlery with the décor or can add a pop of a different color with this to make it stand out and look attractive.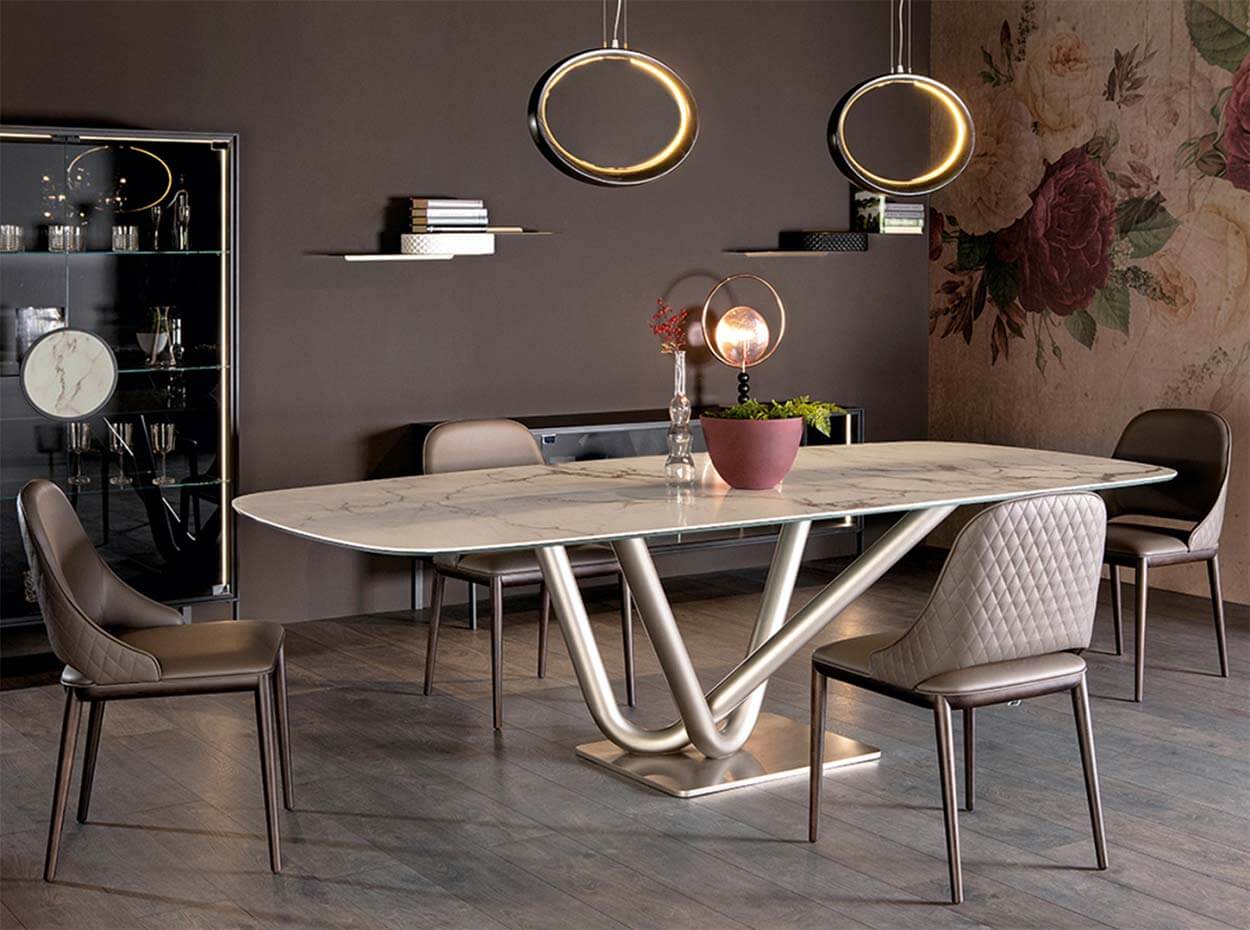 7. Use Bright Palette
Don't shy away from going all bright and bold with the hues. If you have an otherwise neutral colored décor and want to highlight a single element, you can go with bold hues with a table. This is the best option if you have to accent things in a smaller space. Did we mention it? It is super economical too!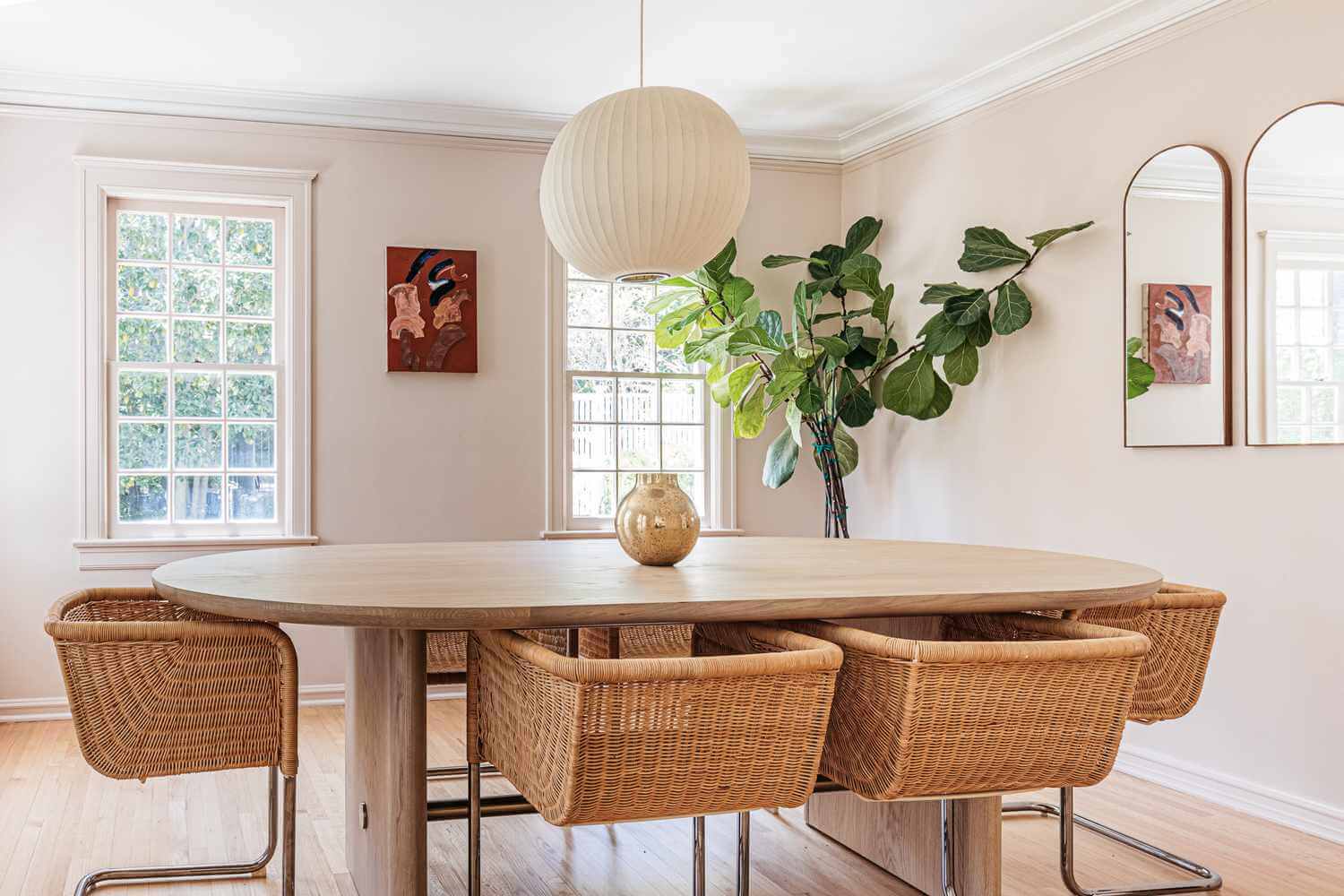 8. Traditional plus Vintage
When traditional meets vintage, the result is always high-toned and chic. Don't believe us? Here's the proof. Keep the elements such as the chandelier and table traditional and redecorate the surroundings with vintage-inspired gallery and classic chairs and see the difference yourself.
9. Use of metals and mirrors
In spite of going with huge décor elements and using all the space, you can add simple yet classy contemporary elements such as glass and metals. Adding mirrored panels can elevate the length to create a large dining area and the metals can make it look elegant and expensive. Also, you can add depth to the place if the space is really narrow and dark.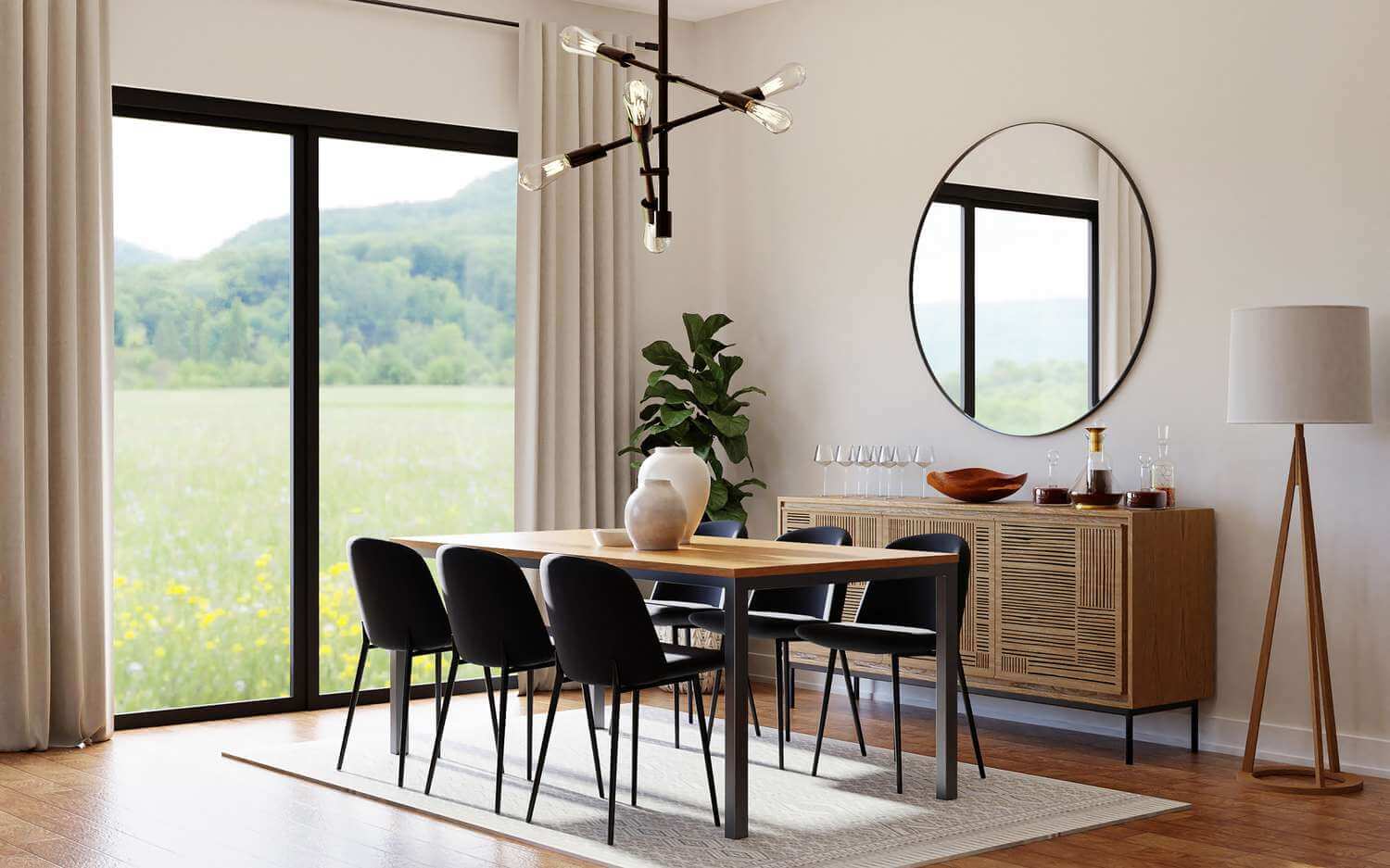 10. Focus on surroundings
By surroundings we not only mean the walls and lights, but also the top and bottom of the dining area. A smart use of a pendant light or sleek chandelier can make your dining table décor all posh and fancy. Also, playing with textures and adding rugs can demarcate the dining space from the adjoining living or kitchen area.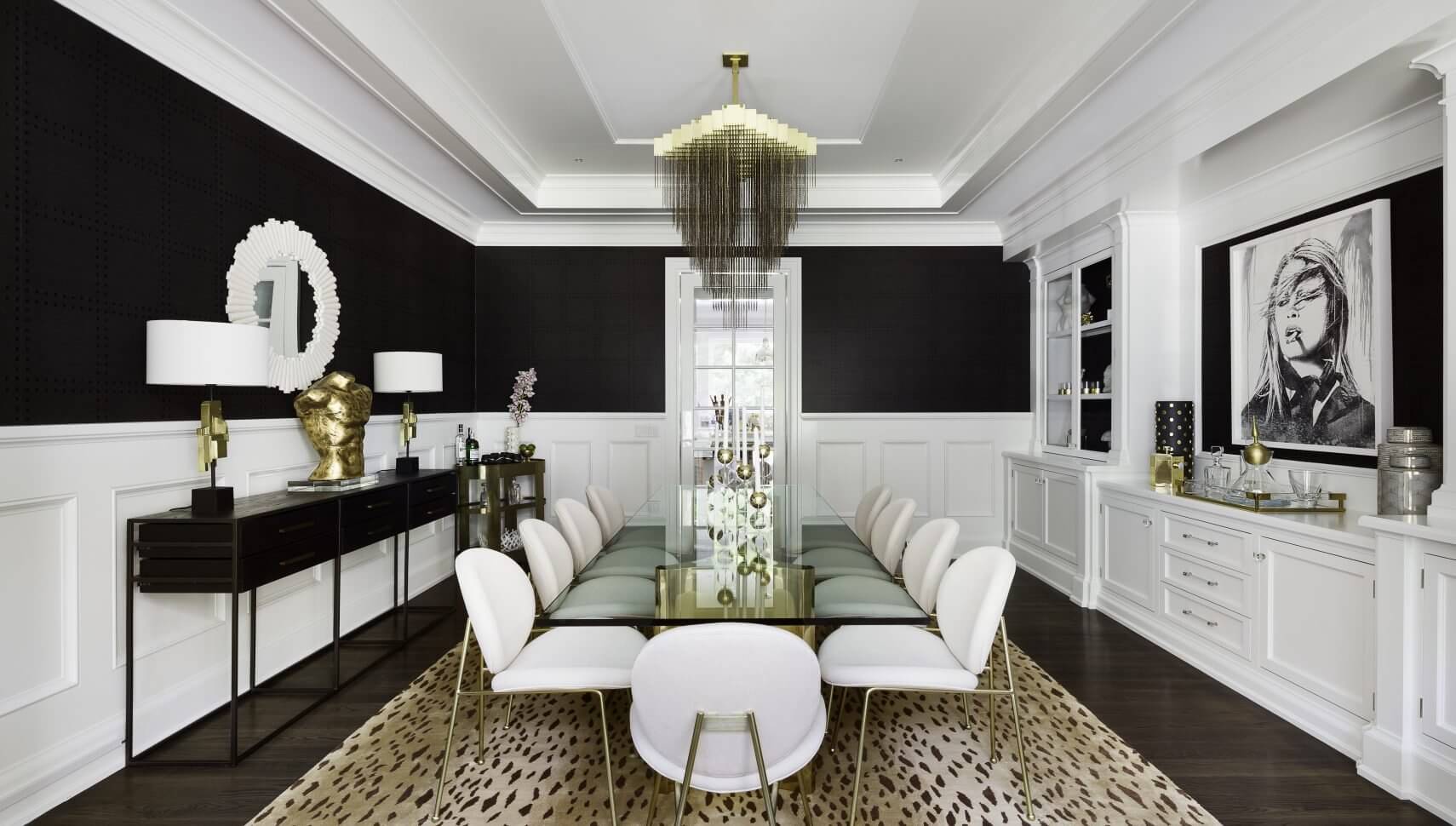 11. Play with the wall
The wall of your dining space gives you a canvas to show off your creativity. You can choose your accent wall and can do so much with it. It can be just painted with a bold color, accented with wallpaper, used as storage by creating a cabinet to store cutlery, showing off your paintings, built as a bar, used as a bookshelf, or using a wall art of your choice. Just don't be afraid to take a risk and see the magic this wall brings to your ding space.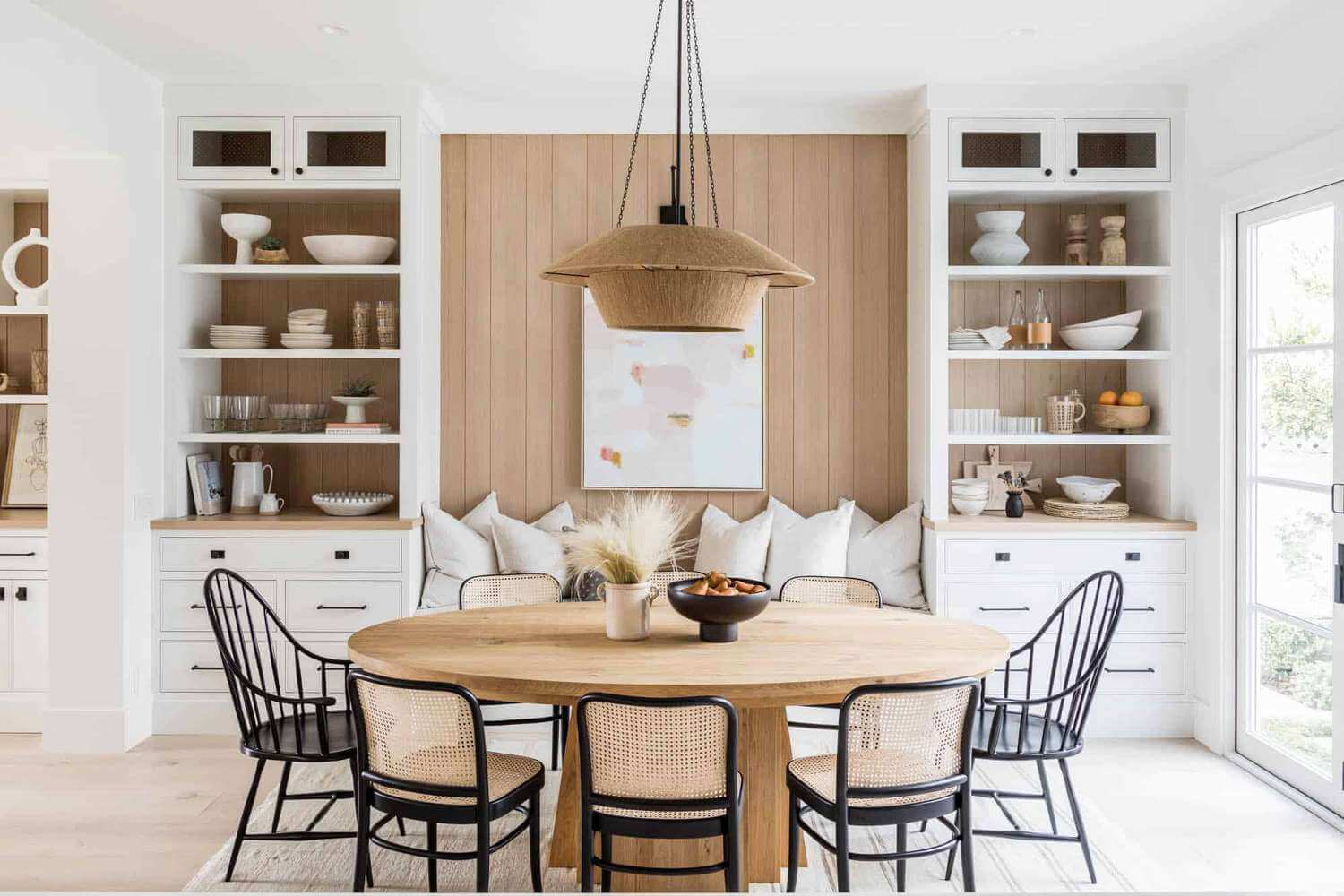 12. Mismatch your chairs
If you are not afraid to take risks and can go beyond the rules of the décor, mismatching the chairs can help you get all the attention you want. Go with different colored chairs while keeping everything else neutral. This will give your dining space a spontaneous, fresh, and playful look. Trust us, this will feel more inviting than any other simple aesthetics.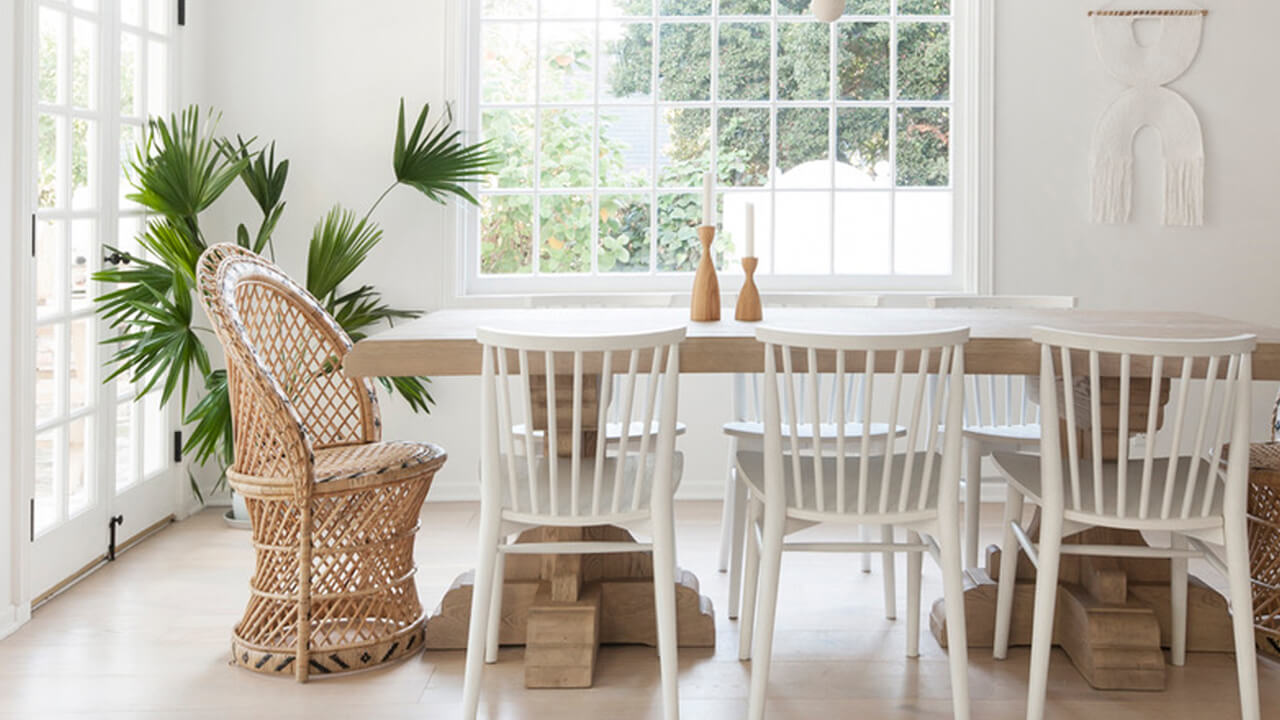 13. Choose your Style
Your dining area is an extension of your living room and to keep the flow smooth, choose the space of the style of the home. Whether you want to go with a traditional, modern, contemporary, rustic, eclectic, bohemian, Scandinavian, or Indian should complement the décor of your living room and kitchen to keep the continuity flowing.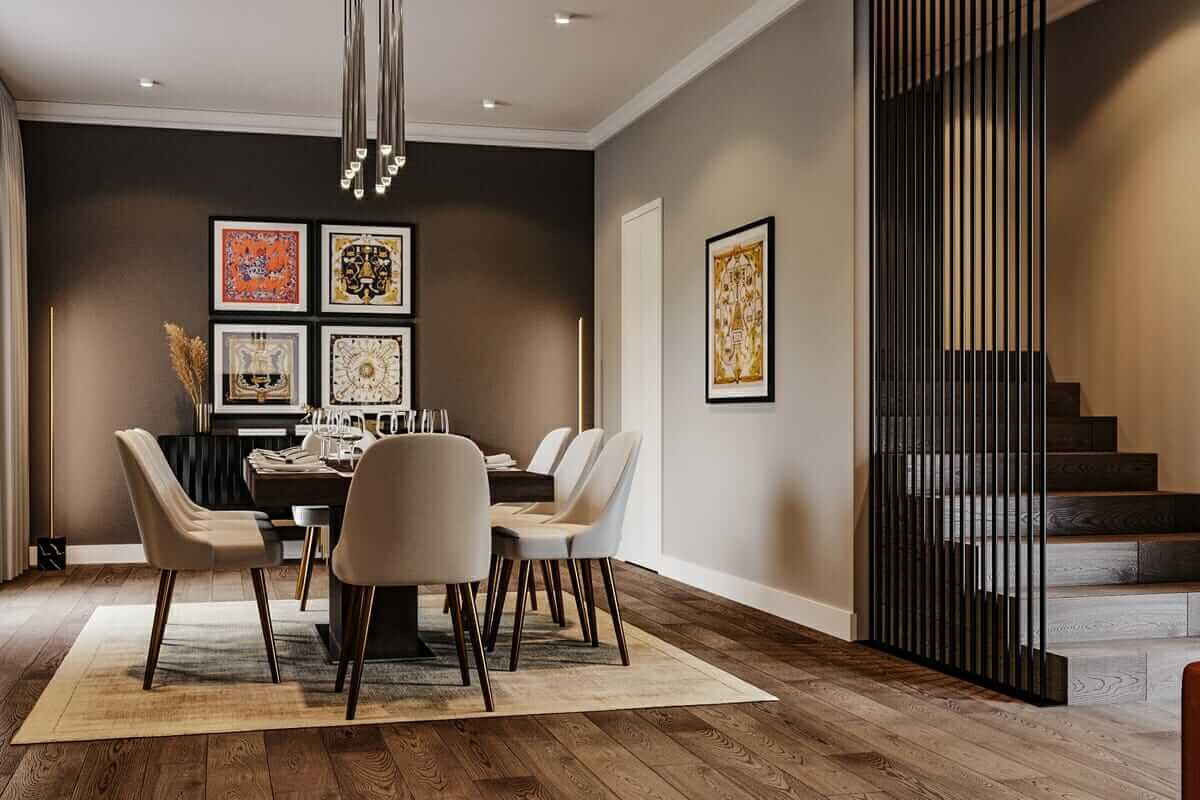 Pro Tips:
Begin designing your dining area by considering the shape and size of the place. Go for a perfect blend of material, color, and style according to the size of your family and dining area.      
Larger families can easily opt for a rectangular table with six, eight, or 10 seating. But if you have a smaller family or want to merge your dining table with kitchen space, opting for a square, triangle, or round-shaped table is the best choice.
Choose the table top wisely. Want to give a classy and traditional but multi-functional look to the place? Go for a wooden top. A glass top can be used to reflect the lights creating the illusion of a bigger place while a marble or stone top spells luxury.
Complementing the tables with the right kind of chairs is very crucial as this can make or break the whole mood of your dining area. Choose chairs wisely while deciding the style you want to opt for. For instance, solid chairs to add a formal feel, armless chairs to add comfort, wooden chairs for rustic and traditional feels, and so on.
Setting the table in the right manner is more important than the elements used as a décor item. The wrong placement of elements can break the whole mood of the décor and can also make the place feel full of clutter and fuzzy.  
Once you are done with arranging all the basics, dress up your dining space by adorning walls, picking draperies, placing mirrors, and wallpapers, or giving some kind of texture to the place. Selecting the right kind of accessories is equally critical as selecting the décor of your dining room as it works as icing on the cake to make it look tasteful.