Decorating and creating small bedrooms can be particularly difficult because the bed is a vital piece of major furniture yet is so little. But just because you have a big bed in a little area doesn't mean you have to sacrifice your sense of style or, more importantly, your sense of space. You'll be amazed at how quickly a space transforms by following a few basic bedroom design rules and color schemes.
Here are some tricks to design a small bedroom to look bigger:
Utilize Vertical Space
If you have a small room, consider thinking vertically. Even with little floor space, the best method to utilize what you have is to draw attention upward and give the impression that the area is larger by utilizing the walls to the ceiling.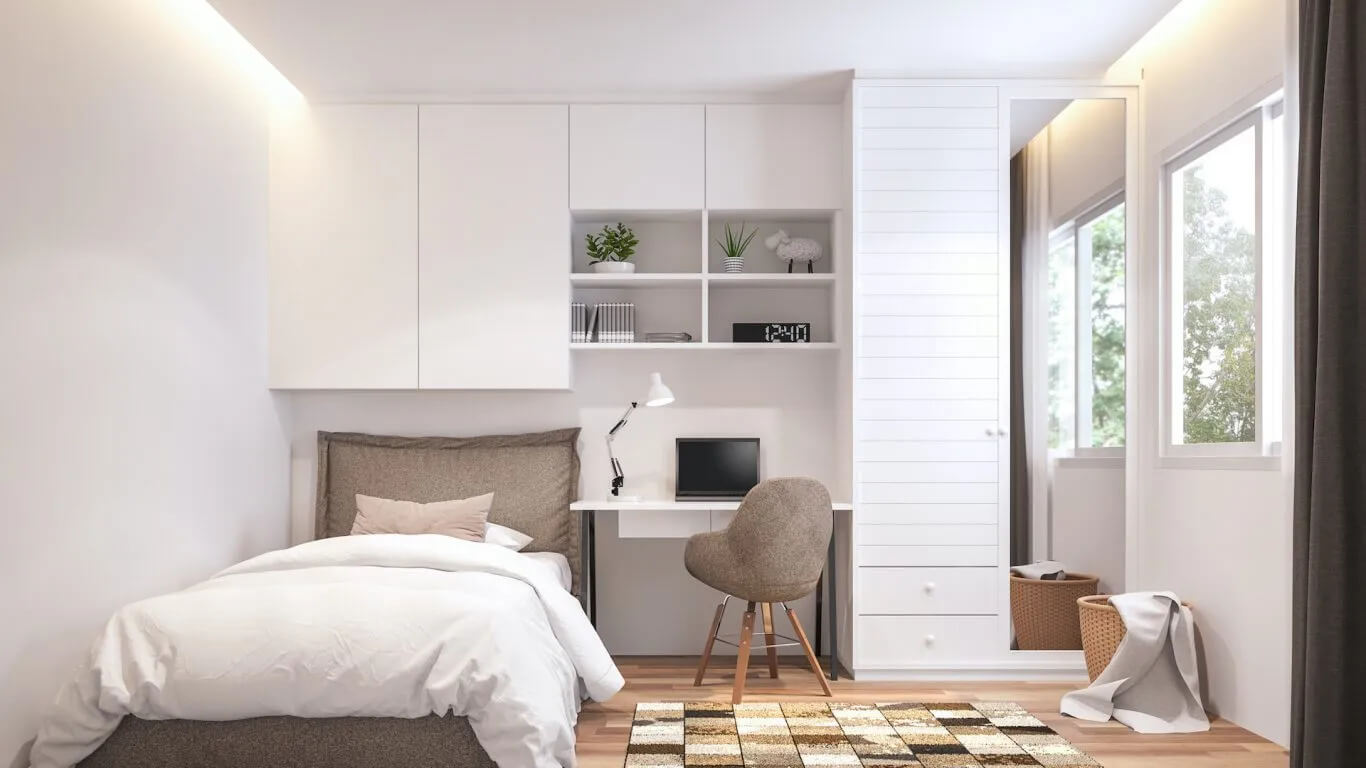 A fantastic method to increase bedroom storage, interest, and visual space is installing built-in shelves extending to the ceiling. Unfortunately, not everyone has access to these features. Investing in a tall headboard and hanging ornamental things above the bed to fill the space is an affordable solution.
Select A Large Headboard
When a room is small, you can utilize inventive headboard designs to make it appear larger. Even though they are beautiful, a massive, bulky headboard that dominates the room is not the ideal choice for this space.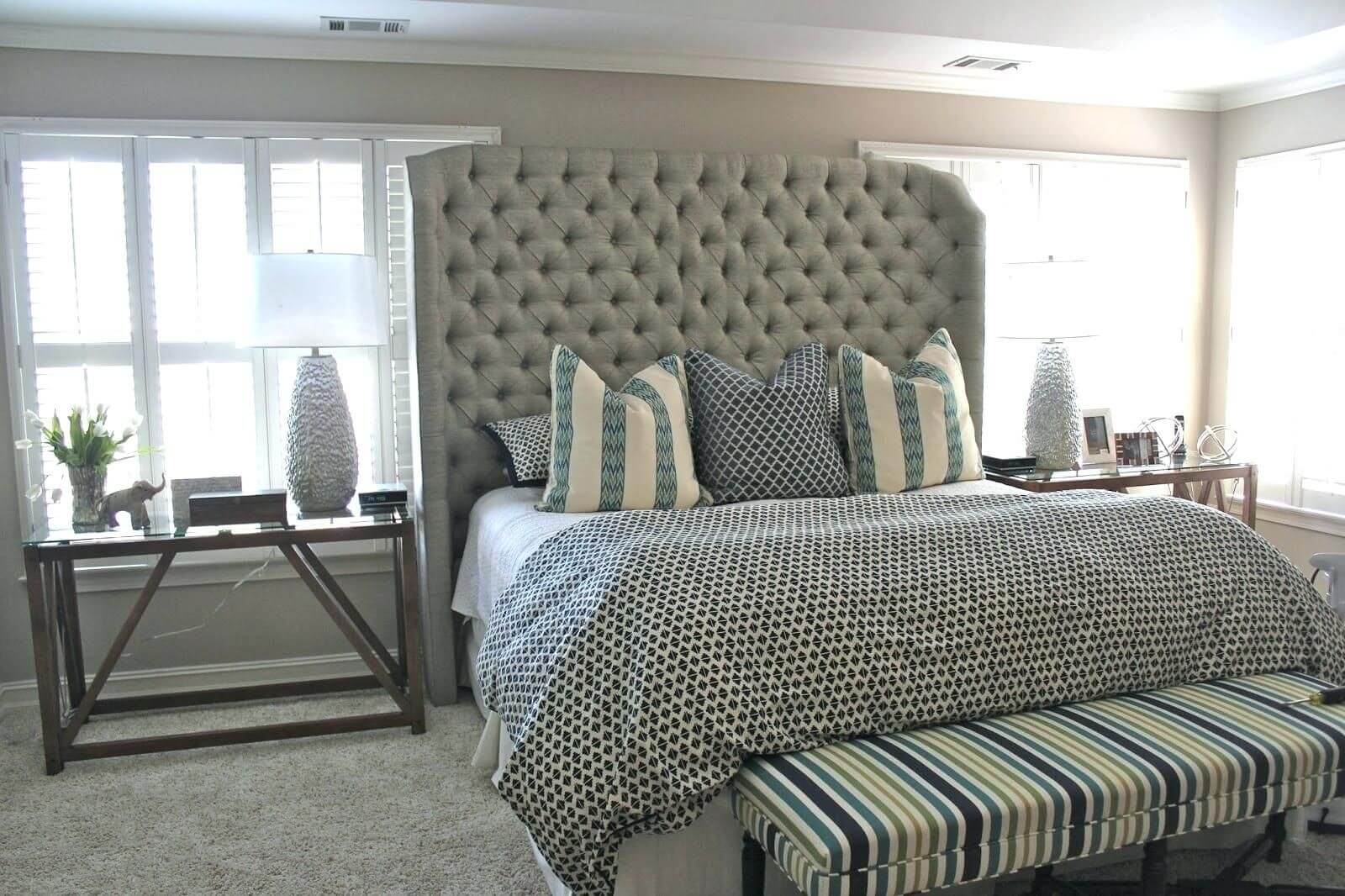 Instead, choose a visually simple design with a refined profile. Here, a tall headboard that draws the eye up helps give the sense that the room is taller, and the light color of the headboard provides a nice contrast to the darker hue of the walls.
Select Furniture That Has Legs
Give your furniture legs to create an open, spacious sense in the bedroom. If your furniture doesn't all have legs, try to have at least one tall piece.
For small spaces, the midcentury modern style is ideal. Since the majority of the furniture is raised on short legs, your space will appear larger the more floor and walls are seen.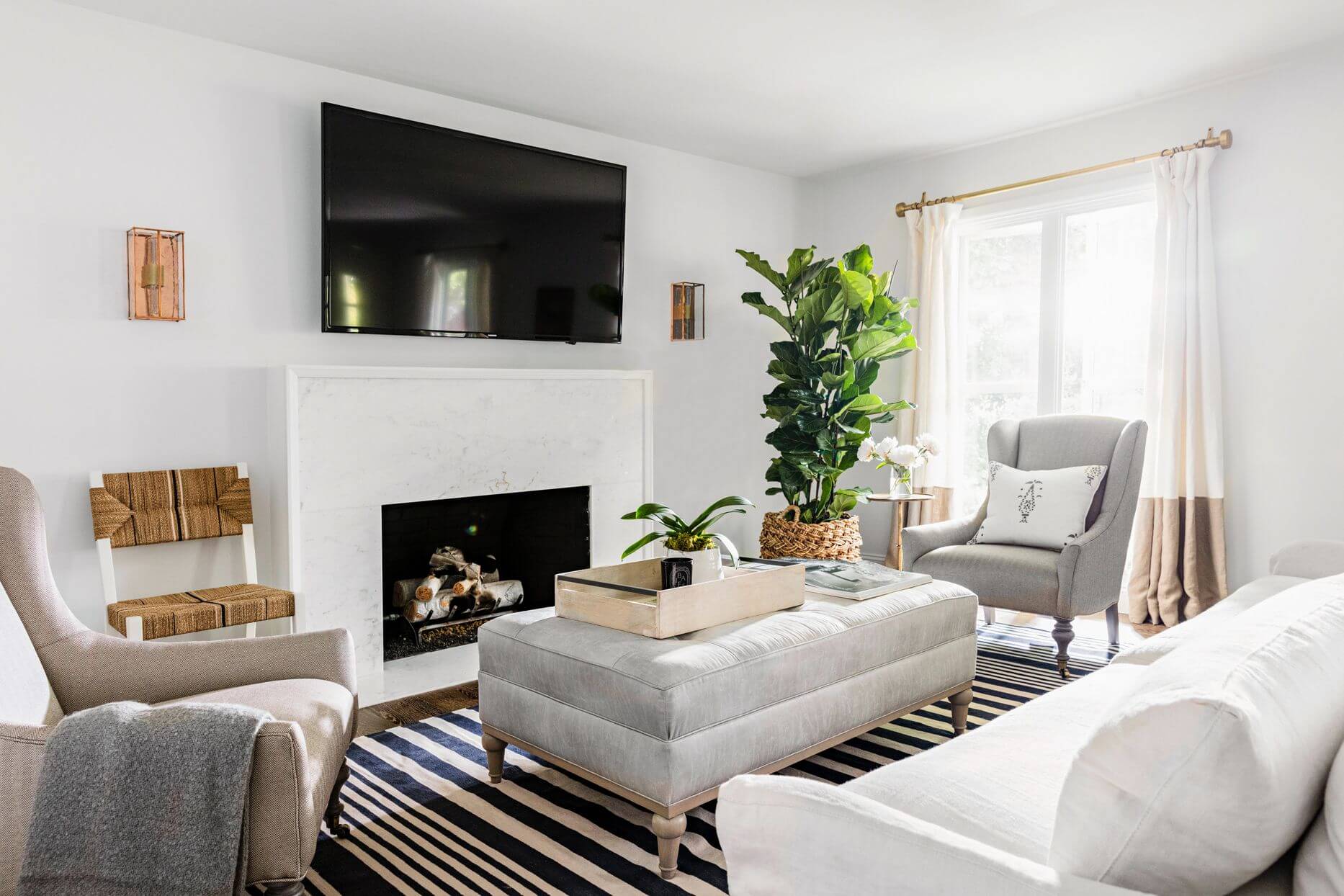 When you have little to no floor space and are searching for creative bedroom designs, go up; the walls are your friend. This also attracts the eye upwards. In small bedrooms, we want to use clever design strategies to make a space appear larger than it is.
Light Colors on Your Walls
A simple reflection of light in lighter hues creates the illusion of space and brightness, which is why it works. Paint that is darker absorbs light, making the space feel smaller and more confined.
In this bedroom, soft colors have been used to paint the walls, vibrant blue, which enlarges the appearance of the little space. Try to steer clear of gloomy hues while planning the style of your bedroom.
Use Nightlights by The Bed
To replace the bedside lamps that take up space on your nightstand, install sconces above and slightly to the side of your headboard. This helps to decrease visual clutter around the bed, focus the eye upward, and give the room a feeling of openness and airiness.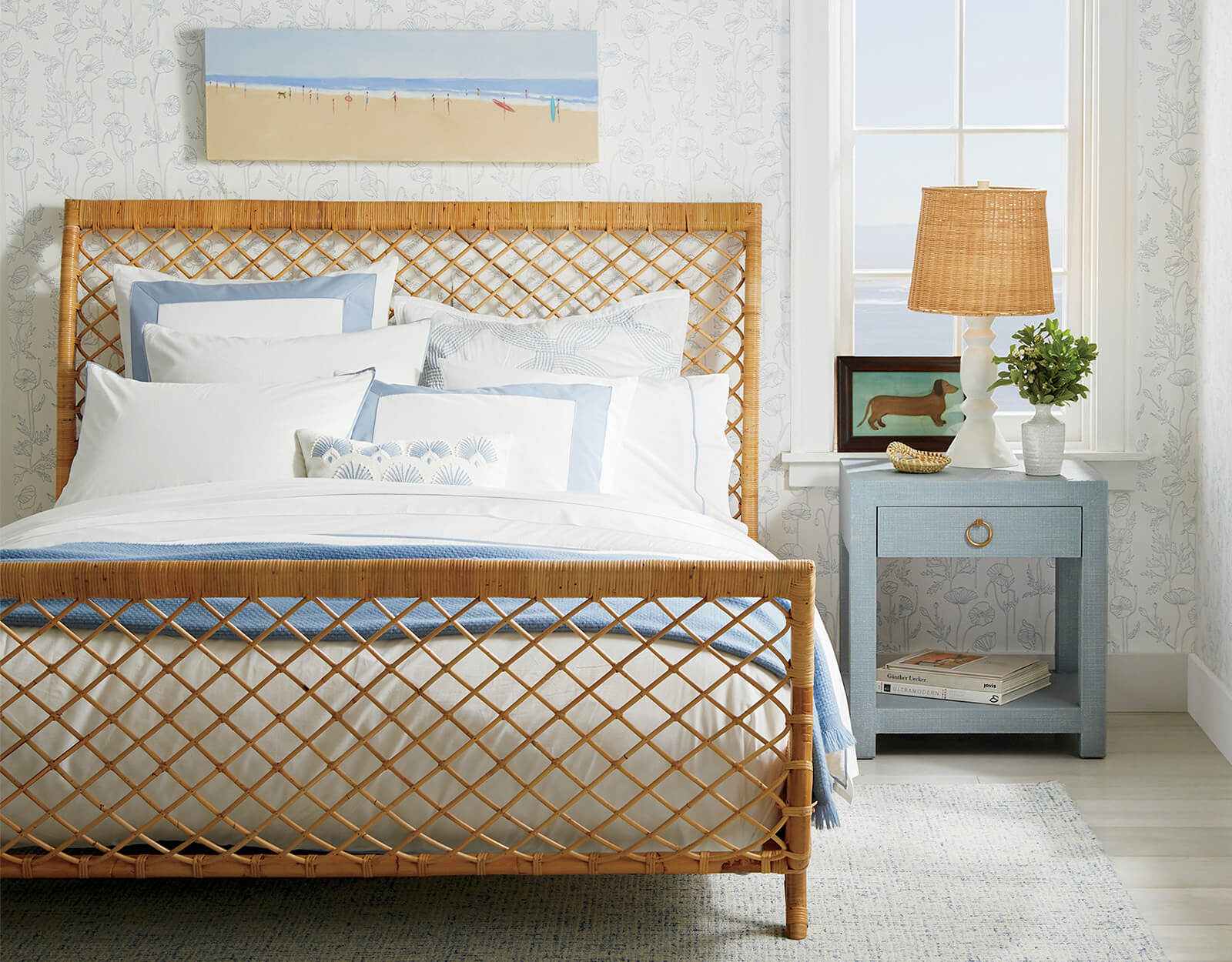 Movable sconces are perfect for reading at night. Simply position the light where it is needed and then push it back when finished.
Simplify Your Bedding
Layers of blankets and thick quilts are not appropriate in a small bedroom. Your bedroom will feel open and airy if the bedding is simple with straight lines and airy materials like cotton and linen.
Try using a vintage wool army or camp blanket for textural warmth without the weight.
Keep Your Furniture Scaled
Although tiny furniture isn't always necessary for small rooms, you will need to find pieces that are the proper scale and size for your home. It seems absurd to have two small nightstands next to a king-sized bed.
Choose a bed size that will allow you to accommodate at least one or two nightstands next to it that are large enough to compete with the mattress. A tall, narrow piece typically works better than a wide, short one in a small area; The size of your dresser should match that of the nightstand.
Avoid Using Too Much Furniture
You don't necessarily need two bedside tables in a tiny room. This advice appears to be very straightforward, but it can be somewhat challenging. Even though it is always wonderful to have extras to make life simpler, fewer pieces of furniture will make your home appear larger if you are short on space.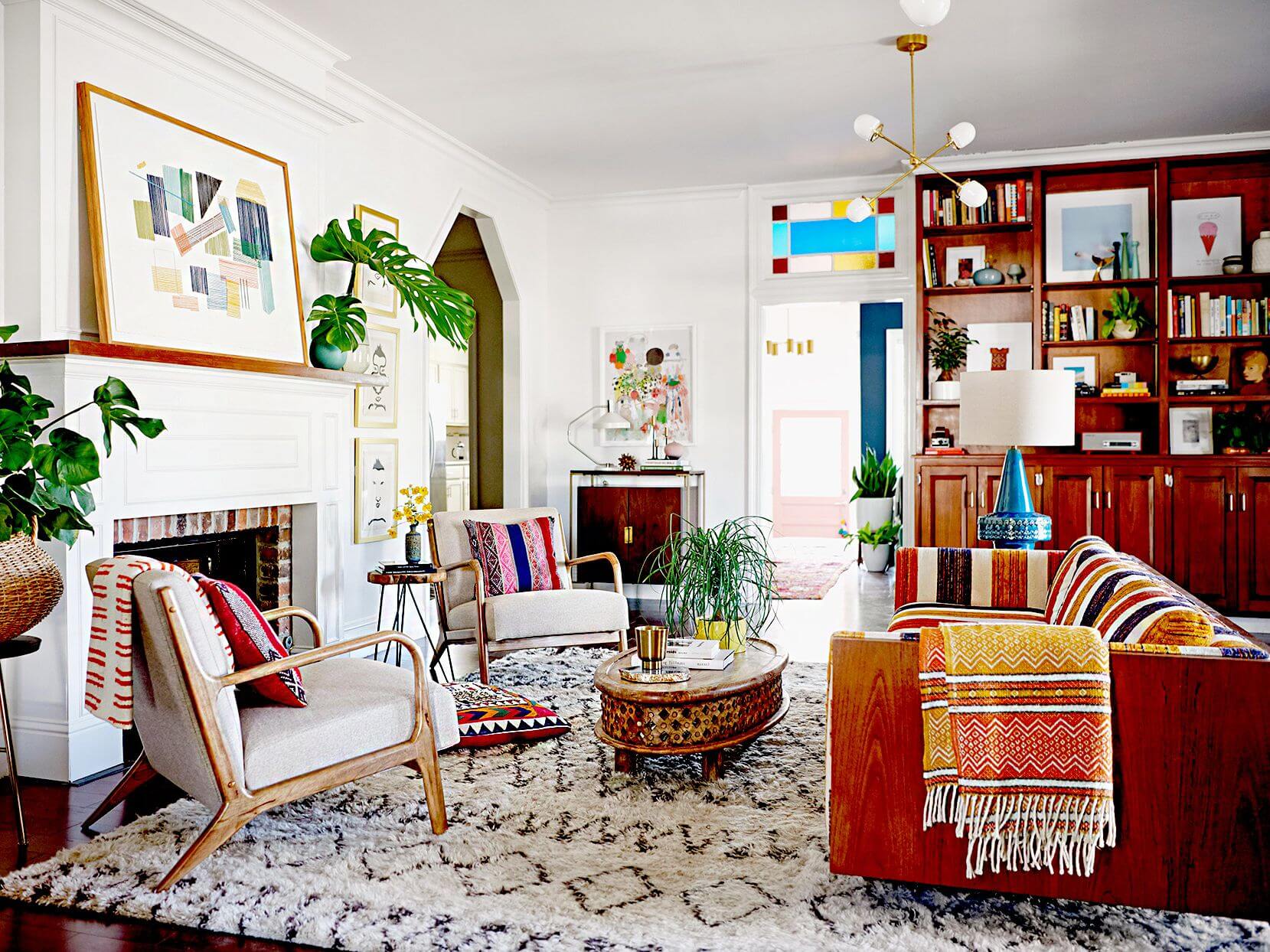 This little bedroom looks much larger by leaving the bed on the floor and furnishing it with just one small table.
Maintain a Low Profile
Avoid using tall tables and chairs in your small bedroom's decor, and get rid of the high headboard immediately. Maintaining low-to-the-ground objects allows for greater room above, keeping the wall cleaner and making the ceiling appear higher.
The bedroom in this illustration has a lower ceiling, but by keeping the bed on the floor, it appears and feels much larger.
Consider Floating Nightstands
Instead of using tables with bulky designs or massive legs that take up floor space, installing the floating versions makes a tonne of more room apparent.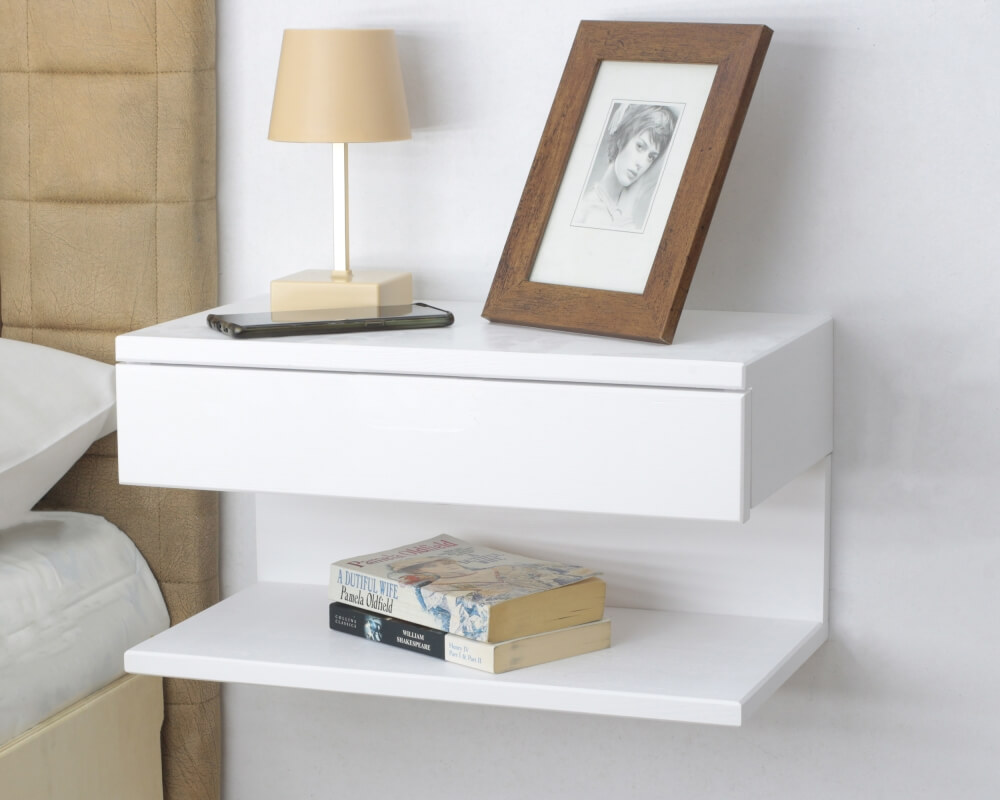 While still leaving room for a lamp or alarm clock, a compact bedroom appears to have more space.
A Small Space Can Be Broaden by Using an Overmantel Mirror
Bedroom mirrors serve more as decorative accents than functional tools, so an antique mercury mirror with its endearing flaws is fitting.
This is particularly true in older, more traditional rooms when the mirror is incorporated into the chimney. Since they are often higher than bathroom mirrors, they provide an interesting view of the space and reflect natural light.
Throw Away Any Extra Pillow
Maintaining the sense of space requires minimal bedding, which includes limiting the number of pillows on your bed to only those you use while sleeping. It's okay if you require more assistance at night. Spread out four regular pillows.
It's okay if you require the decorative cushion that your grandmother stitched. Only use one accent cushion or two.
Use a Shelf Installed on The Wall in Place of Your Headboard
A compact bedroom's design requires striking a fine balance between increasing storage and reducing the amount of extra space in the space. Installing wall-mounted shelving, either as a headboard or throughout the room, is one easy approach to accomplish this duality.
This shelf, like the floating bedside table, aids in giving the impression of space and airiness. It will blend in even more if you paint it the same color as the walls while still offering storage for your belongings.
Ditsy Prints Are a Better Choice Than Large-Scale Designs
Bold patterns will visually fill a space on wallpaper or clothing, so go for small, intricate patterns instead.
You may still play with size, but choose muted prints and patterns whose colors go well together; this way, whether you choose paisley, stripe, or a straightforward two-tone design, they will all have something in common, which in turn produces the impression of a calmer, more open bedroom.
Paint the Ceiling to Add Accents
A room feels larger when something leads the eye up or accentuates the vertical. The walls "disappear" under a painted ceiling, increasing the feeling of openness.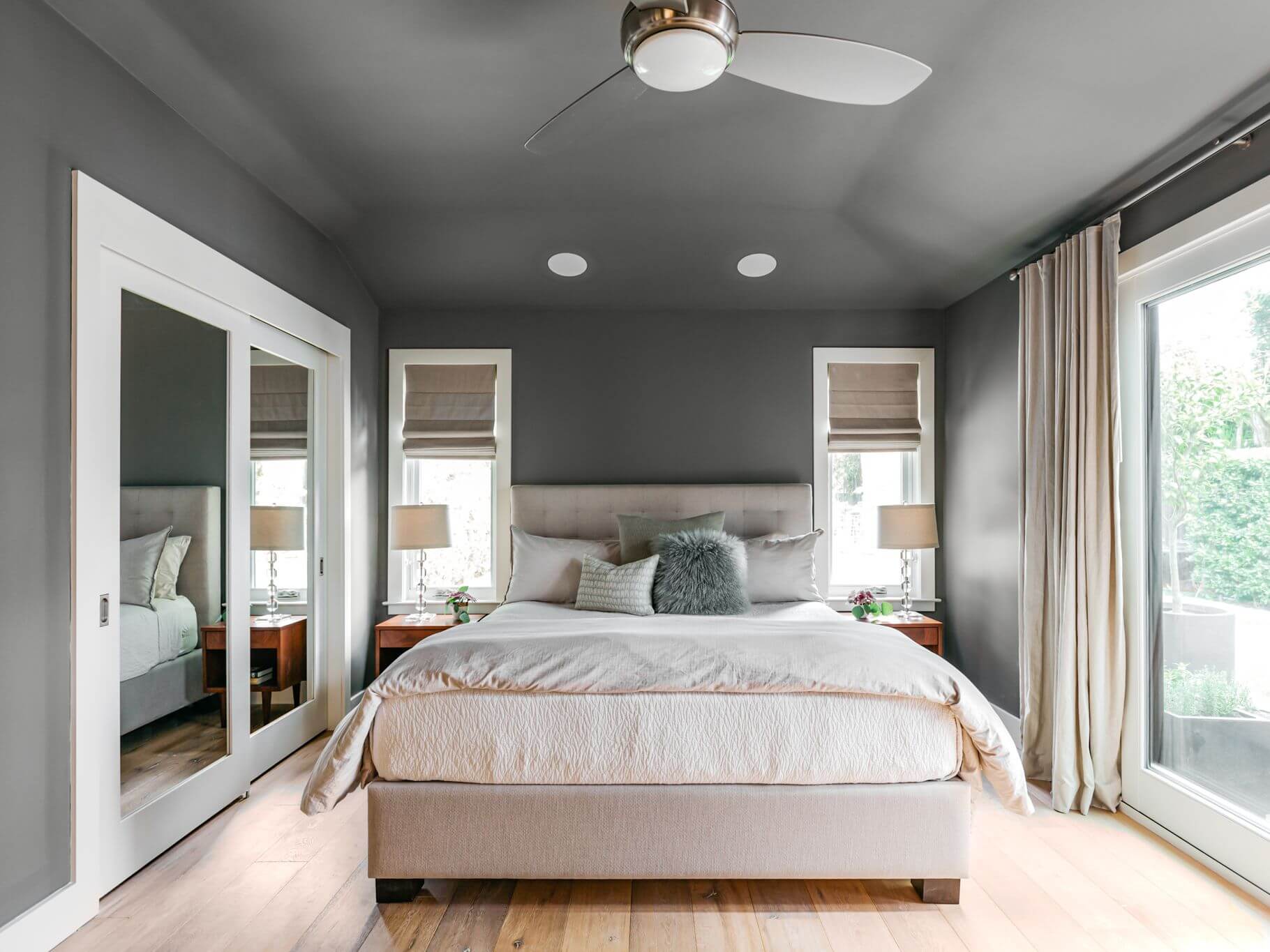 And this small bedroom idea will help to look your room bigger.
Build a Faux Wall Using a Drape
Our bedrooms, formerly a tranquil refuge, have had to make a small adjustment as most places in the house have to work a bit harder as more of us work from home.
There are several creative strategies for making it function while maintaining a feeling of spaciousness. You can achieve this work-life balance mentally and visually by having a drape hung three-quarters or halfway across the space.
To avoid feeling cramped, keep the color scheme mostly light and breezy.
Shelves Mount
Installing shelves is easy to keep things off the floor and provides more walking space.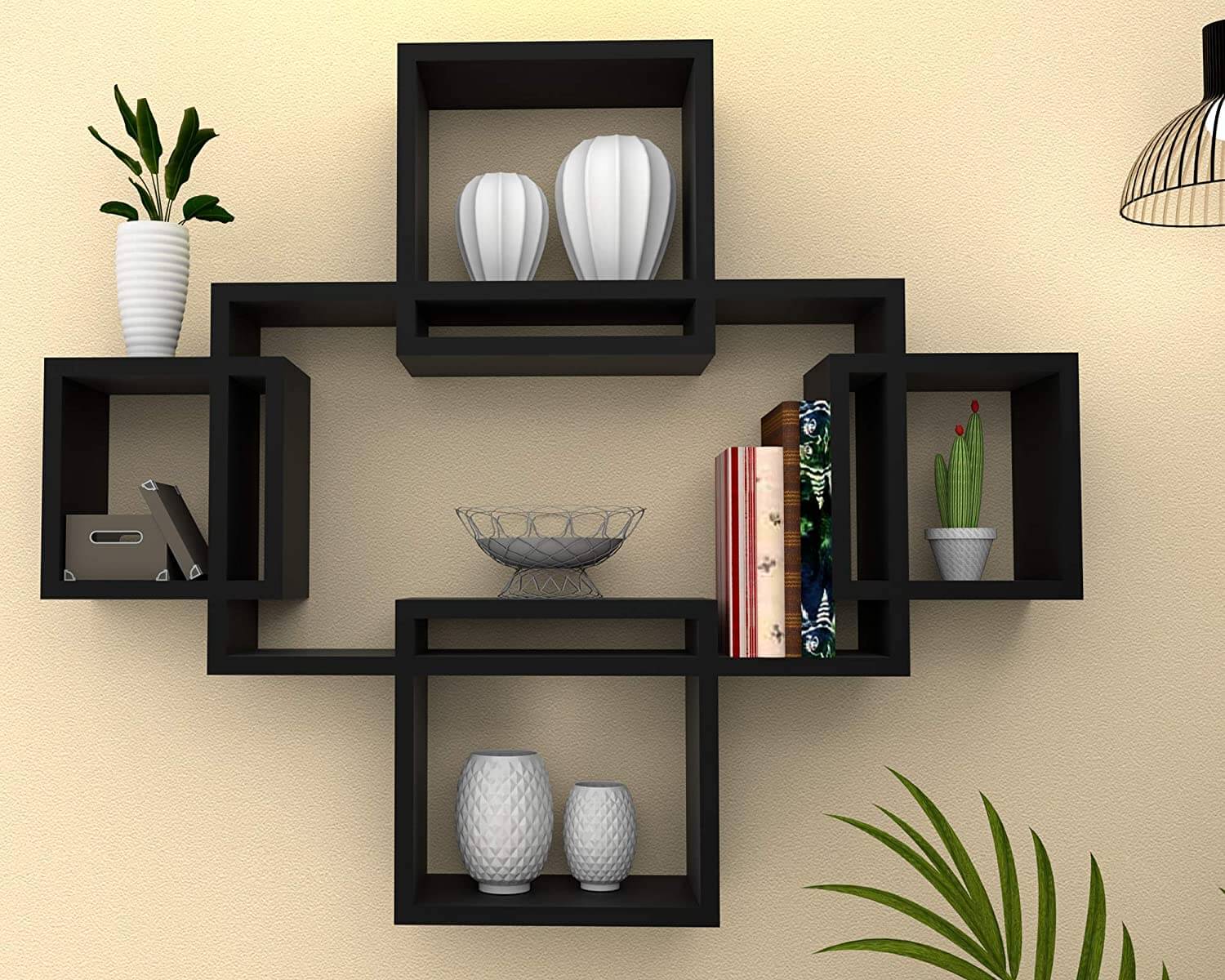 However, ensure consistency in the room's color scheme for the shelves. If it is practicable, the things on the shelf should also be arranged and color-coded. These unusual shelves trick maximize the space.
Organization
A clean, uncluttered atmosphere will provide the impression of more space and enlarge a small bedroom. Save your loose change in your piggy bank, your clothing in your drawers, and your pencils in a jar.
The clutter has been removed from this boy's little room, leaving clean floors and a tidy workspace. And the space appears and feels much bigger than it is.
Use A Quilt or Sheet in a Light Color with Simple Patterns
Your bed linens will play a major role in the design of your space as this is the bedroom. Avoid loud, busy patterns while selecting your linens.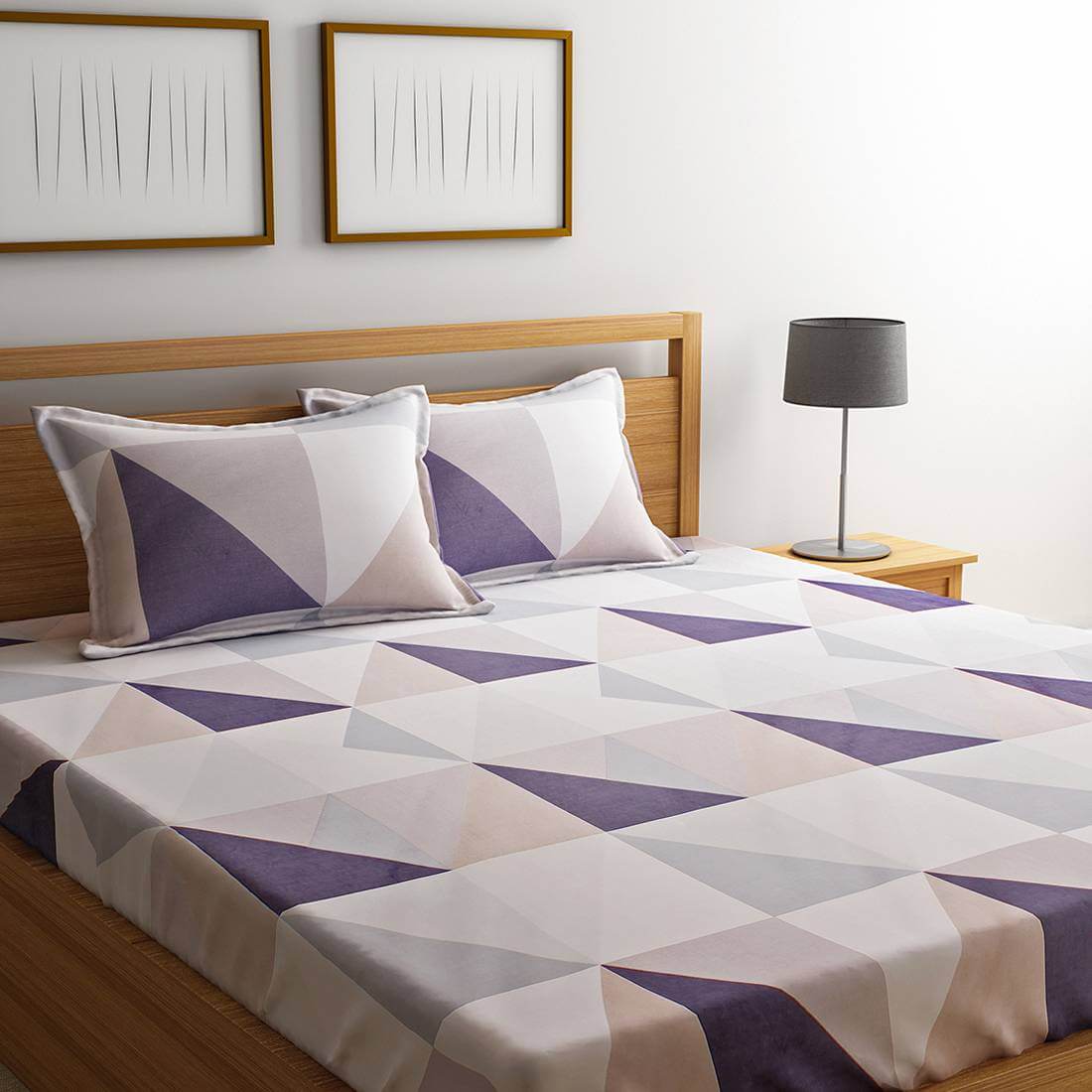 To complement the style of the room, try to match the curtains' colors and shapes. Use woven photo blankets or customized photo quilts to express your creativity. To make the space appear larger, prioritize lighter & brighter colors.
Blank Space
Some people are unaware of the benefits of unoccupied space. It's not necessary to completely stock every shelf in your home. A smaller area needs empty space because it helps the space breathe a little.
Your decorations shouldn't be smaller than a cantaloupe if you feel the need to decorate your room with small items. Any smaller will result in more clutter. The space shown here is virtually empty, giving the impression that it is considerably larger.
Conclusion
Maintaining cleanliness and organization will always make a space appear larger. Try out various beds, couches, and bedding options. Maximize your room's space by rearranging the furniture and adding shelving.
In addition to being more aesthetically pleasing, a straightforward pattern in complementary colors and patterns will enlarge the appearance of your small bedroom.