Are you thinking about purchasing an excellent comfortable bed? But you stay in a small apartment; no worries, as there is a bed that can be lifted and adjusted according to the space requirement. It is called Murphy's bed. We will discuss this in detail
What is a Murphy bed?
A murphy bed, also known as a pulldown bed or a wall bed, is connected to one end of a horizontal wall or inside a cabinet or closet so it can be used both as a bed and a wardrobe. This is an item of multifunctional furniture.
History of murphy bed
William Lawrence Murphy wanted to make a creative invention for people who live in small apartments. The Murphy bed was invented in 1900 in the city of San Francisco. When William Murphy was falling in love with an opera singer and courting customs, a lady was not permitted in a gentleman's bedroom in that era.
William Murphy's invention helped store his bed in the closet, which helped convert a one-bedroom one-bedroom apartment into a beauty parlor.
Murphy's bed gained popularity in 1925 after the company shifted its principal office or headquarters to New york.
These beds are famous and were shown in many movies, cinemas, and a few comics like Tintin.
Murphy bed with desk
A Murphy bed with a desk can be an excellent option for people with small apartments or spacing problems in their house. You get an attached desk that can be used for keeping objects or other purposes and a bed for resting. You will not be using both at a time, so it will be a good option for saving space and money.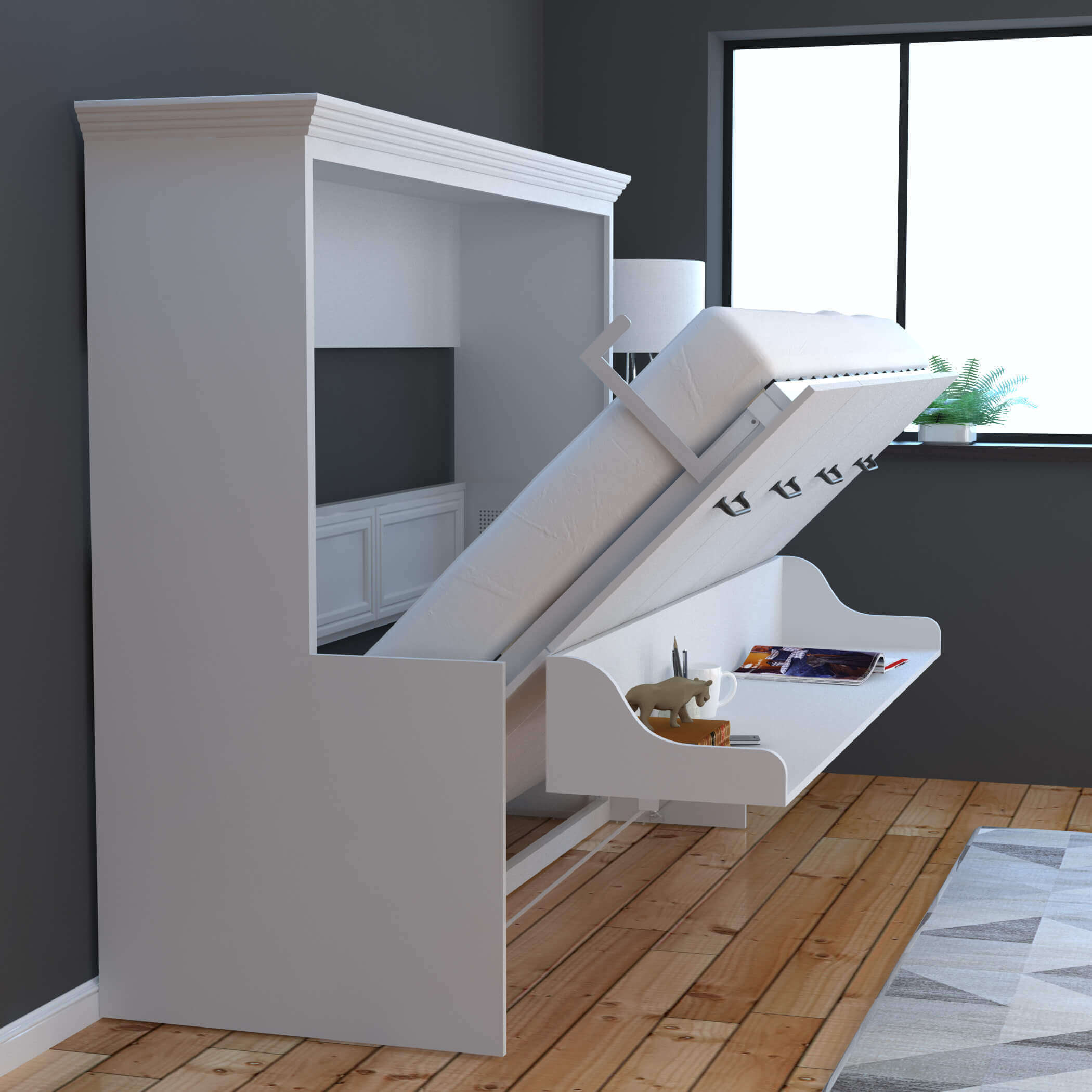 In the 21st century, many modern designs have become far better and more comfortable than the old 20th-century beds.
These come in various styles and prices, and you can choose your preferred style within a specific budget.
Bed that folds into wall
A bed that folds into the wall is also called a murphy bed. This was invented to save space and is a popular choice for people with small apartments, houses, mobile homes, etc. These beds do not have springs, and the mattress is directly connected to the wooden frame. The mattress is attached with elastic straps, which help hold the bed in position when the frame is lifted up. The use of torsion springs or piston lifts makes it easy to lift and lower Murphy's bed.
Styles of Murphy Beds
There are three types of murphy's bed
Horizontal murphy's bed
Vertical murphy's bed
DIY murphy's bed
Horizontal Murphy's bed
This has horizontal mounts on the side of the wall. The bed can be adjusted sideways and next to the wall. This design is mainly for small apartments or rooms with low ceilings.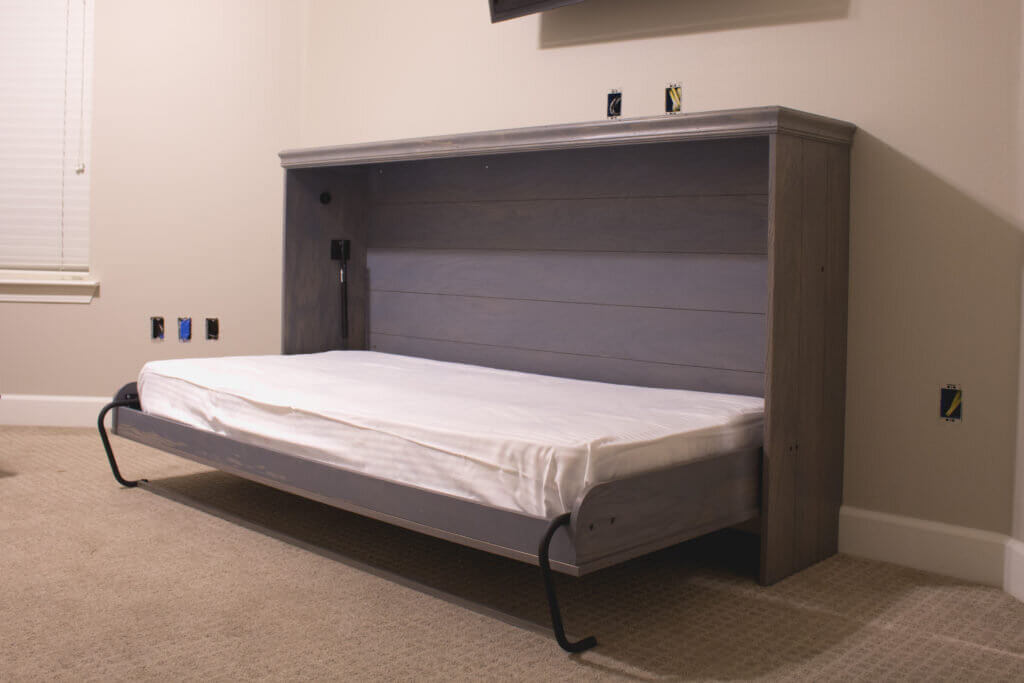 This saves much space and helps lower the bed more efficiently than the vertical murphy bed design.
Vertical Murphy's bed
This bed can be easily organized on a vertical wall and looks like a built-in cabinet. The dual piston system and the hinges in the mattress allow it to be lowered down and raised up when necessary.
This design is typically for the bed without the mattress. The mattress needs to be purchased separately; usually, a ten-inch (10-inch) mattress is used in this.
DIY
Making your own murphy bed can be an excellent option for saving a lot of money; you need the correct equipment to maintain the product's safety. A little investment can save you from having a hole in your pocket.
It is recommended to buy a proper kit for building a Murphy's bed and find the correct gas pistons, legs, and auto locking plate. Purchase strong plywood for making the platform of the bed; low-quality plywood can be disastrous and may cause accidents.
Queen murphy bed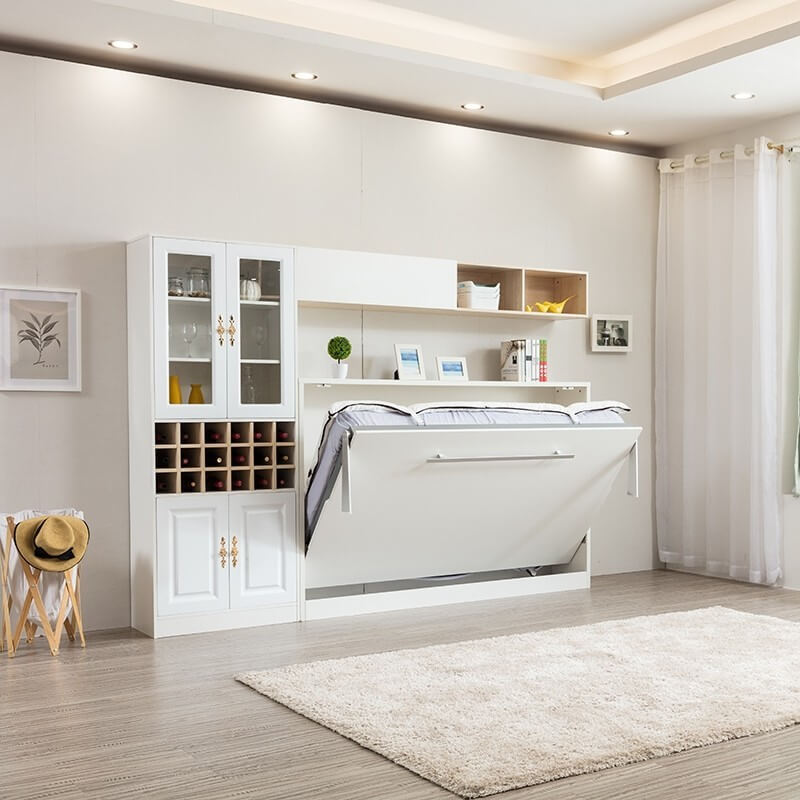 A queen murphy bed is also called a double murphy bed; the frame used in it can accommodate a full or queen-size mattress. Some of the luxurious products have a place for television in them, and a desk is also attached to them for different uses. This makes it a multi-purpose product that saves money and space.
Murphy bed with couch
A wall bed with a sofa will be a good option for saving both money and space. This will be an adorable and comfortable product to purchase that will meet the requirements of both a sofa and a bed. When people look for a space-saving sleep solution, a sofa bed is their only option. These are usually not very comfortable and require maintenance frequently.
But a murphy bed with a mattress is far more comfortable than a sleeper sofa.
The conclusion
Murphy beds were a great invention and have contributed much to the people living in small apartments or rooms that need to accommodate many other things along with a bed. These beds in today's generation are easy to build and cost-saving; just using proper and safe equipment can help make a Murphy bed.
However, there are a few risks in using Murphy's bed. Also, if the mattress is not installed correctly, the bed can fall on the operator and cause an accident. If not on the operator, then maybe someone else while operating the bed. To prevent this, the best equipment must be used, and an experienced operator must be given the task.
In 1982, a drunk man got trapped inside Murphy's bed and died due to suffocation. In 2005, two women also died after getting trapped under a murphy's bed, and even a court case was filed against the use of murphy's bed.
The final words will be to use the best operator and equipment and not compromise with the quality to avoid accidents.