We are often digging into some classic styles for inspiration to incorporate them into contemporary styles. Whether it is furnishings or hue, some classics never go out of style. Adding a signature piece to the place having distinct features can easily attract the focus and can make the place stand out with minimal effort. All things can be brought to the place by incorporating mid-century modern furnishings.
Mid-century modern is stylish and timeless, characterized by biomorphic forms, a pared-back palette, and clean lines. Whether you want to give a makeover to your place by adding mid-century furnishings or looking for a statement piece to enhance the look of your place, we have rounded up some great ideas to get you inspired.
What is Mid-century Modern Style?
The mid century modern style originated in the middle of the 20th century somewhere between the 1920s to 1950s, after World War II. This style is adopted by the interiors to date because of its unique and attractive features that include simplicity, functionality, straightforwardness, and clean sleek lines. This style is a reflection of the post-World War II environment that focused on linear homes and nuclear families.
Key Characteristics
Teak wood furniture paired with metal, glass, vinyl, and marble.
Bold accent colors
Simple geometric lines
Furnishings focuses on functionality over ornamental
The mid century modern area can be easily identified because of all its features and pieces. Though mid century modern never went completely out of style, it is back yet again with a bang and with even more variations in its statement pieces. Let's take a tour of some of the mid century modern furniture ideas that will prompt you to have one yourself. Check it out!
Mid-century Modern Furniture Ideas
Statement Sculptures
Adding a statement sculpture can help you create an organic focal point in your room. This way you can stay muted with other furnishings while generating focus on the statement sculpture. Investing in a creative one can make the place look more expensive, luxurious, and thoughtfully designed.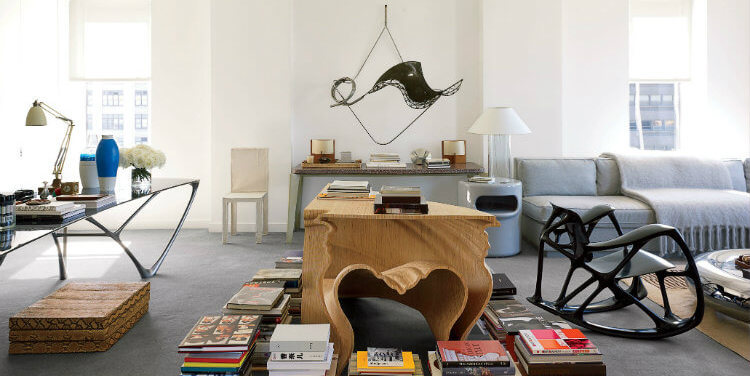 Wooden furniture with vibrant colors
Despite having various materials like plastic, laminates, metal, etc timber furnishings sustained throughout the era. Durable hardwoods such as maple, cherry, and teak steal the show when it comes to selecting a base for furniture. It is durable, easily shaped, and most importantly looks fabulous with any kind of color or décor items. Using bright colors with wooden furniture at distinguished places attracts focus and lets your place shine with little or no effort.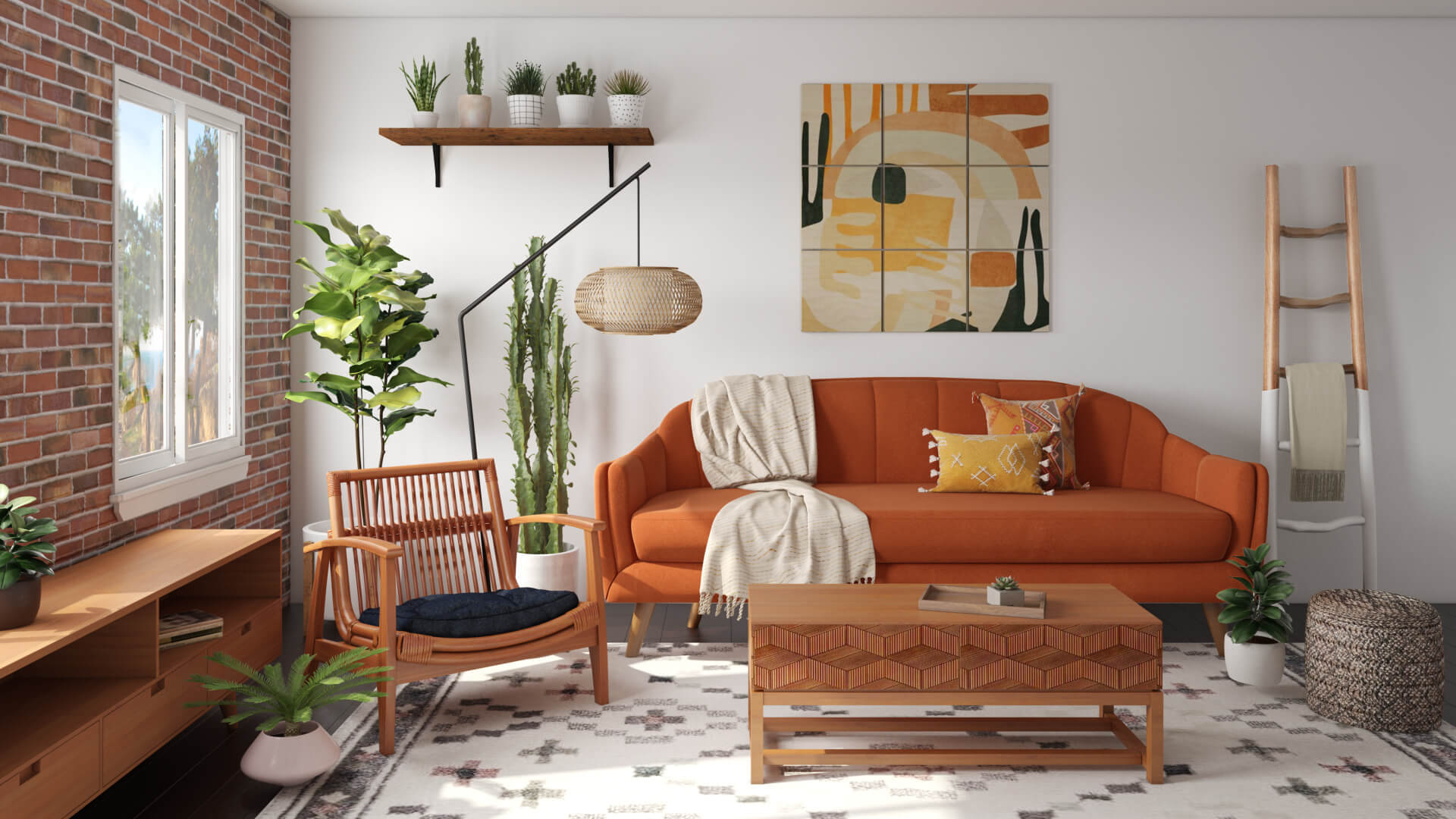 Consider the flooring
While considering and redecorating the place, people often forget the role played by the flooring as it makes a huge impact on the space. Since the midcentury modern focus on organic materials, hardwood flooring is one of the efficient ways of changing the whole look.  Layer the wooden flooring with muted rugs and look how fancy the place becomes.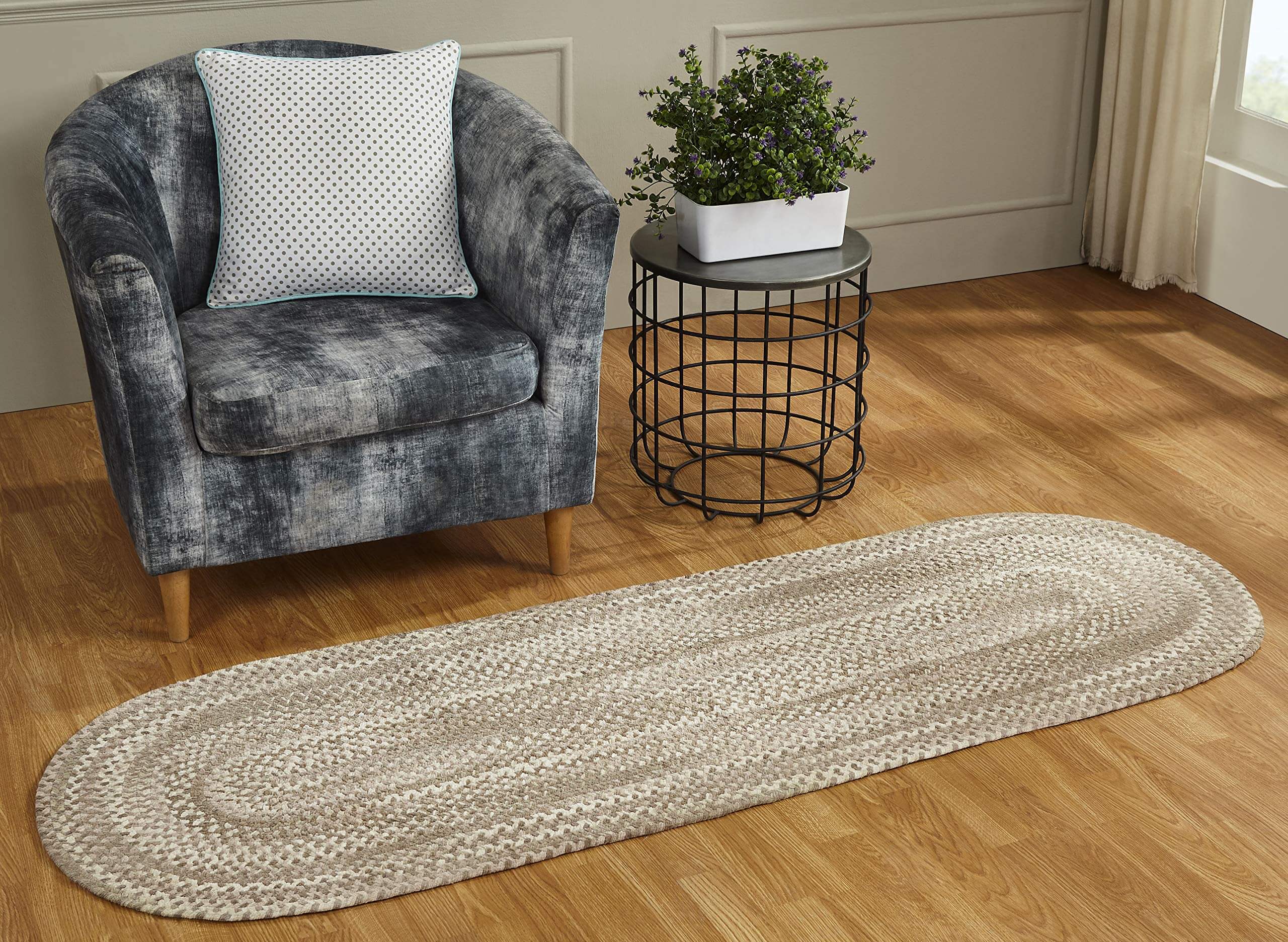 Mid-century storage systems
As discussed earlier, mid century modern focus on functionality and practicality over using pieces as ornaments. Add adjustable and dynamic shelving cabinets to have a flexible living with multifunctional, adjustable, and modular décor.  Incorporate fixtures that are not only a part of décor but also a storage space and see the difference yourself.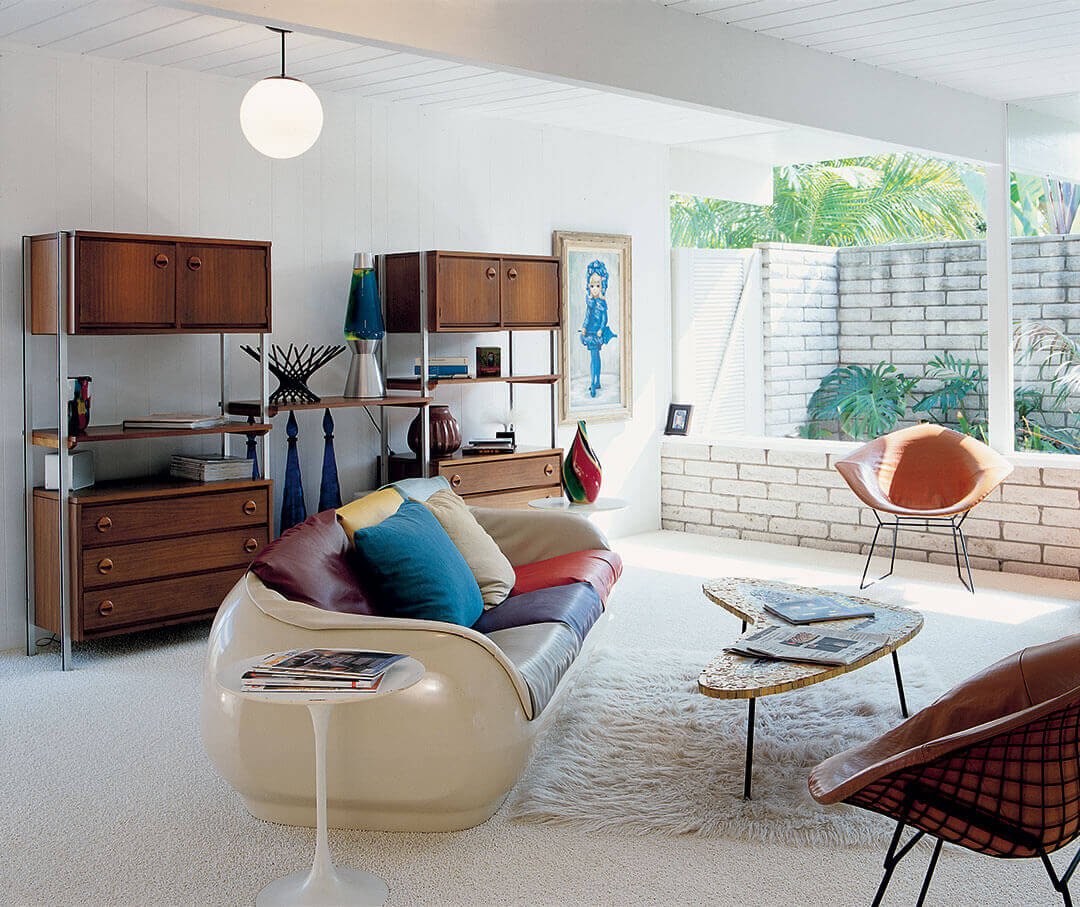 Scandinavian Designs
The main function of furnishing is (and it should be) to improve daily life and assist with lifestyle changes. Like the mid century modern, the Scandinavian style also opts for unfussy, pared back, and uncluttered spaces to make the interiors practical along with aesthetically pleasing.  Incorporate this style and transform the place into a high-quality and stylish place to live.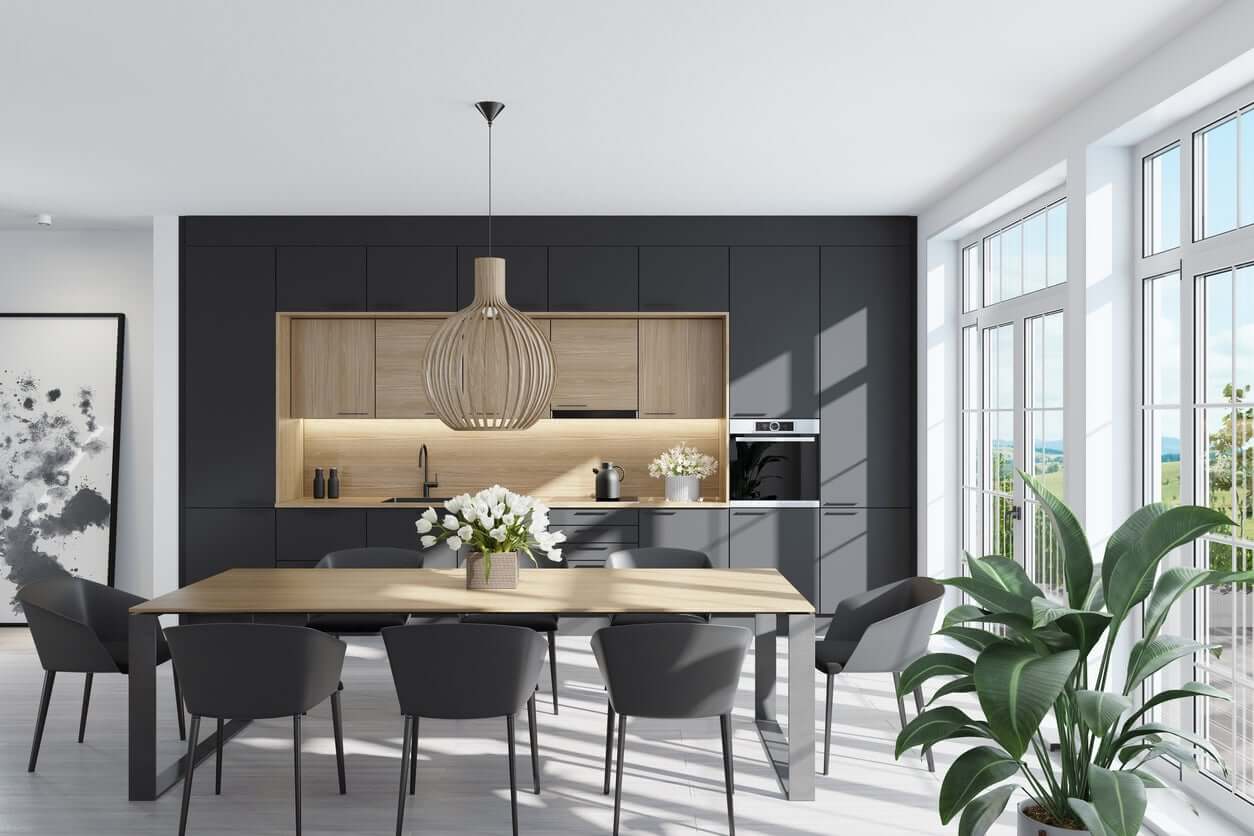 Slimline Furniture
It is said, "It's still magic even if you know how it's done". Slim-line furniture can create magic and can provide an illusion of a bigger place with just an effort to invest in the right one. For those looking for seamless furniture for a small living room, going for a piece of mid century slim-line furniture is the best option to consider. Create an illusion of a place that is spacious and full of light by incorporating the right kind of furnishings with tapered legs.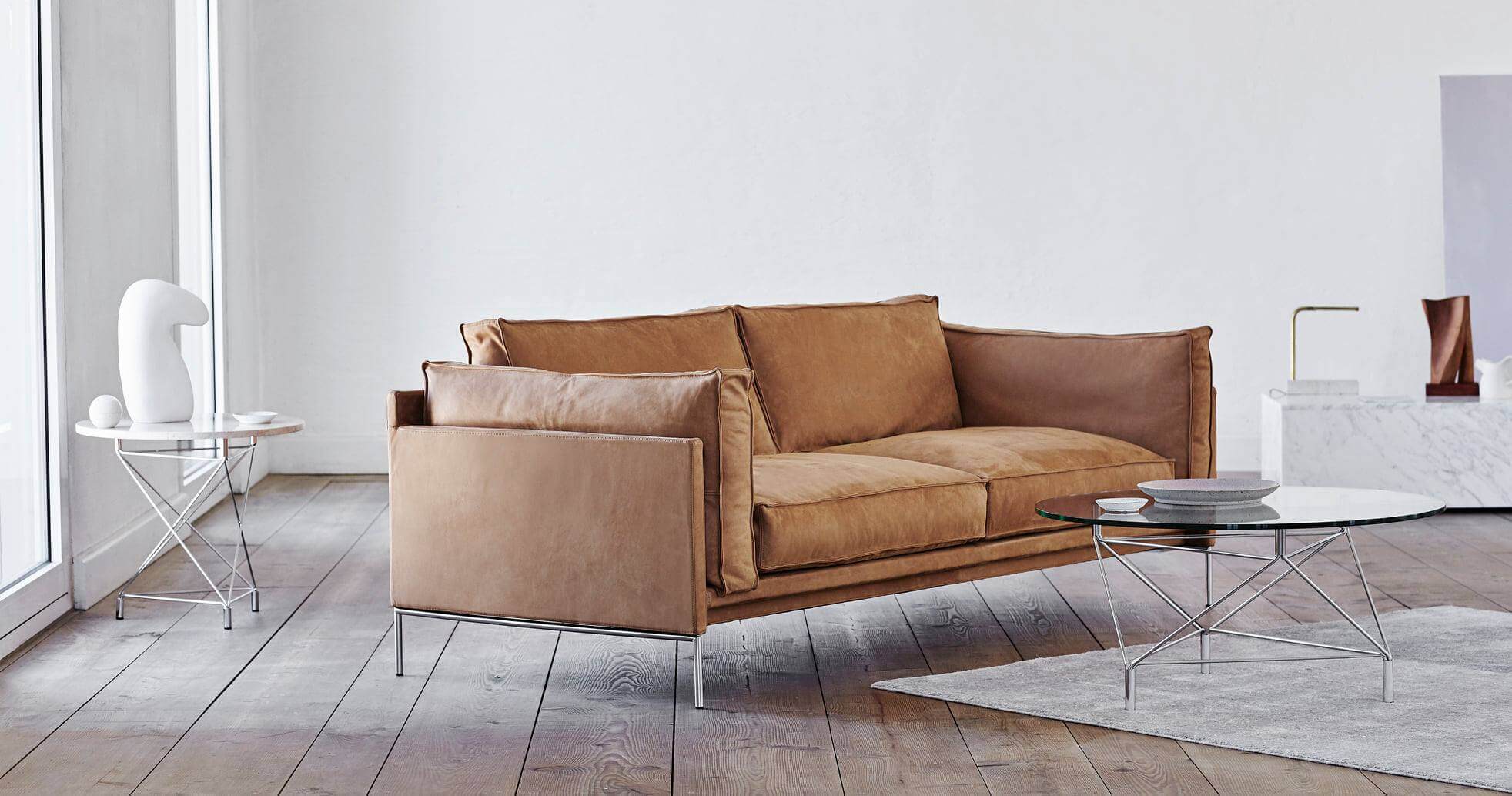 Maintain Symmetry
Mid Century modern living rooms are all about creating balance and inducing a feeling of calmness with their features and hues. For maintaining this balance, it is important to have symmetric furnishings with their placements. The layout here is stylish yet cozy and calm to ensure that the place does not lose its comfort. Keep the place open to natural lighting and get the symmetry right by creating harmony in every room.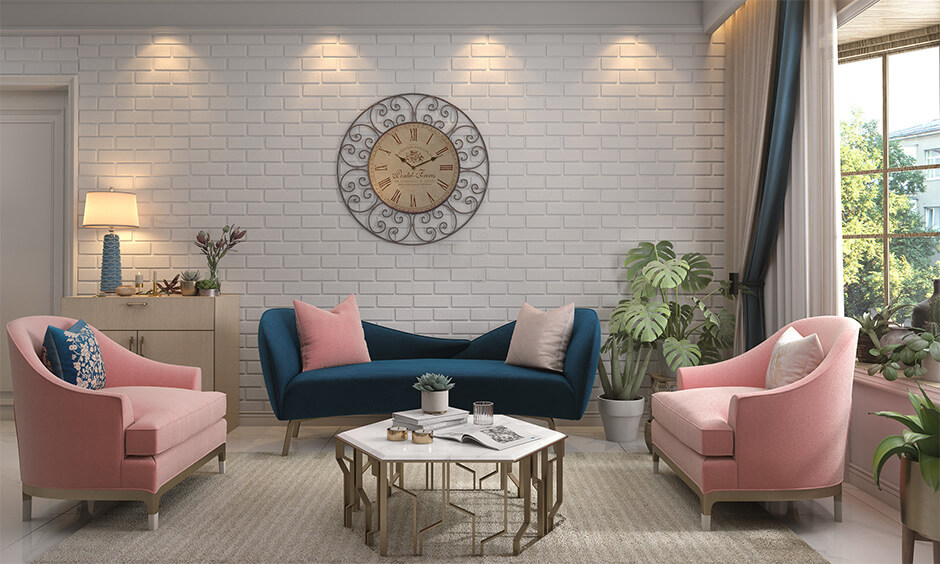 A Chair
Yes. A chair. Not a usual one, obviously. To maintain continuity with form and function, a chair was continuously reimagined by the interiors. An iconic chair is considered to be the hallmark of mid century modern design. Create a seating cluster by strategically arranging chairs around the room and inviting your friends to chat the day away. Emphasize on adding a chair as a styling piece and a statement element with vibrant color to finish off the look. Keep the chair sleek and pair it with artwork to complete the look.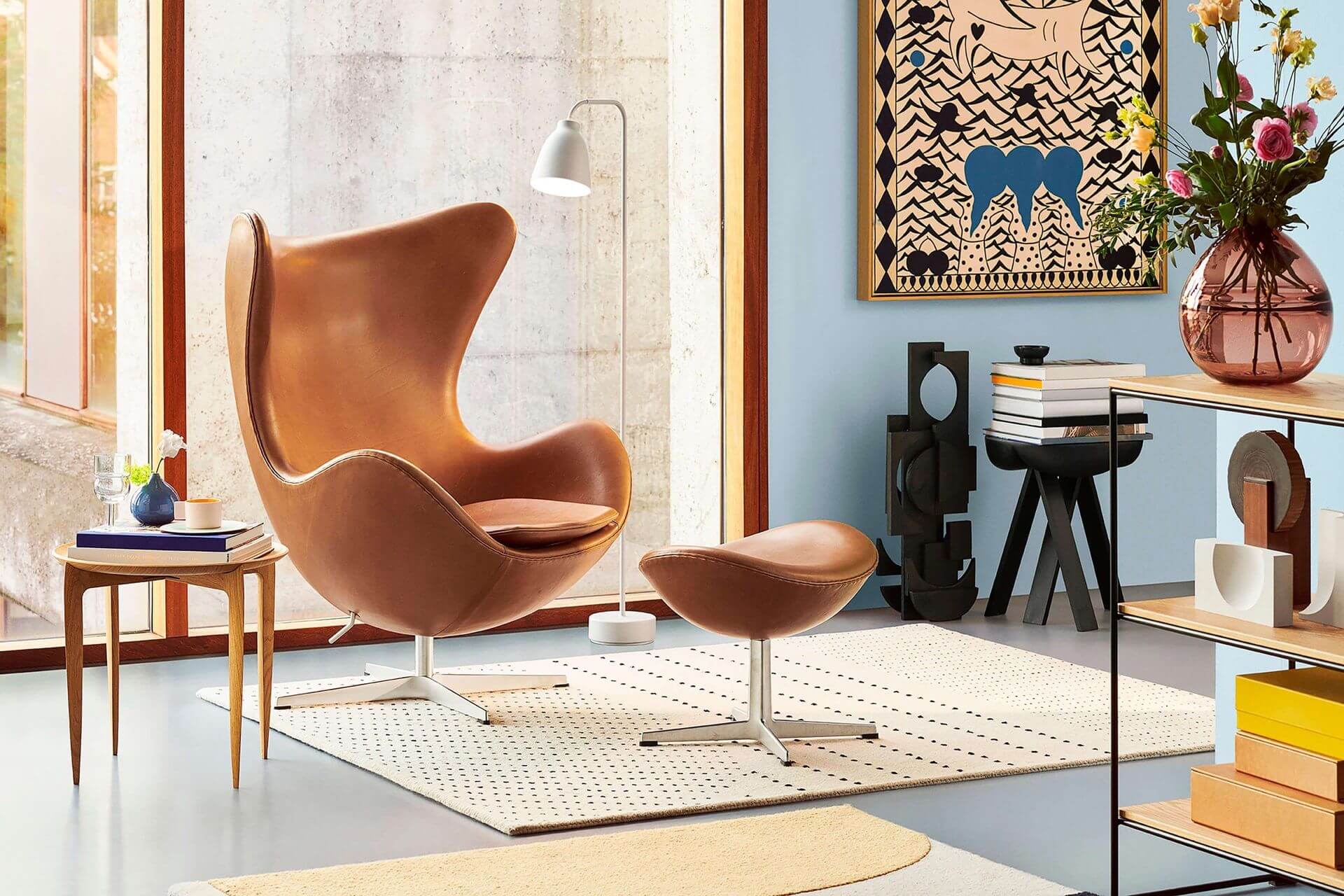 Add lots of colors
Don't shy away from using a pop of bright and retro colors and bring out the fun side of the living room. Use ply with wooden textures and combine them with bright primary colors to create an inspiring living room. Bring out the charm of the place by pairing bold colors with the addition of abstract expressionist art of the Fifties and Sixties. Playful blocks, geometrical cutouts, and impressive wallpapers can complement the decor.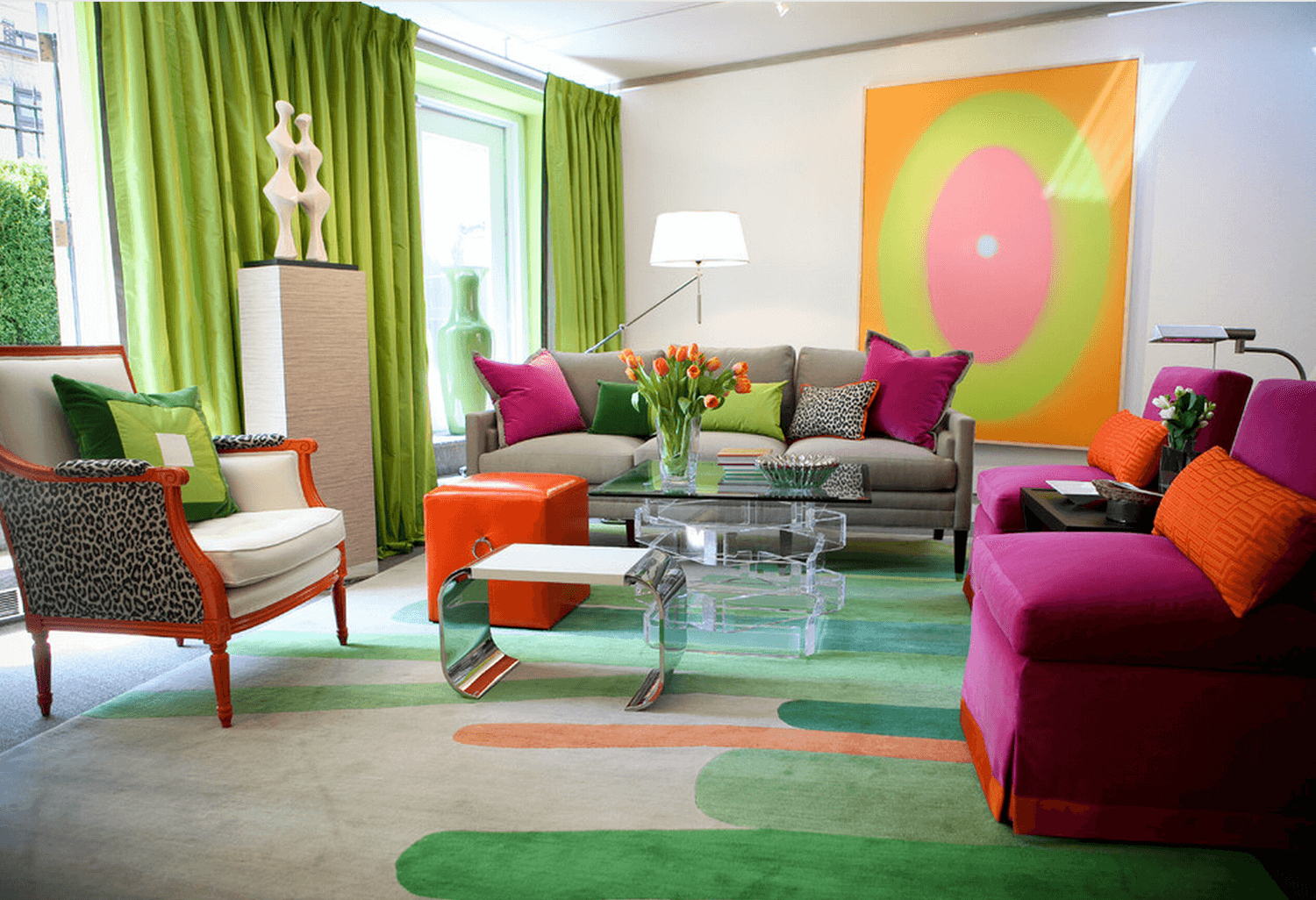 Incorporate Neutral colors
The styling emphasis more on simplicity and the use of natural elements and thus neutral color scheme and mid century modern design go hand in hand. You can add a pop of fixture, painting, or colors by keeping other things very basic, muted, and neutral. Light airy colors like beige, or ivory can transform the place by giving the illusion of larger height and making it look brighter, larger, and more inviting.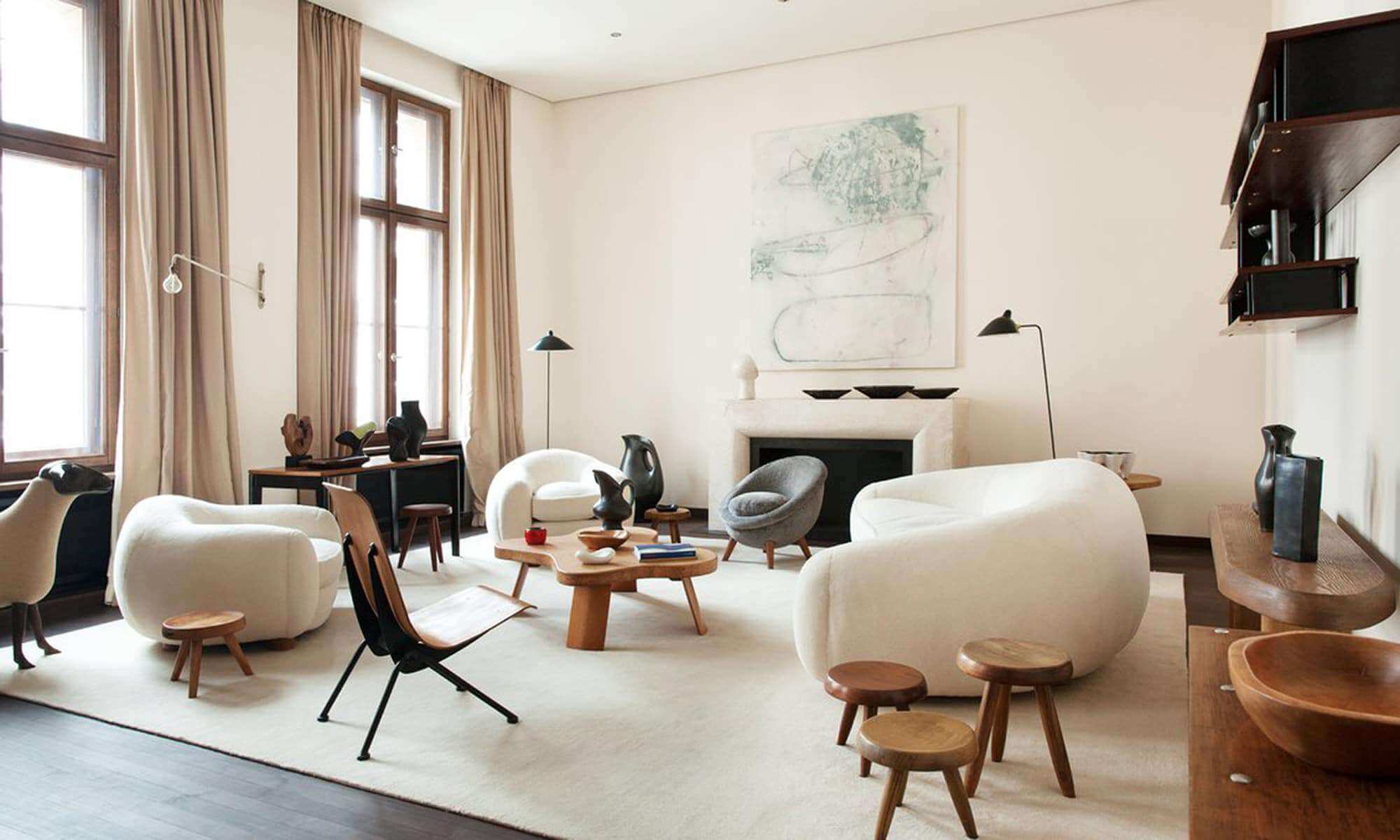 Mid-century glamor
When we talk about neutral colors, earthy tones, simple aesthetics, and sleek lines, don't get the misconception of this style being boring. Mid Century modern can also be everything glamorous by infusion of a bold pop of colors, use of metals and marble textures for décor, large lighting, and gilded finishing. This can bring over the top glamorous look to the living room yet maintain its basic characteristics.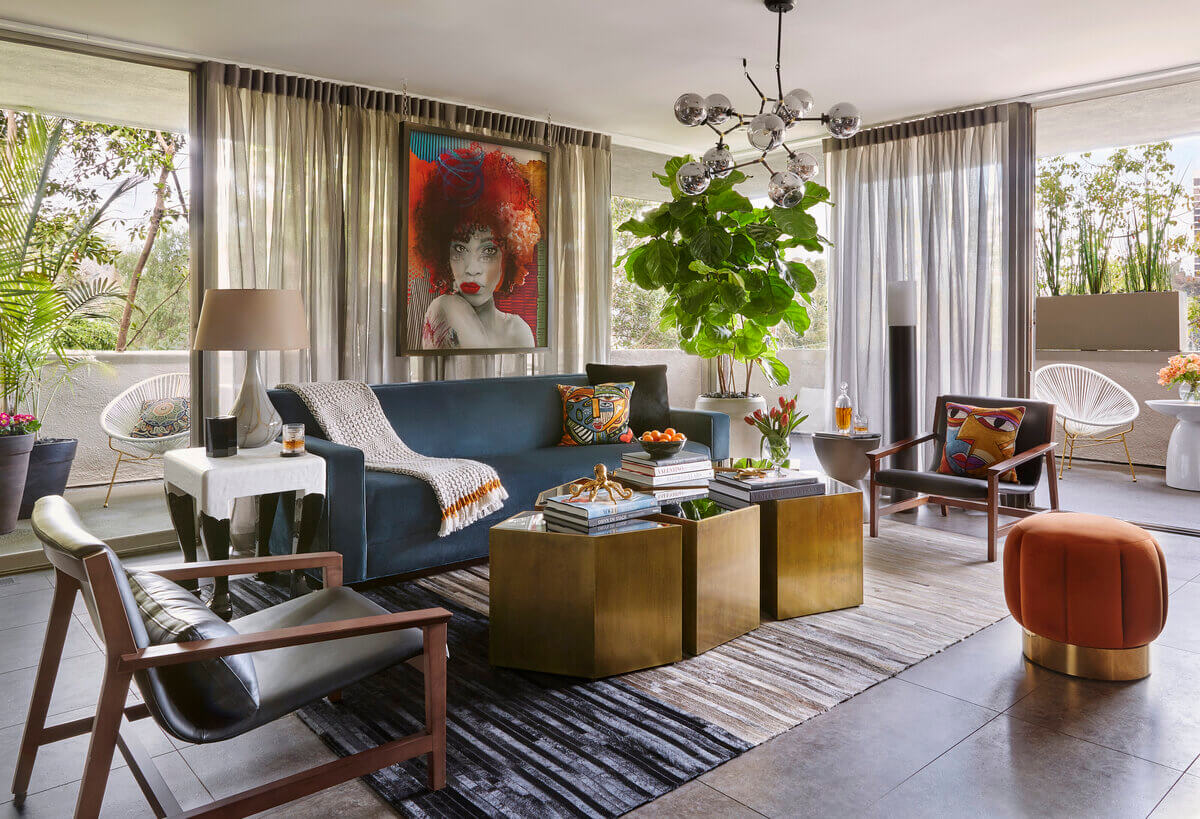 Oversized Florals
Neutral tones do not mean the place should be devoid of colors and patterns. The mid-century modern style is all about using natural elements and what is more connected to nature than florals? You can add floral designs to the wallpapers, rugs, curtains, or wherever you want to add focus to. Adding floral print is one of the easiest ways to add life to the place.
Bring outdoors In
Literally. Mid-century modern is all about maintaining balance and harmony between indoors and outdoors. Adding natural elements such as plants and pairing it with organic materials like wood, ceramic, or stone can help you get this harmony with the outdoors. Make sure to let the natural light enter the place to blur out the difference between indoors and outdoors.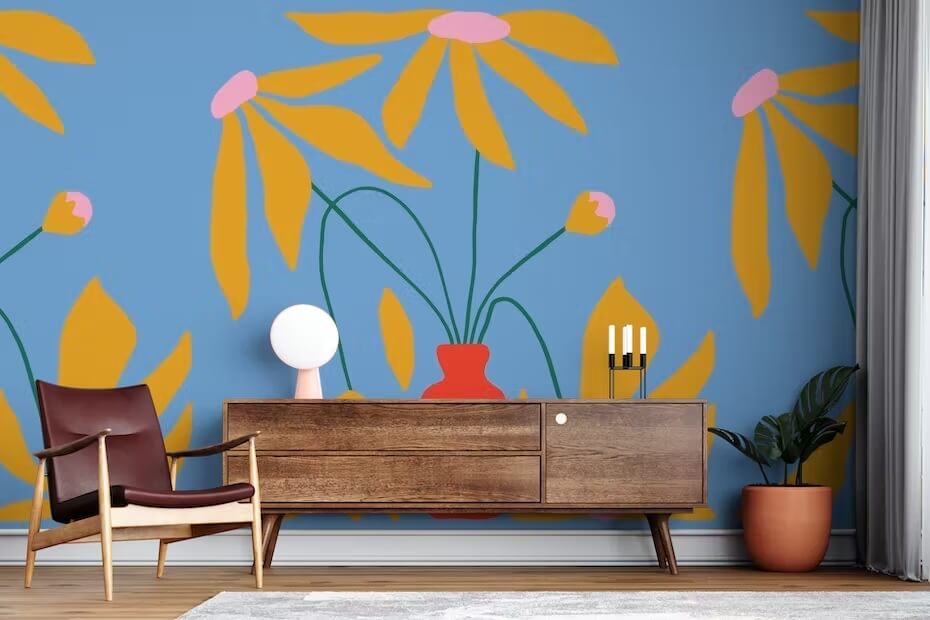 Keep it minimal & Subtle
Lastly, always consider, less is more. Try to keep the look very subtle and minimal to retain the beauty of the style. This style is more connected to nature and use of excessive elements can shatter the essence of the style and leave you with lots of clutter.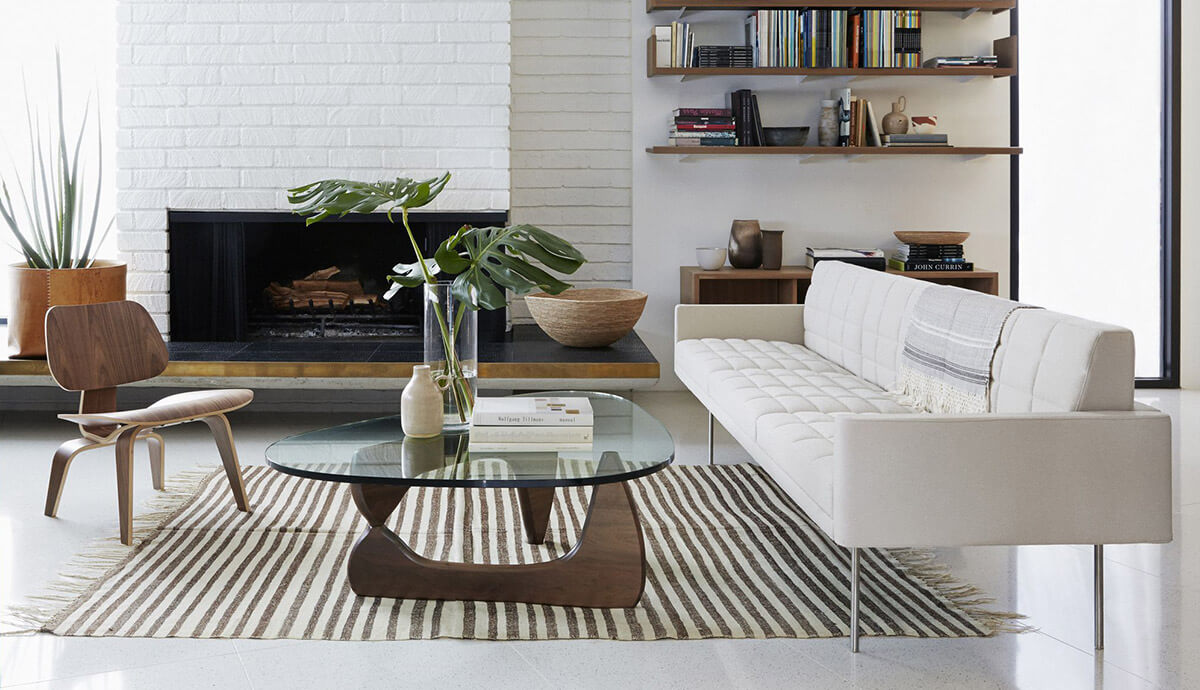 Use of streamlined silhouettes, pared-back furniture, clean lines, solid colors, and tapered legs will help you achieve the minimal yet classy look to make the place stand out.