One of the most versatile and incredibly popular crafting techniques that can be set up anywhere as a part of your wall décor is Macramé wall hangings. Macrame wall hanging is something that will instantly make you fall in love with your home.
Nothing screams "effortlessly glamorous" more than a bohemian chic Macrame wall hanging and it brings more fun to the place when it is handmade with love. Yes! We are talking about DIY Macrame wall hanging or shall we say DIY Boho macrame wall hanging? Adding macrame to the place feels more like a retro throwback but with a contemporary twist.
Macrame lets you add a boho chic appeal with all the macrame shelves, modern plant holders, wall sculptures, and much more. You can find these things online at every website but this is no fun until you decide to DO IT YOURSELF. Yes! We have some really amazing Boho macrame wall hanging DIY ideas for you. Are you ready to make your own DIY macrame wall hanging? Let's get it started!
How to Make a Macrame Wall Hanging?
Before getting started with the DIY wall macrame, let's understand the basics of macrame and how you can get it started. Making a wall macrame is a lot more simpler and easier than you think and NO we are "knot" joking. It is fun, creative, easier, and beautiful and you won't even have to spend a lot of time while making one.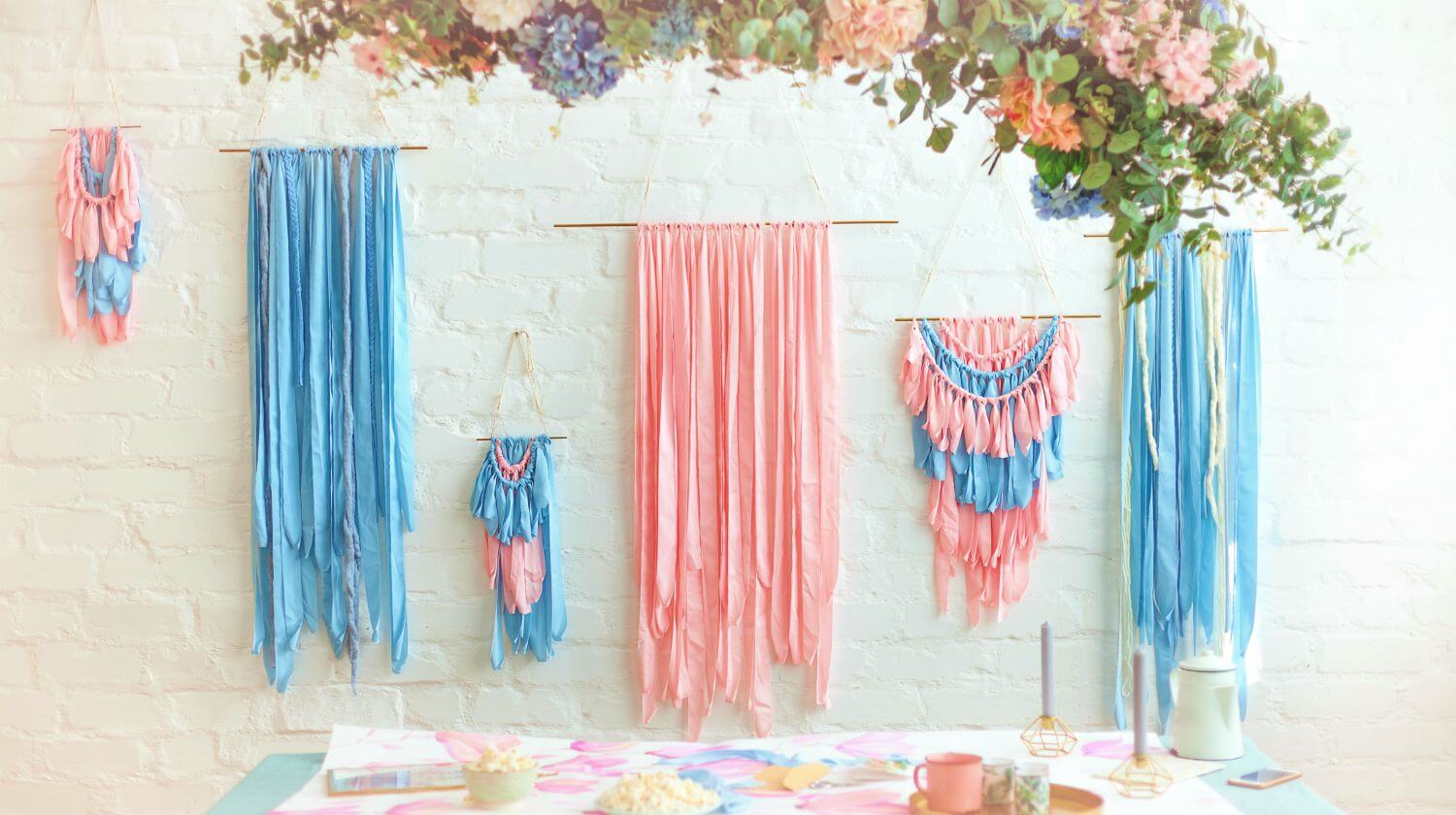 Most of the macrame is made up of three basic knots and two knots that are just an easy variation:
Lark's Head Knot
Square Knot
Double Half Hitch Knot
Spiral Knot
Gathering Knot
Once you know how to use these knots step-by-step, you can go for almost any wall hanging and master this art with lots of variations and designs.
DIY Macrame Wall Hanging Supplies 
To begin with macrame wall hangings, you will need to gather the basic tools and supplies such as:
Dowel rod
Sharp Scissors
Tape Measure
Rotary cutter
Pet Brush
Stiffening Spray
Colorful cords
With these supplies, you can start with the wall hanging but it is crucial to go for a simpler design with easy knots if you are a beginner. Also, try using a single color first, and then going for a multicolor or dyed macrame wall hanging. Let's get started with some easy and versatile patterns to go for!
Common Macrame Mistakes to Avoid 
Not buying enough cord
Cutting cord too short
Pulling your knots wrong
Forgetting to practice your knots
Step-by-Step Guide for Beginners
Cut the Cord – Cutting the cord in the right manner is very crucial. Taking care of the perfect chord and length can help you get it done flawlessly.
Attach Cord to stick – Tie the knot to the stick and tighten it. Keep it away from the end an inch or so. Tie a nice Lark's head knot by folding the piece of cord in half and repeating the same depending on your project.
Go for suitable knots – Depending on your project, tie as many knots while choosing the most suitable for your design and repeat the process.
Finish off with square or berry knots – Secure your macrame by finishing off the knots with square or berry knots and keeping the remaining cords on the loose.
You can watch various youtube videos to get more ideas about tying the perfect knots with the right cords.
Macrame Wall Hanging DIY Ideas
Easy Macrame wall hanging

For beginners, small, easy, and intricate macramé is the perfect one to start with. It can be made within no time and looks elegant and chic. The small wall hanging is easy to make with lesser knots and a simple design. This will be fun to make and motivate you to go for more complex macramé wall hangings.

Source: Manifold-witness
Macrame dream catcher

Macrame dreamcatcher is quite easy to make and would make a perfect décor addition to your living room if you are looking for some feather elements but also want to keep it classic and muted. Dreamcatchers are very trendy and with the right direction and correct cords, you can elevate the look of the place with a simple and effortless addition.

Source: Tapestrygirls
Boho macrame wall hanging

Want to add a cool and chic boho vibe to your place but make it look elegant and effortless? If yes, then a boho macramé wall hanging is the perfect solution. Also, if you are going to have an all bohemian interior with your place, the addition of this macramé is a must as it slides to your décor without making a fuss and keeping it clean.

Source: pravda.skwww.seredonline
Ombre and floral wall hanging

Monochromatic wall hangings are without any doubt the best addition to your place but once you have mastered this area, you can start using ombre cords. This will be a fun addition to the bedroom and if you are looking for an understated ambiance, this pretty and idiosyncratic piece of work is here to turn heads.

Source: Handmadebyuruba
Macrame curtain

Simple and uncomplicated large macramé can elevate the look by acting as a wall décor plus curtain. Use cords that can hang as fringe and that's it. All you need is a sturdy wooden rod as the rope will be bulky and heavy thus you need to use supplies to manage the weight.

Source: Thesprucecrafts
Feathers and bird macrame

To change the décor of the wall, you don't always need to invest in huge macramé or décor pieces. Even small feathers and bird-shaped macramé strategically placed on the wall to create a whole décor item will help you get the place to stand out without investing much in the little things.

Source: Vivaterra

Mandala Art Macrame


If you think Mandala art is just for selected things and artifacts, you probably need to see this beautiful mandala wreath macramé wall hanging. Unlike others, this circular macramé wall hanging is easy to follow and also looks unique. This circular macramé can also be used as a mirror by adding small circular glass to it. It will serve multiple purposes plus, will give an illusion of a larger space.

Source: Solidoakinc

Layered wall piece

Once you master the art of making simple macramé, try to go for multi-colored and multi-layered macramé as it is simply straightforward to make with all the steps and gives a natural and rustic charm to your place. You can use this macramé in your living space as well as part of your backyard décor.


Source: buildacrosswholesale

Macrame wall hanging shelf

Why go for just a wall piece when you can actually go for a little more storage area with the wall? This double layered macramé looks daunting to make but is simple and gives your place a modern and elegant look. You can add a wooden shelf to it and can use it for placing small plants, books, mugs, or any piece of your choice.

Source: Creativefabrica

Modern macrame

When modern meets Boho, the magic begins. For those looking for a smaller one to keep the place simple yet modern looking, this modern macramé is the mood. It is distinct and flavorful and is best to suit the taste of modern interiors.

Source: architecturaldigest
Dip dyed macrame

We are absolutely in love with this dip-dyed macramé that covers the entire wall while setting a mood. This huge macramé has rich and vibrant colors combined to add depth to any bland or boring wall. This versatile piece can fit everywhere from the foyer to the bedroom.

Source: koel-magazine.blog
While we came up with some simple DIY macramé wall hanging ideas, you can also go for some advanced versions with lots of practice. Try making your own unique design by choosing distinct and colorful chords and using knots smartly.