When we talk about gardening, all people go for is planting flowers, plants, water bodies, and patios to make it look beautiful but often neglect some important features like a trellis. A garden trellis has a limitless potential of giving your garden an elegant and clean look and also creating a charming vertical interest in the place.
Some flowers and plants can give a wholly unique look to the garden but need a structure to support their growth and that can be done by using a trellis. Trellis is a basic, simple, and inexpensive addition to the garden that has the potential to transform the look of your backyard. Whether you are looking for some DIY trellis ideas or economical garden trellis ideas, we have got you covered with some amazing ones that can uplift the look of your garden. Let's check it out!
1. Arch Trellis
An arch trellis is probably one of the best ways you can enhance the entryway of your garden. It creates an illusion of a tunnel that leads to the scenic charm making a statement of royalty. This style gives a welcoming look to the place and gives an intimate atmosphere. Add planters with fragrant blooms and that's it. Perfection!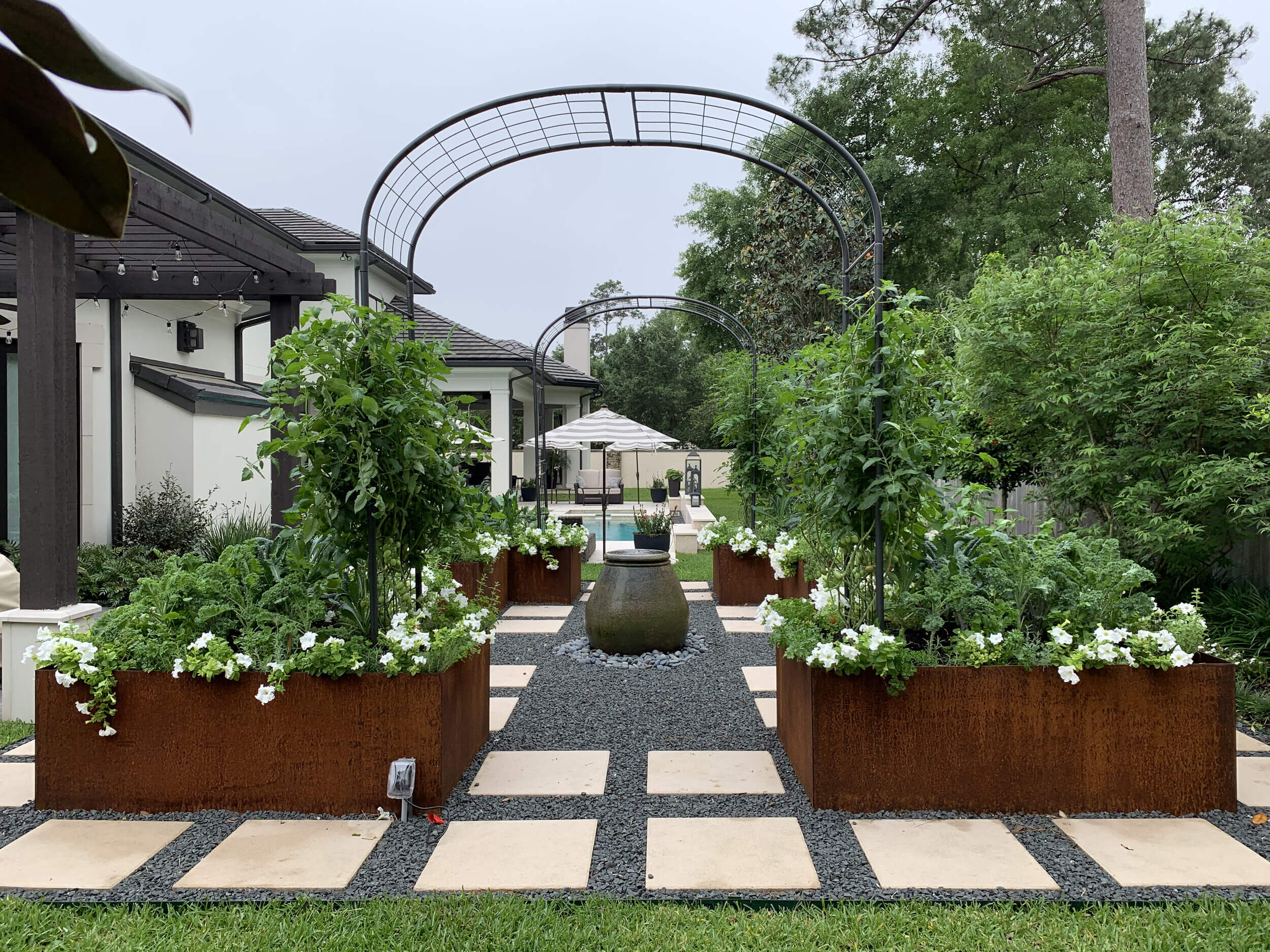 2. Bamboo Grid Trellis
If you do not want to invest in the classic wooden trellis, this DIY bamboo grid trellis will serve the purpose. The bamboo trellis is easy to work with as it is lightweight and uses knots instead of drilling and hammering. Also, they are really flexible and can be shaped like trellis and made into a structure of your choice.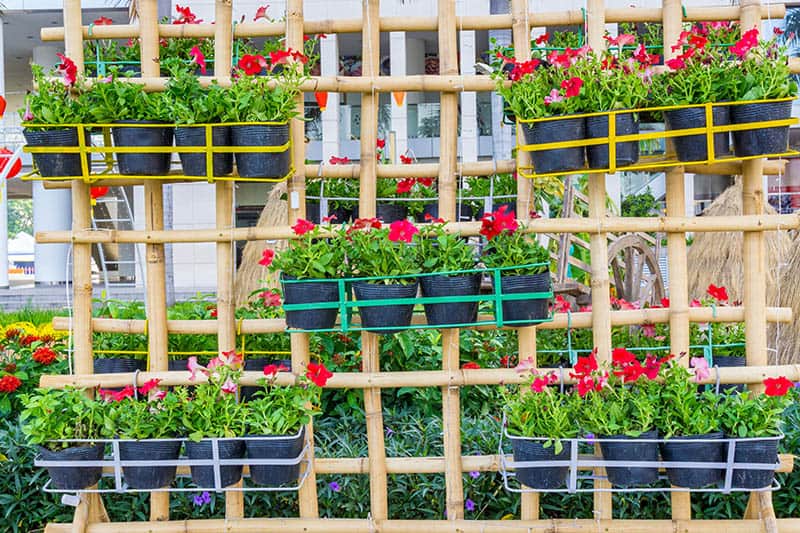 3. Metal Trellis Frame
Metal trellis can be used when you want to define a boundary around the garden. Traditional fencing is a little too simple and outdated but using it as a trellis and planting distinguished flowers around it can enhance the whole scenario. It also helps in creating some level of privacy in the garden.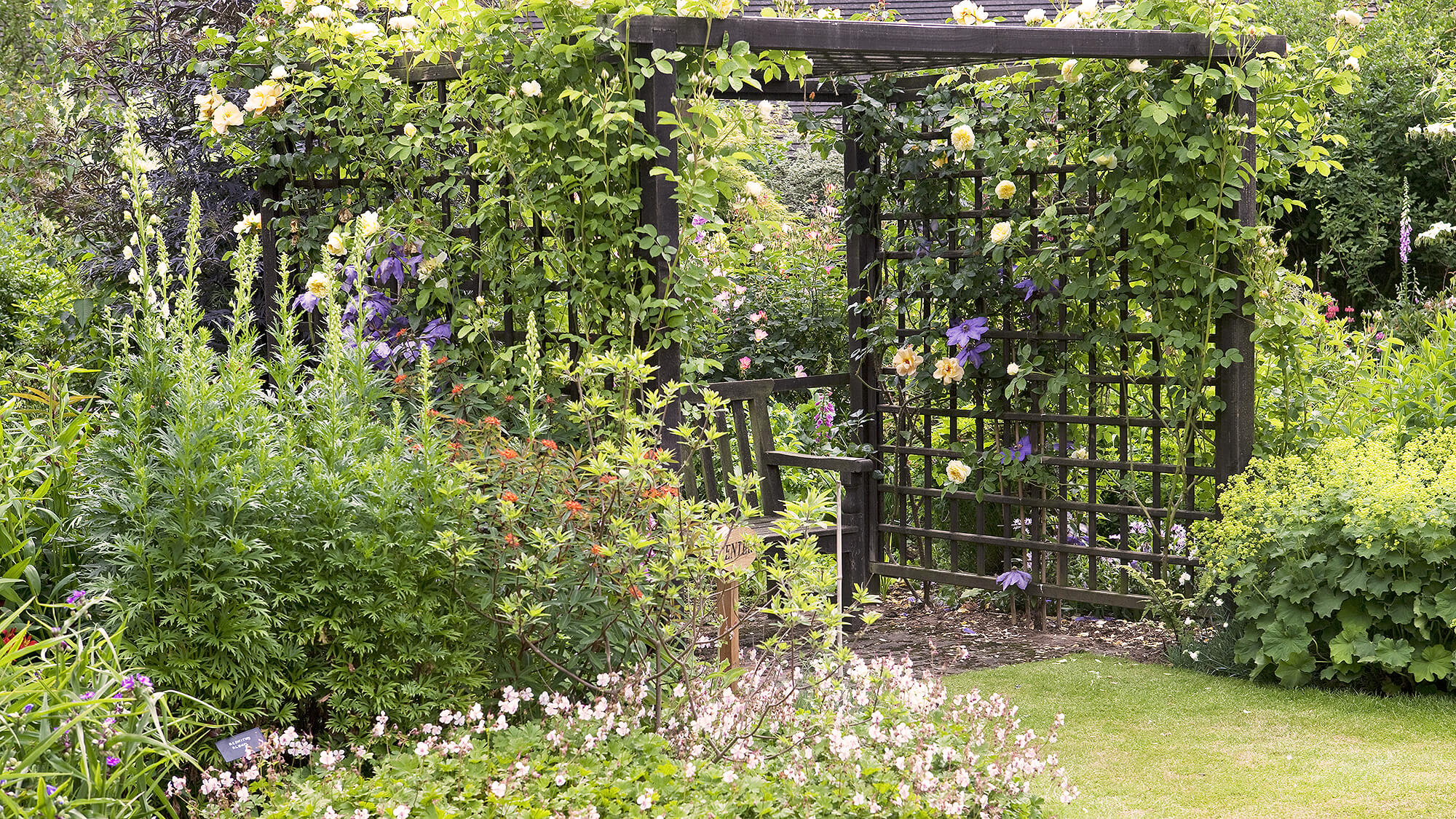 4. Horizontal Wooden Trellis
If you are short with the space or want to give a modern and chic look to your garden, this horizontal wooden trellis is the best option. Create a secluded oasis and give a sense of modern edge and increase privacy by installing the fencing panels. This clean and subtle trellis will provide you with an economical yet modern solution to your space issues.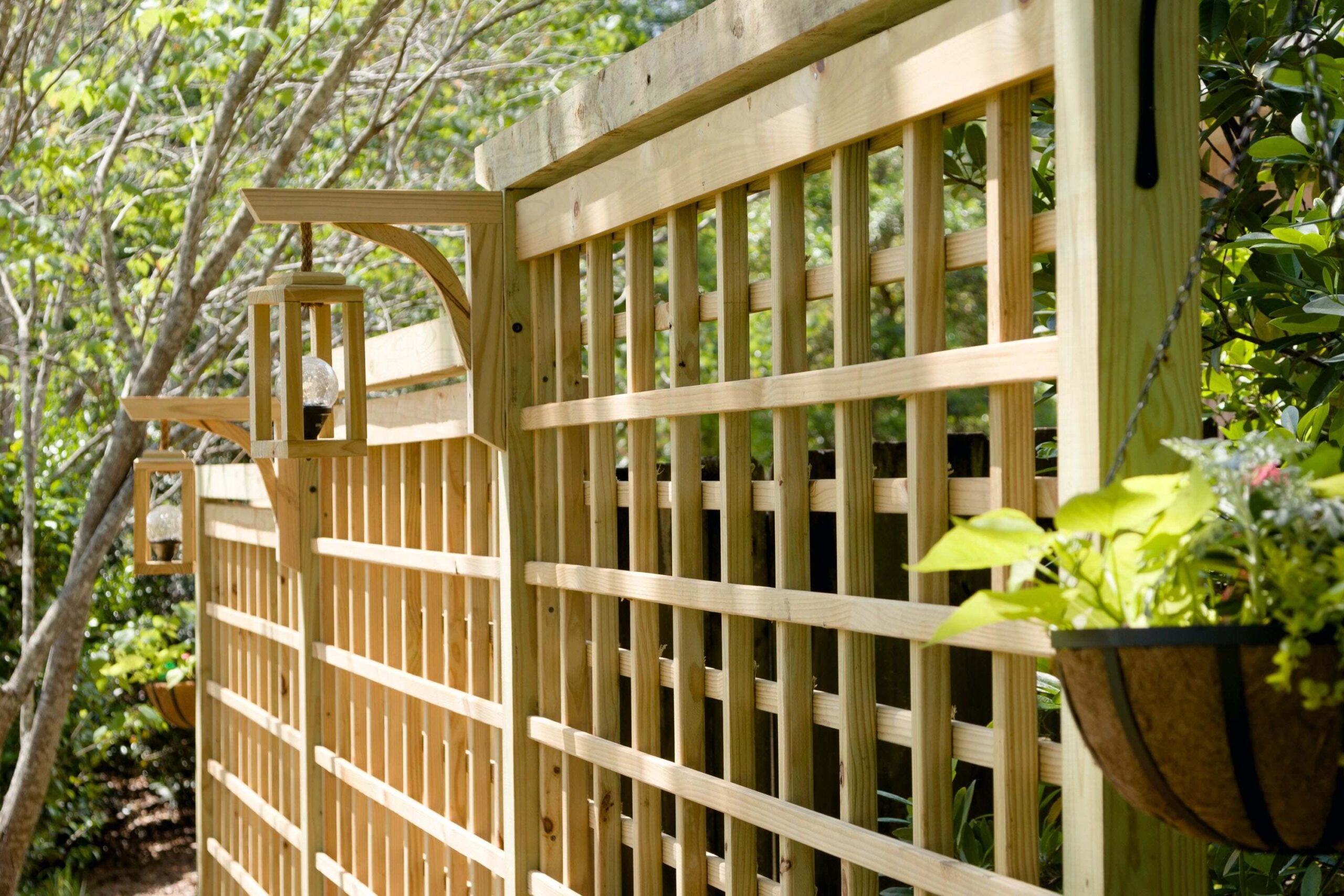 5. Diamond & Criss-cross Trellis
Diamond and criss-cross trellis is the classic way of using it. This type of wooden structure can be used in multiple areas whether it is to cover the brick wall or to frame the door or at the boundaries, or somewhere in the middle of the garden to create a diversion, diamond and criss-cross trellis is just amazing.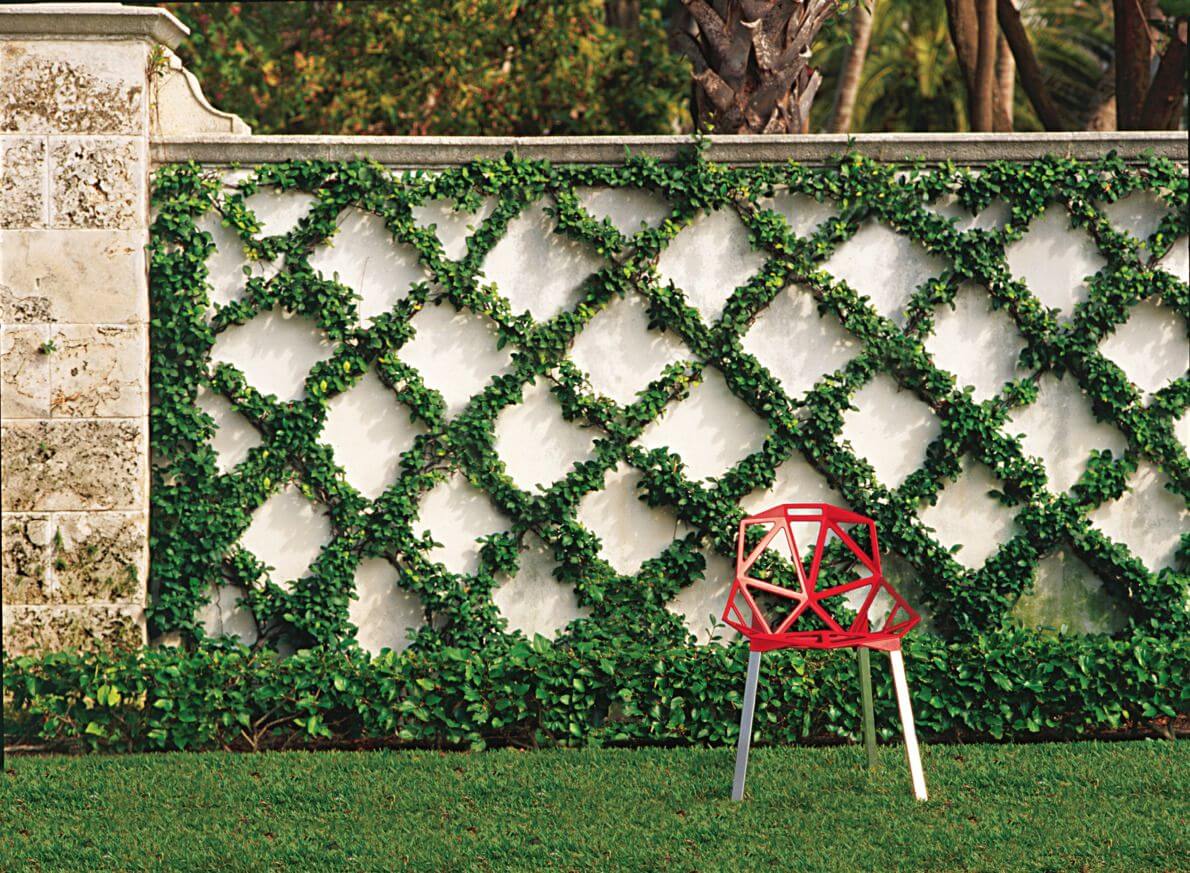 6. Garden Fence Trellis
If you are left with some extra wooden fencing and want to get the best out of it, then install it as a trellis. Using a garden fence trellis is not just economical but also very simple and easy. You can hang it on the wall, keep it at some distance with different kinds of flowers, or create a structure of your choice with plantations of almost any kind. Here's your time to be creative, don't miss it!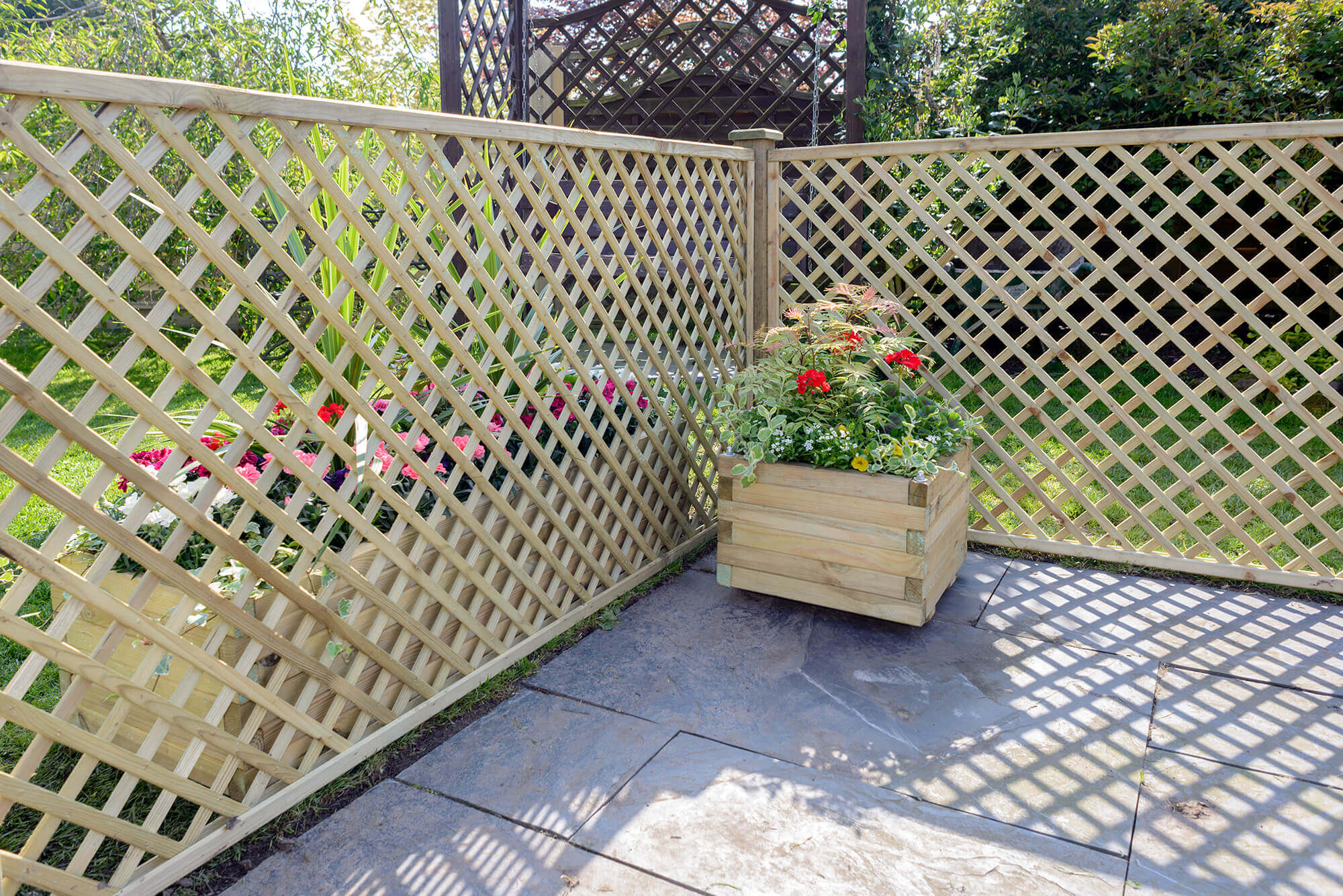 7. Install Trellis Topper
Installing a trellis topper can help you add some extra height to the fence while also giving support to the climbing plants as a bonus. This is super functional and also helps you get some extra privacy in your backyard while also being a major design function making it a multipurpose option for your various solutions.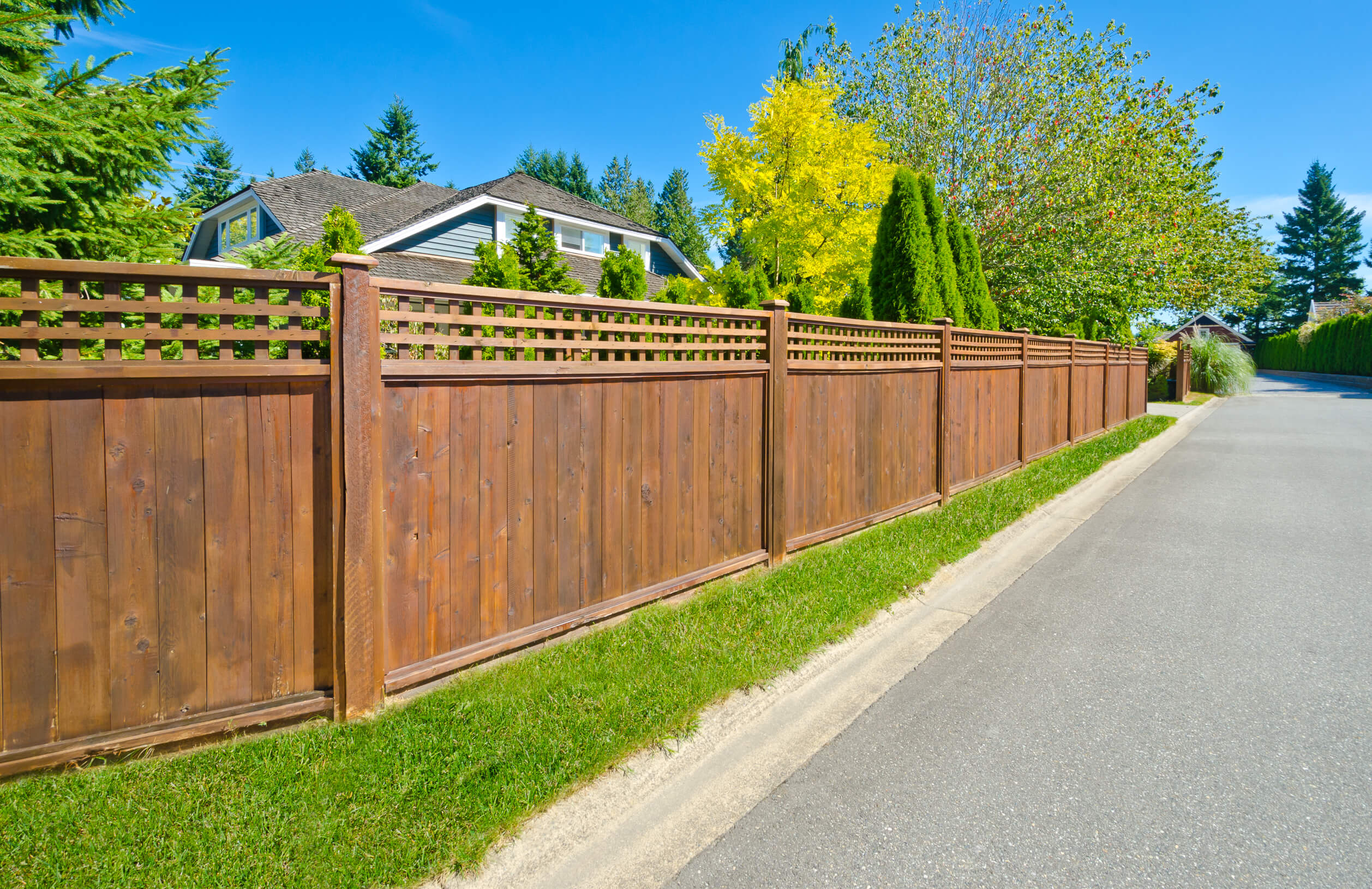 8. Spider Web Wall Trellis
Do you need a trellis idea or solution for the problems such as – How to limit the growth of the creepers? OR How to cover the empty trellis when you are growing annual vines? Well, we have the perfect option. Spider web wall trellis can be installed over the grow bed and is shaped like a spider web. It doesn't span over the entire wall and thus can limit the growth of your creepers and also doesn't look much empty while vines aren't blooming.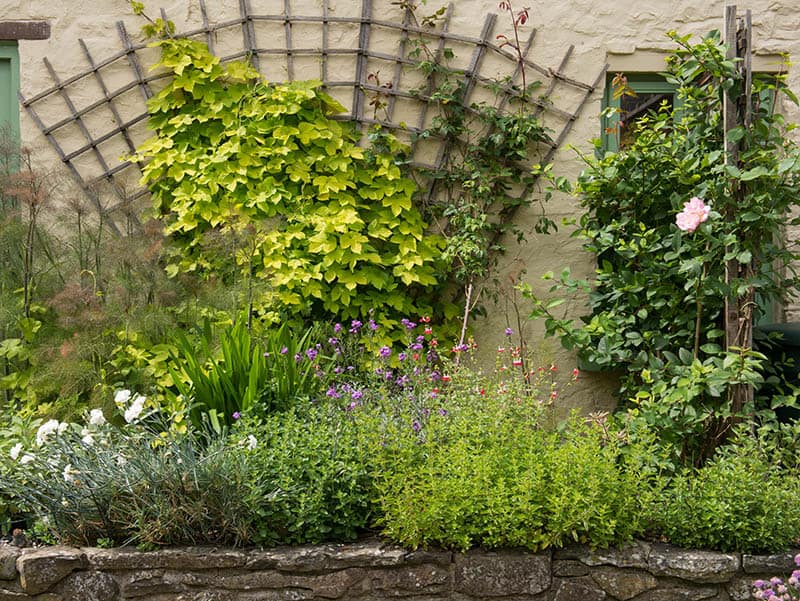 9. Garden Gazebo
Trellis has multiple functions other than just a support to grow your plantations. One of these functions includes creating a beautiful shade or to zone out the entire area. Carve out a stylish hangout area by adding a trellis at the top and at the sides to create a different "room". The bench and coffee table here can provide you with the ultimate level of comfort to spend some quality time with your loved ones.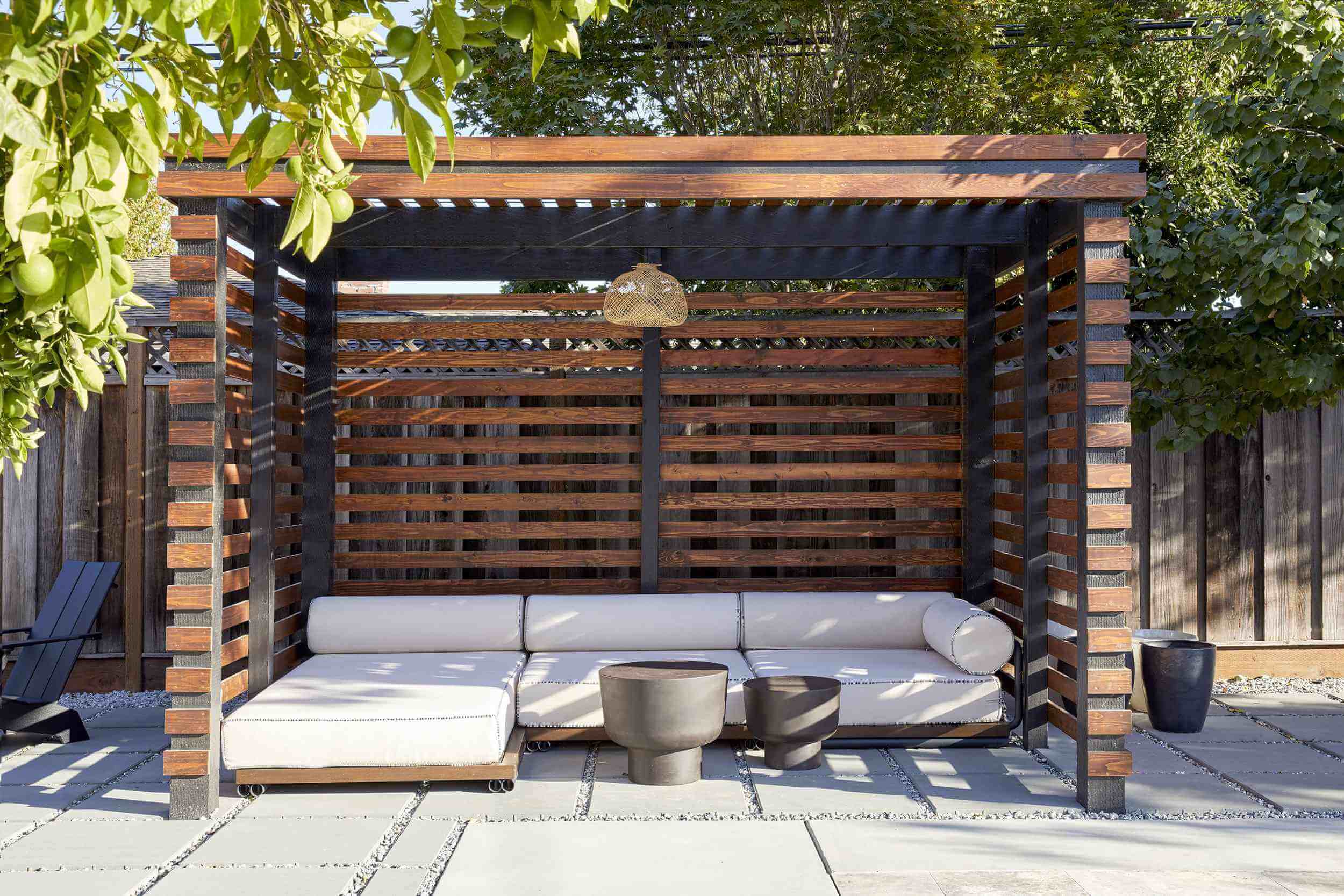 10. Trellis as a Frame
Want to add interest and intrigue to the walls? Here is what you can do. Instead of planting the trellis with plants, you can strategically place them around the windows and front wall. Eventually, you can also use this trellis to train plants and convert this frame into a beautiful vertical garden. The choice is yours!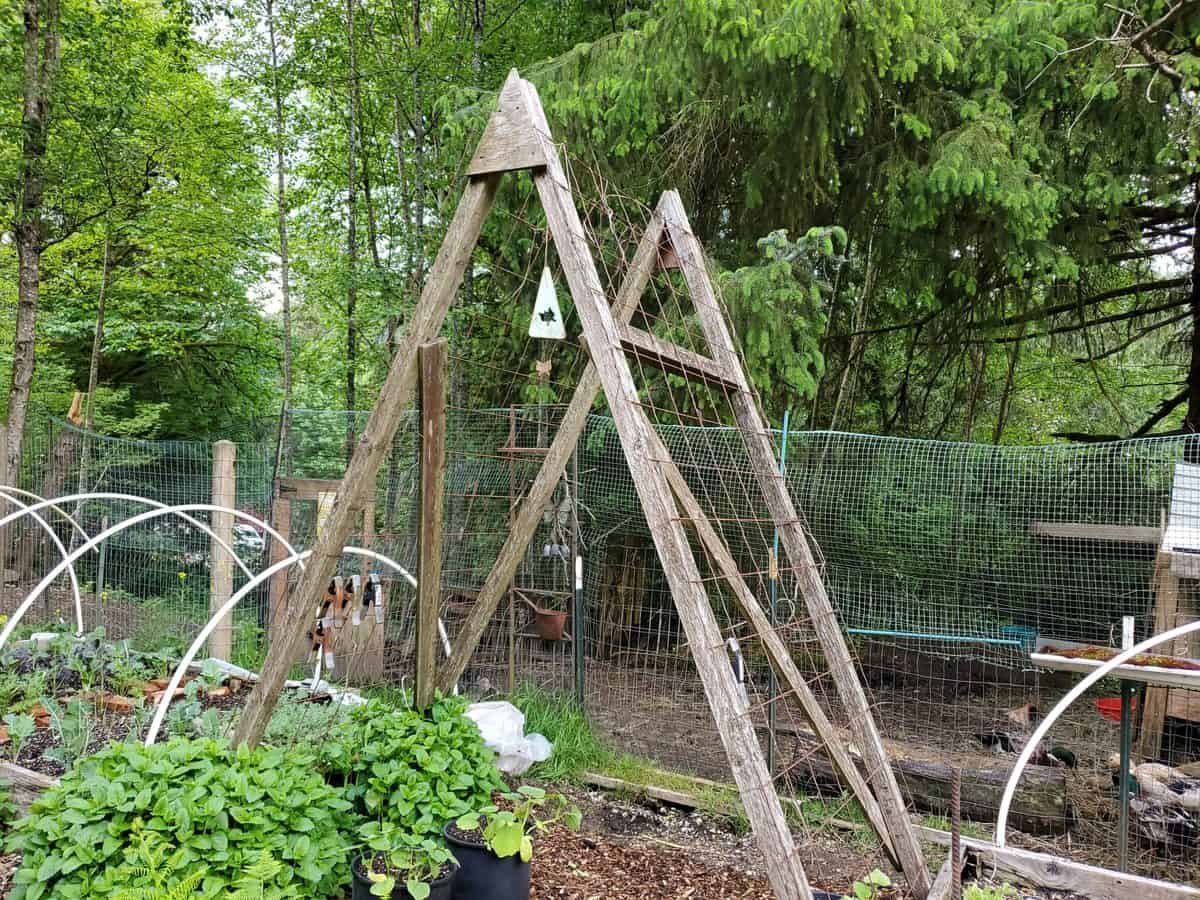 11. Pergola & Arbor
Pergola and arbor are the classic trellis and are evergreen to be used as a trellis as it helps in giving a high definition to your garden. Just plant some colorful creepers around the place and enjoy the beauty around you in the comfort of the luxurious seating. This can also be an ultimate summer seating as it can provide some great shade and a humid atmosphere to hang around.
12. Garden Obelisk
If adding a trellis to the bare wall isn't an option, the best substitute to go with is installing an obelisk instead. The legs are simply driven to the soil and that's it! Your multifunctional trellis is ready. These are self-supporting and thus don't need much care and can be installed almost anywhere in the garden. This can also be used to create a multi-functional vertical garden.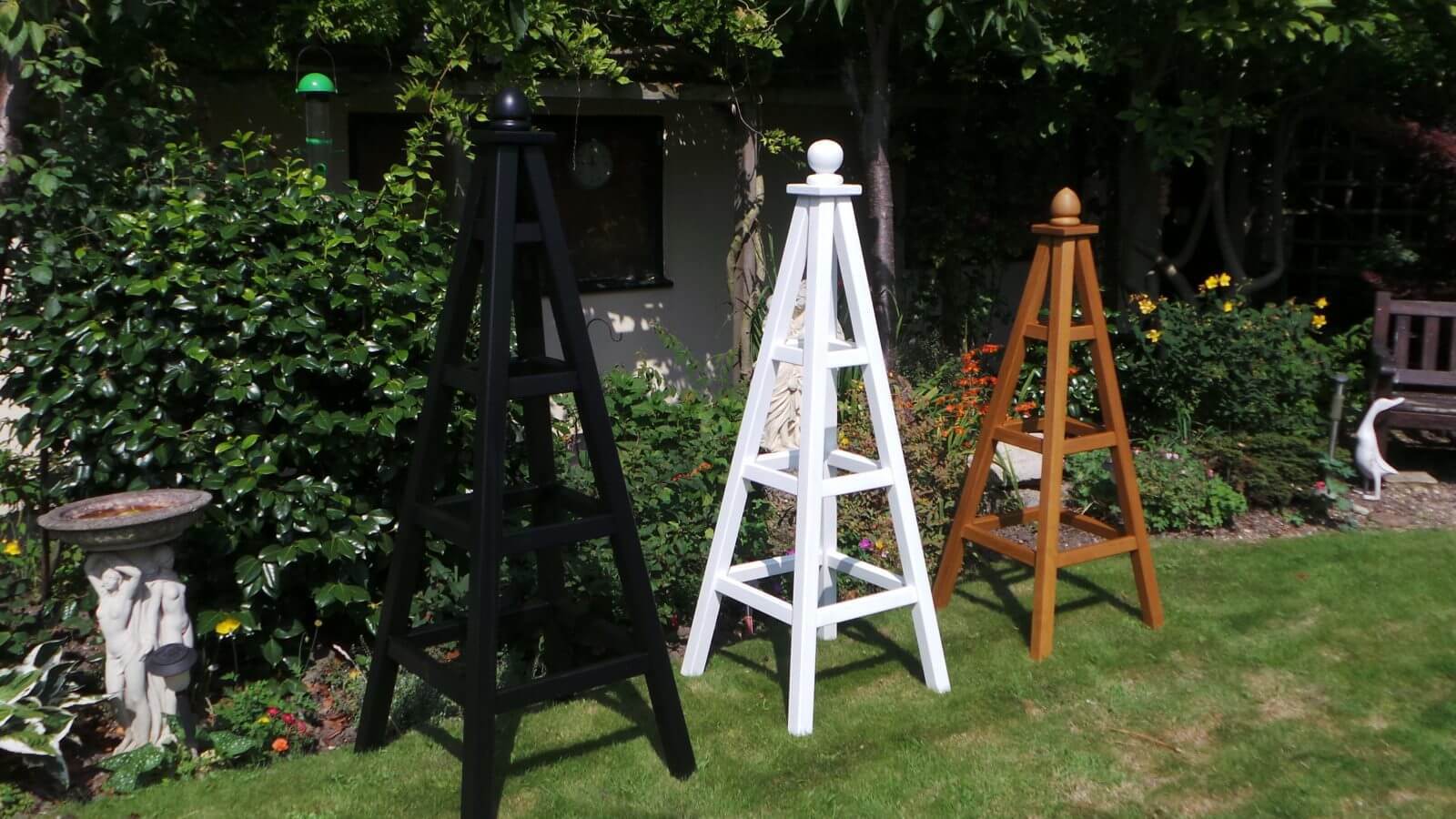 13. Metal Trellis
For those seeking a contemporary and urban look for the outdoors, a perfectly galvanized metal trellis is the best option. This can make your garden stand out from other gardens as the metal provides a sturdy and classic finish to the place. They can also be painted in multiple colors to suit your scheme and shine out brightly. Just make sure it is painted with anti-corrosion ones to make it durable.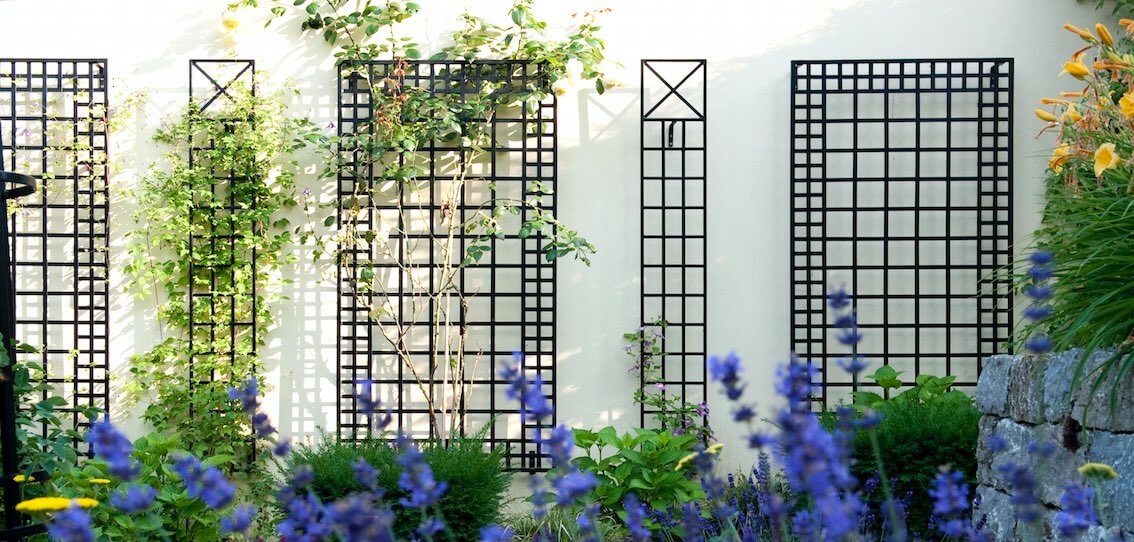 14. Artistic Welded Metal Trellis
For those artists out there, we have some unique and challenging trellis ideas with us. Fix an artistic welded metal trellis to the wooden fence to give your garden a rustic and unique feel. You can assemble some custom-made artistic welder or DIY the same and install it near the wall. This can make your garden stand out and can also help it look different even with smaller space.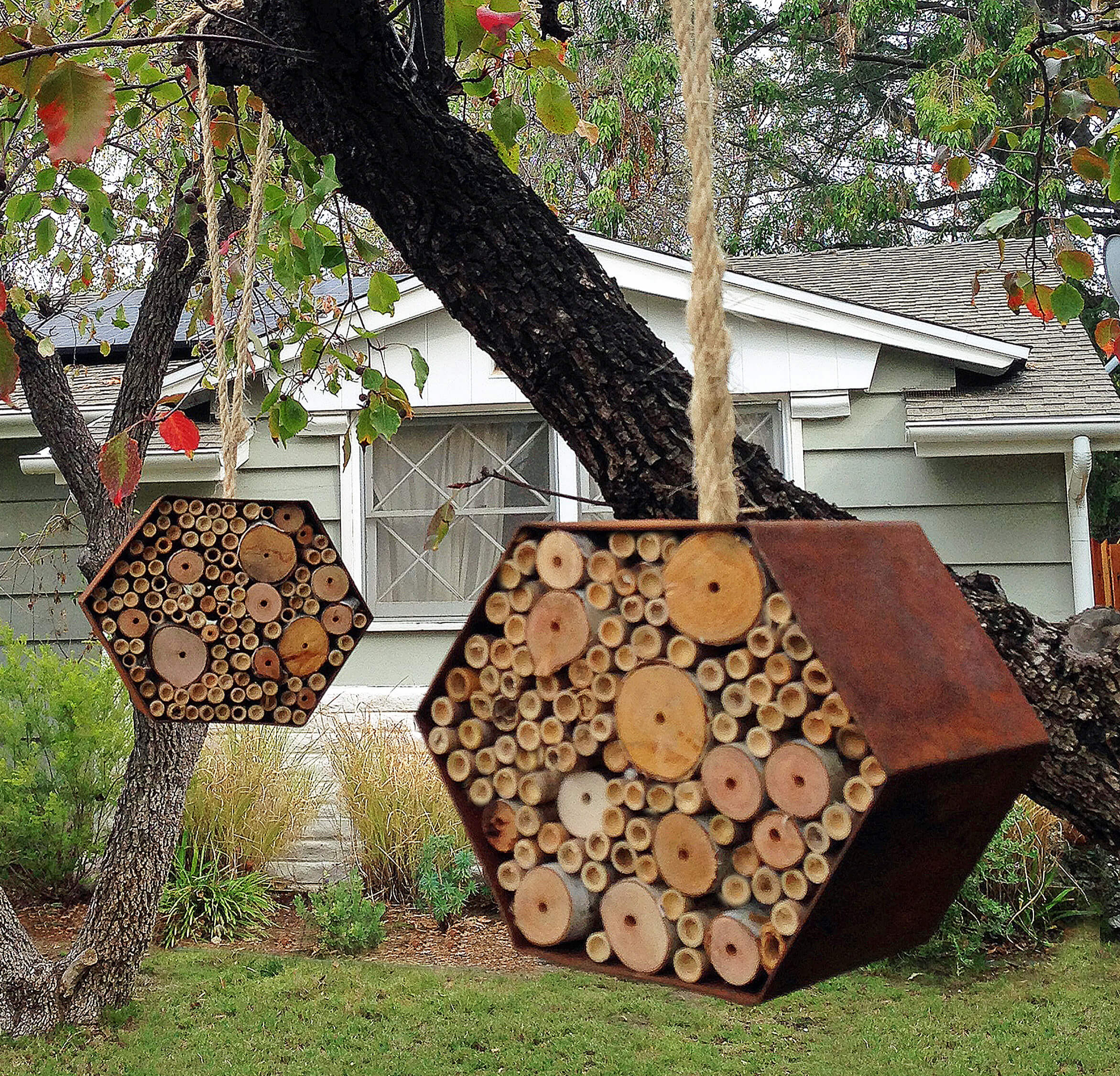 There are many other DIY trellis ideas to install in your garden such as wagon wheel trellis, honeycomb trellis, cattle panel trellis, pallet cucumber trellis, garden tools trellis, painted wood trellis, vertical kitchen planters, traditional kitchen garden trellis, using the ladder as a trellis, and many more. All you need to do is to be creative with what you have and to make the most out of the same.
What are the best climbing plants for a trellis?
Before going for plantations, make sure you have the perfect trellis setup and the perfect plantations and vines. Some of our favorites include climbing roses, jasmine, climbing hydrangea, sweet peas, clematis, and wisteria. Also, some creepers can be too aggressive thus choosing the trellis appropriately in order to get the perfect look of your choice. Before planting and choosing the trellis, make sure what type of plant you are going for and if it complements the choice of your trellis.