Your bathroom is a private space where you can spend leisure time and the most important morning time for your daily routine. Bathing and getting ready in the bathroom is a part of almost every single person's life. So taking care of the place that cleans us is our duty. Moreover, bathrooms accumulate a significant amount of dirt, and grime on a daily basis. 
At the very least once every month, bathrooms should be thoroughly cleaned. You must regularly sterilize it since it regularly comes into contact with water, steam, and chemicals. As bacteria will proliferate if you don't maintain its cleanliness and hygiene, it should be the cleanest area of your home.
We have got you covered with the best hacks and methods for how to clean a bathroom and its different parts. Scroll down to know more.
How To Clean A Bathroom?
It's not as tough as you would think to clean a bathroom. It calls for attention and regularity. Even though you clean the bathroom every day, certain sections will undoubtedly stay unwashed. Once a month, a thorough cleaning is required. Wash every corner of the bathroom and accessories.
The following parts are important while cleaning a bathroom:
Tile Grouts

Showerhead

Sink

Shower Curtains And Doors

Toilet

Accumulated Molds

Tiles

Floor

Bath-tub

Fan

Counter-tops

Bathroom vent

Napkins And Towels

Bathroom Cleaning Tools
Make your bathroom gleam by following a cleaning routine. Clean every part of the bathroom on regular basis. Read the following in detail to know how to clean the bathroom and its different parts.
How To Get Rid Of Molds In The Bathroom?
A proven way to clean molds without much effort is to clean them by using proper chemicals. For cleaning molds, you can make an all-purpose cleaner at home by mixing one part of bleach and 2 parts of water and storing it in a spray bottle. Spray it on the molds and rest for 10 minutes.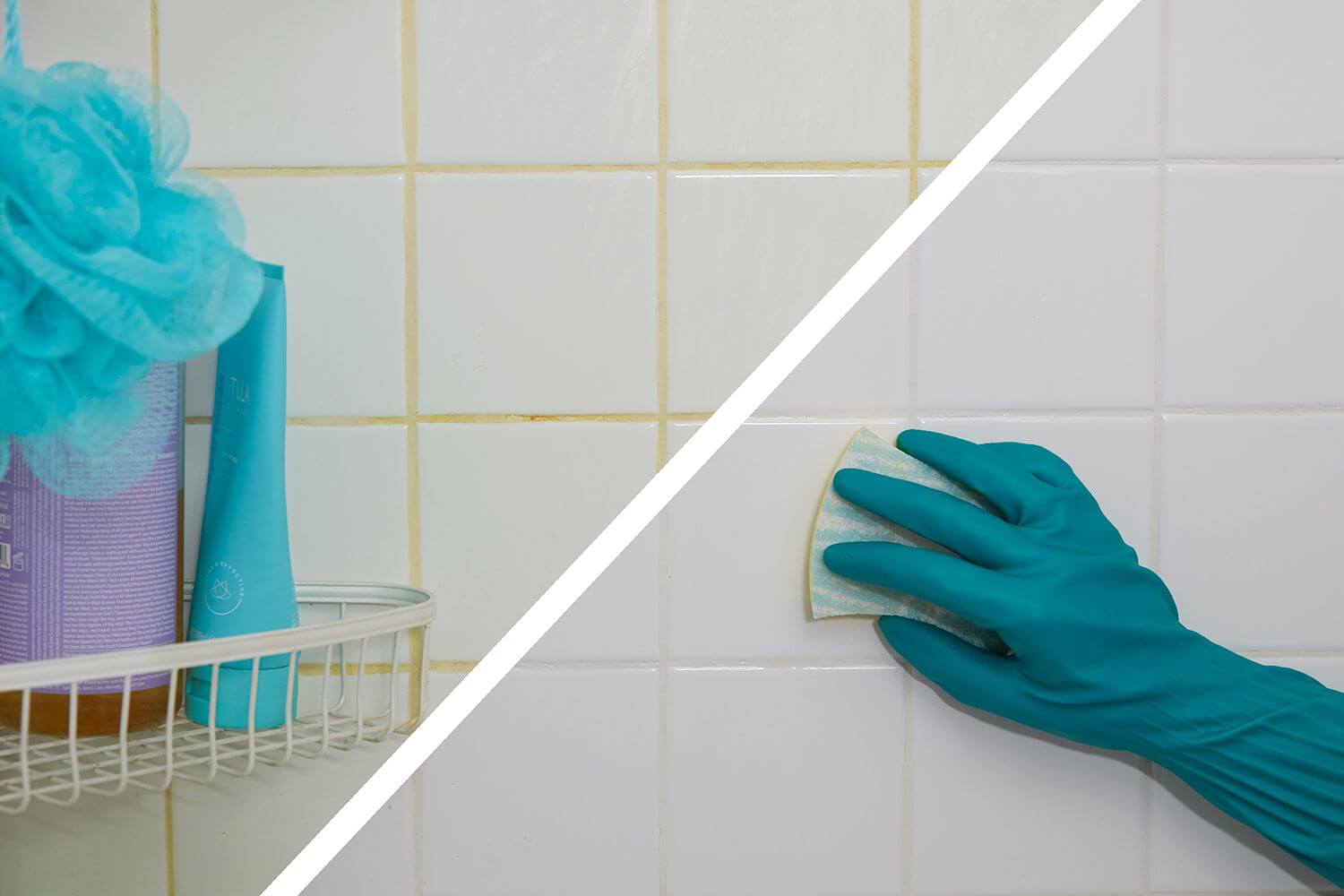 You will notice that molds start to fade away. Clean them with a coarse scrubber and you are good to go. Clean and sparkling walls and tiles will be there after cleaning all molds in your bathroom.
How To Clean Bathroom Tiles?
Tiles are the most affected area and sometimes you have tile grouts that accumulate bacteria. Wear gloves every time you wash the bathroom. You have to take a scrubber and dip it into bleach. Bathroom cleaning chemicals are also good options for deep cleaning. Apply the chemicals and let sit for several minutes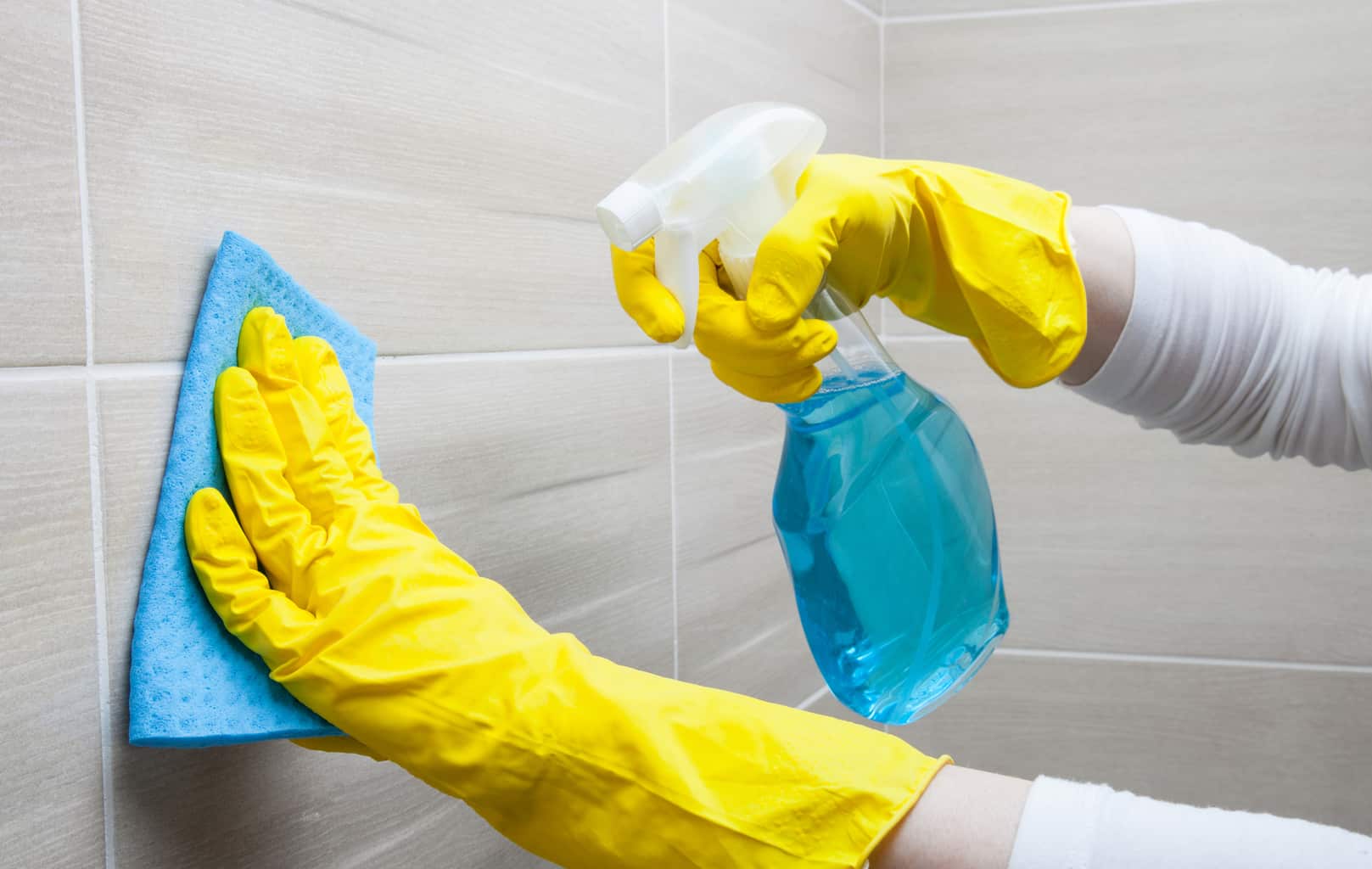 The area behind the bathtub and shower areas has tiles that accumulate water residues and grouts on tiles. Clean one area at a time to get the best result. Wipe the grouts after a few minutes and wash them thoroughly. Make sure that chemicals do not spread out or spill on other parts.
How To Clean Bathroom Floors?
Floors get dirty and sticky due to constant exposure to water in the bathroom. You have to choose the floor cleaner wisely. Harsh chemicals may cause damage and leave residues that will be highlighted in the form of stains on floors. Cleaning floors with highly reactive chemicals are not suggested by experts.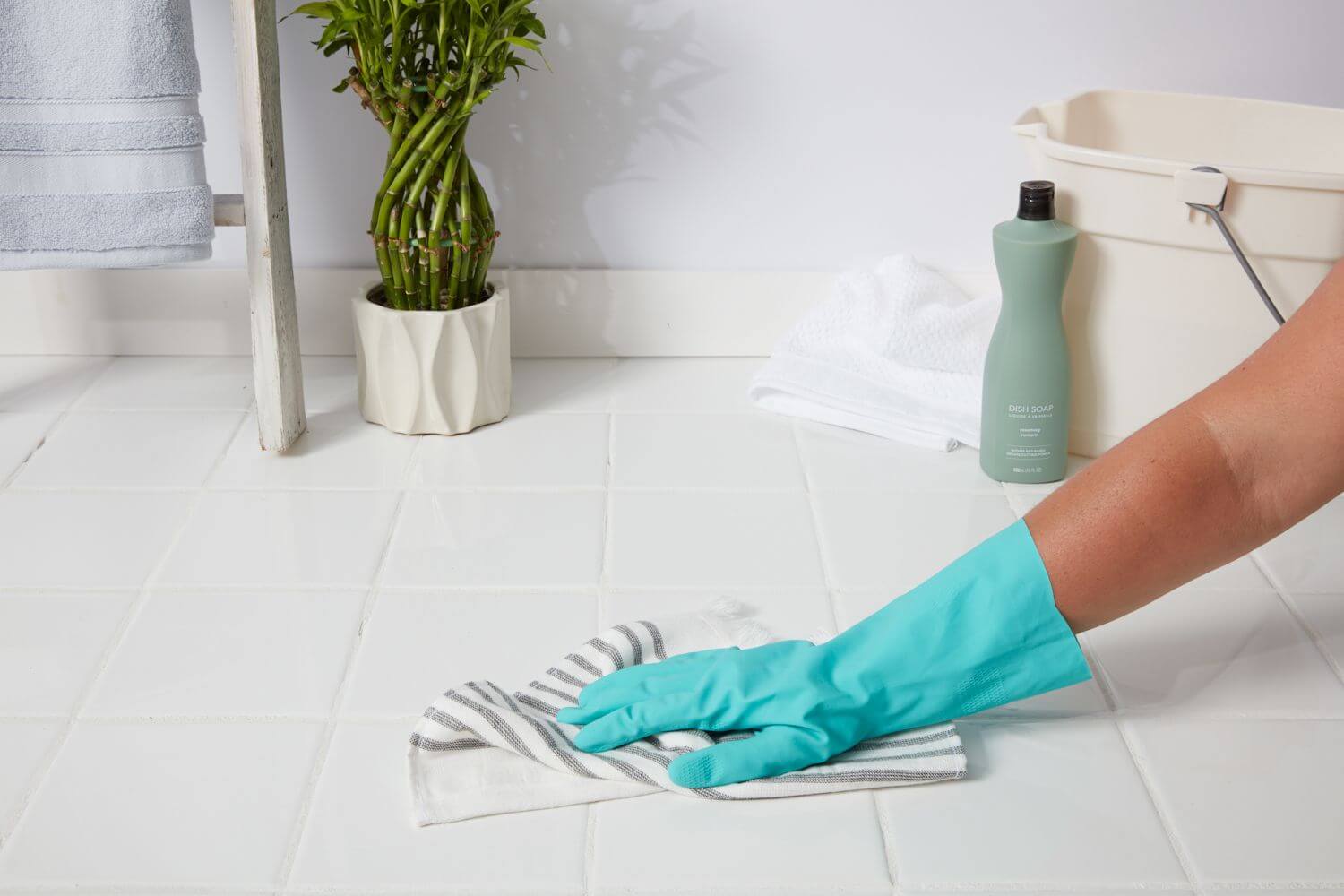 Spray floor cleaner solutions or chemicals that are safe for cleaning bathroom flooring. Keep the windows and doors open if fumes bother you. Wash the floor thoroughly with the help of floor cleaning tools like an adjustable steam mop. If the stains do not get washed with all-purpose cleaners or bathroom cleaning chemicals, use bleach as a last option. 
How To Clean Bathtub, Sink, And Toilet?
You regularly use the sink for hand washing, hair combing, and shaving. This will cause toothpaste, hair strands, and bacteria to collect on the sink surface. Clean the sink with an all-purpose cleaner. Spray it all around the bathroom sink and wipe it out with a sponge or cloth. Don't forget to clean the faucets.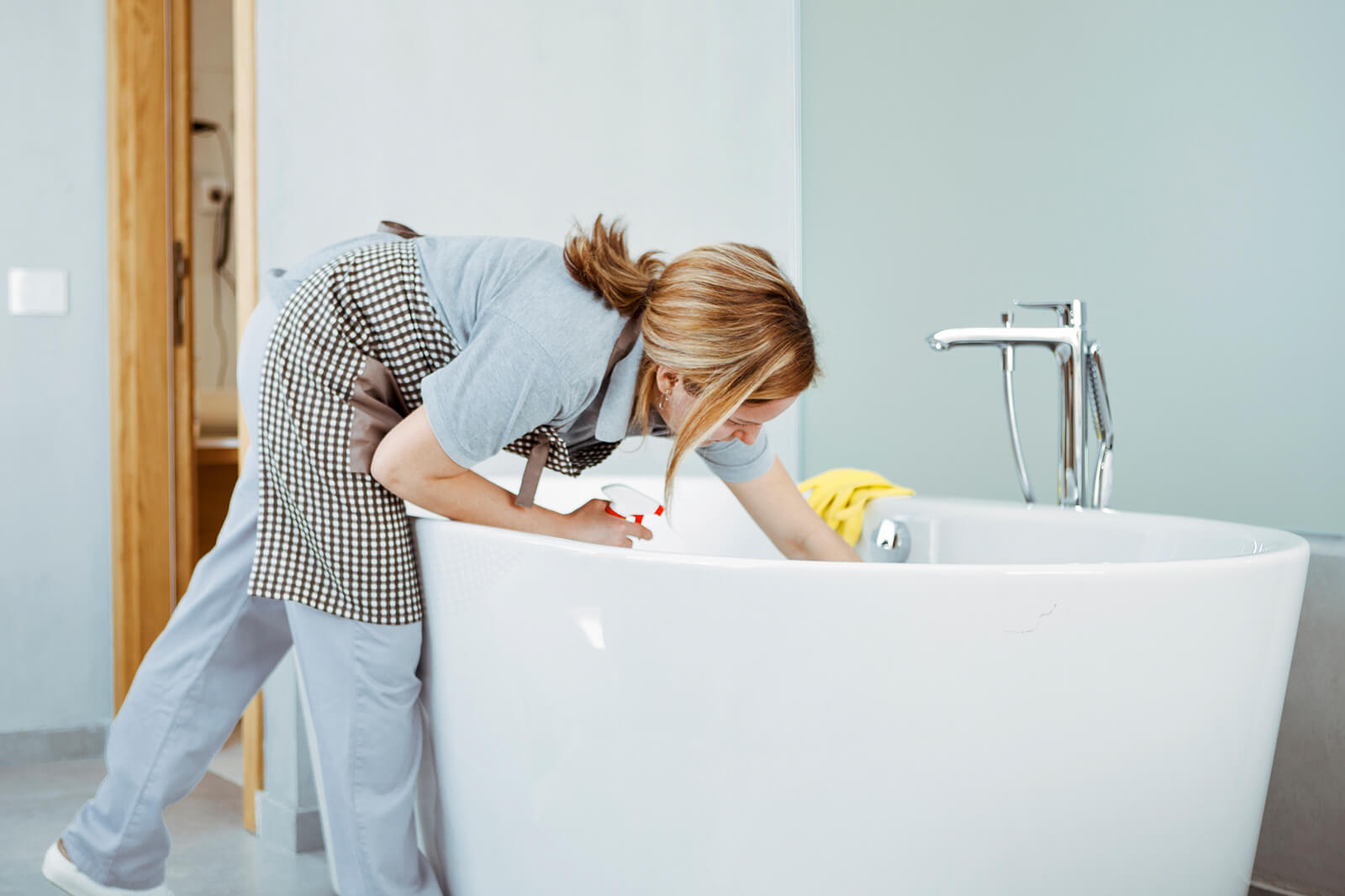 To clean the toilet you have to use toilet cleaner or baking soda. Apply the chemical into the bowl. Rest for a few minutes and wash it with a stiff-bristled toilet brush. 
How To Clean Showerhead, Shower Curtains, And Doors?
Fill a plastic shopping bag with enough white vinegar to completely cover the showerhead nozzle, tie it up, and soak it for the night. In the morning, take it off and run the water to rinse. Soak plastic shower curtains in detergent powder for an hour and wash them with a brush and let them hang and dry. If you have fabric curtains then you can wash them in a washing machine.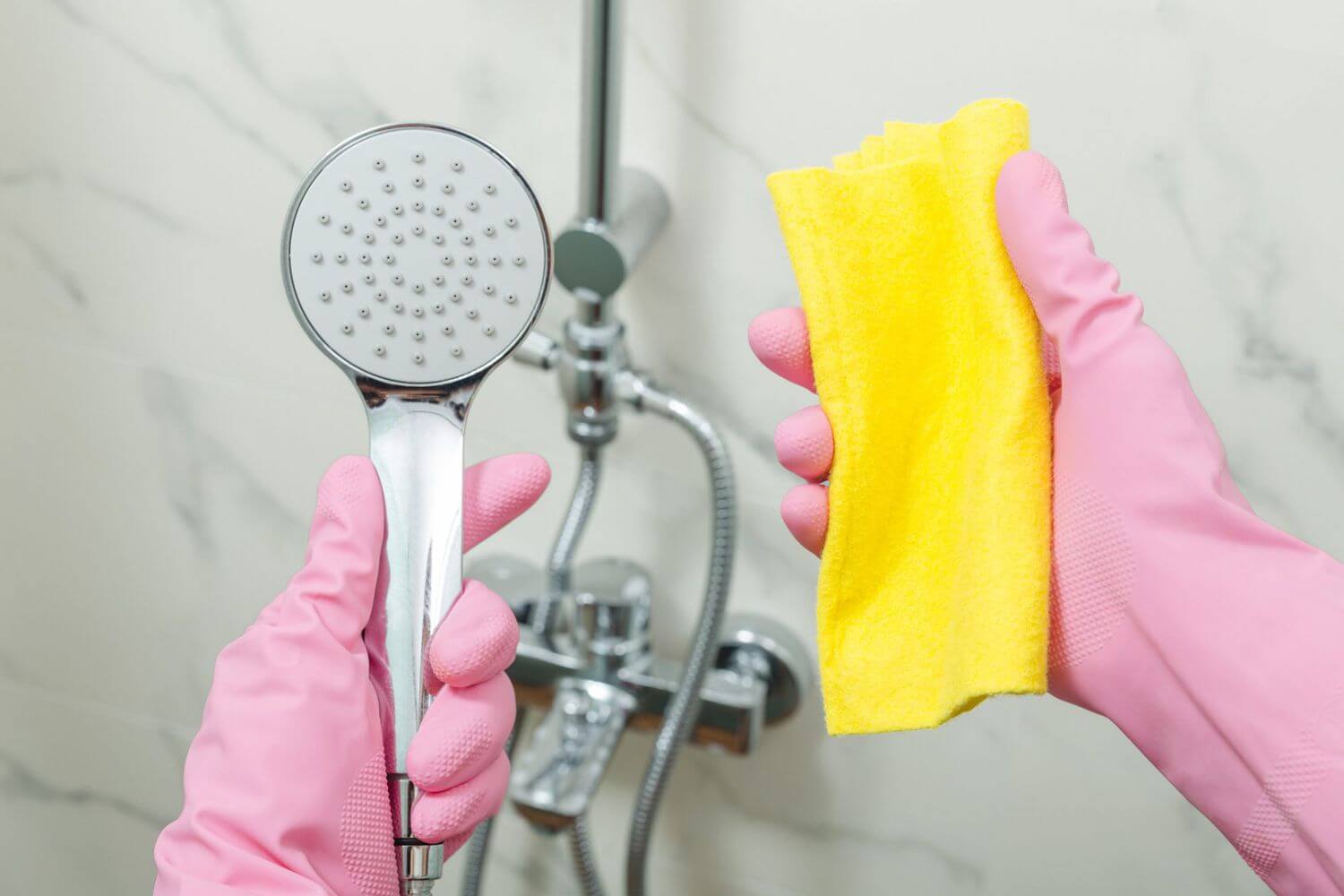 Make a mixture of white vinegar and baking soda and apply it directly to the shower doors. Set for an hour and wipe out with a microfiber cloth or wet cloth. After taking a shower, wipe away any moisture from all surfaces. You should also keep the window open for one hour each day to reduce the humidity in the space.
The Bathroom Ceiling, Fan, And Vent Need Our Attention
You need a stepladder to clean the bathroom ceiling. Unapproachable parts like corners in the ceilings have spider webs and micro-insects that may cause harm. Clean it with the help of a mop and use an all-purpose cleaner and spray it throughout the ceiling area and wipe it out after a few minutes.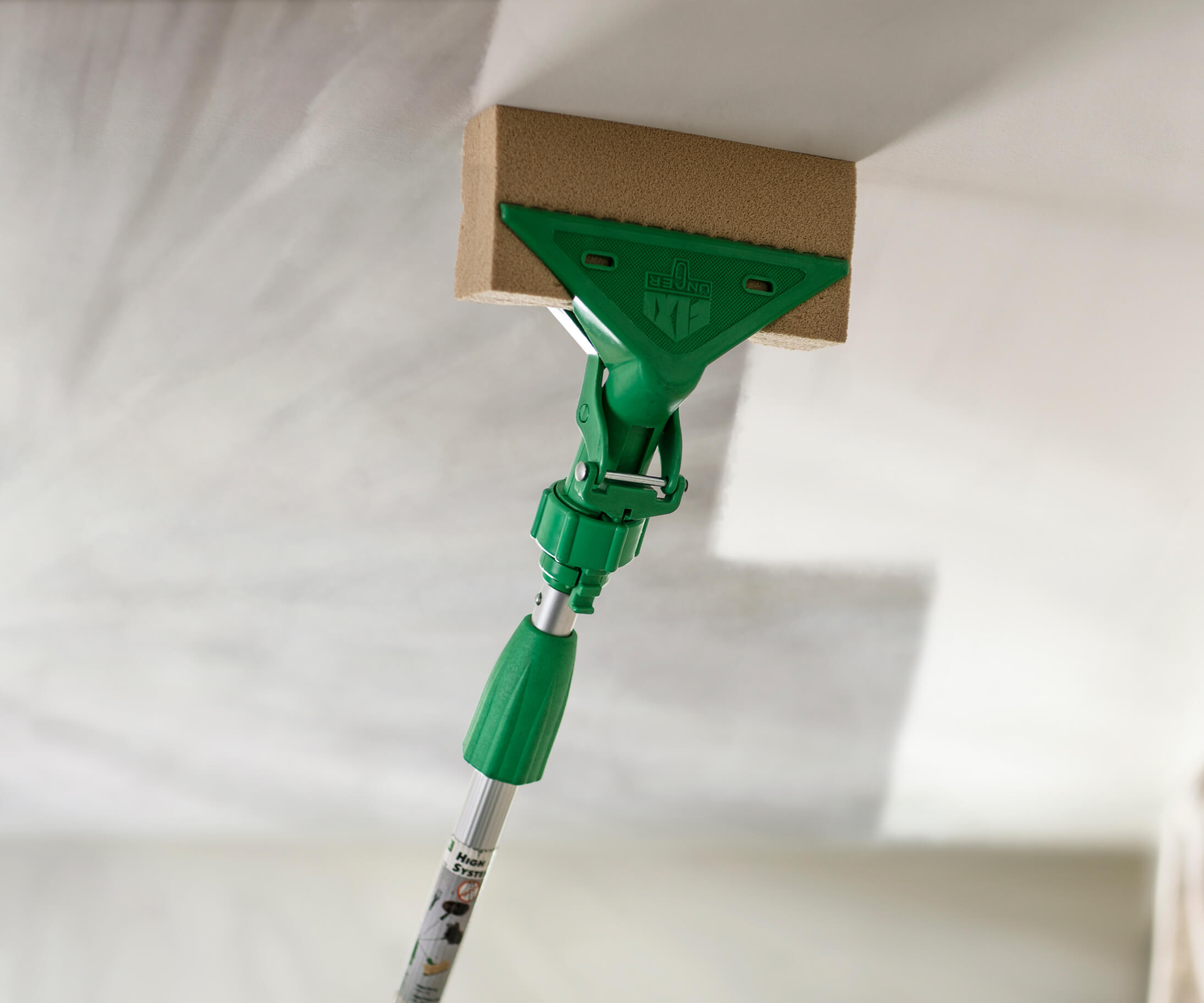 Remove the cover of the fan and soak it in the soap for some time. To remove debris from the fan blades, use the nozzle attachment on the vacuum, then clean with a moist cloth. Use a firm, clean paintbrush to remove dust from the motor and other crevices. Place the lid when it is completely dry.
Napkins, Towels, and Bathroom Cleaning Tools Should Not Be Neglected
Soak sponges and brushes in lukewarm water and white vinegar solution for half an hour. Squeeze them and dry them completely. For tools like a toilet brush and sink brush, you have to fill the canister with the same solution and dip the tools in it for half an hour. Repeat the same process for cleaning cloths and napkins.
Wash face towels daily and bath towels fortnightly. This will help you to maintain personal hygiene. Air dry or sun dry the towel every day. Don't forget to clean the towel rod daily.
Final Lookout
Maintaining hygiene requires routine bathroom cleaning. The bathroom has to be cleaned regularly in all areas. By using the techniques we have outlined above, make it a habit to clean the bathroom at least once a month. If you use the above-mentioned techniques, your bathroom will be spotless.