Apart from all that is going on in her personal life, the reality TV queen – Kim Kardashian is again getting a spotlight by sharing a series of pictures of her mansion on Tuesday, November 29, 2022. She shared some pictures of her 'minimal monastery' house that can instantly make you feel poor. We are not joking! The elements her house covers, the aesthetics, the artistic touch, and the overall atmosphere of the house is minimal yet elegant. Kim Kardashian's house is not only massive but also unique and is certainly one of a kind.
Kim Kardashian shared this home with her (Now, Ex.) husband Kanye West. This former couple is strict with respect to their home's monochromatic décor and neutral-colored scheme.
Kim Kardashian and Kanye West lived here with their four children North, Chicago, Saint, and Psalm. While Kanye West moved out of this place, the house still got its aesthetics. This home also created controversies among people as some called it "bland", "ridiculous", and "ordinary". But above all, Kim Kardashian's house is beyond amazing and we will tell you how! Let's go and tour this infamous house.
Kim Kardashian's house price, as per Kris Jenner's tweet in April 2018, is worth $60 million. Kim Kardashian purchased this house as a part of a divorce settlement from Kanye West and the price she paid for this was a whopping $23 million and now is the sole owner of the property. "I find that there is so much chaos out in the world that when I come home, I want it to be just really quiet and I want everything to feel calming," said Kim Kardashian in an interview.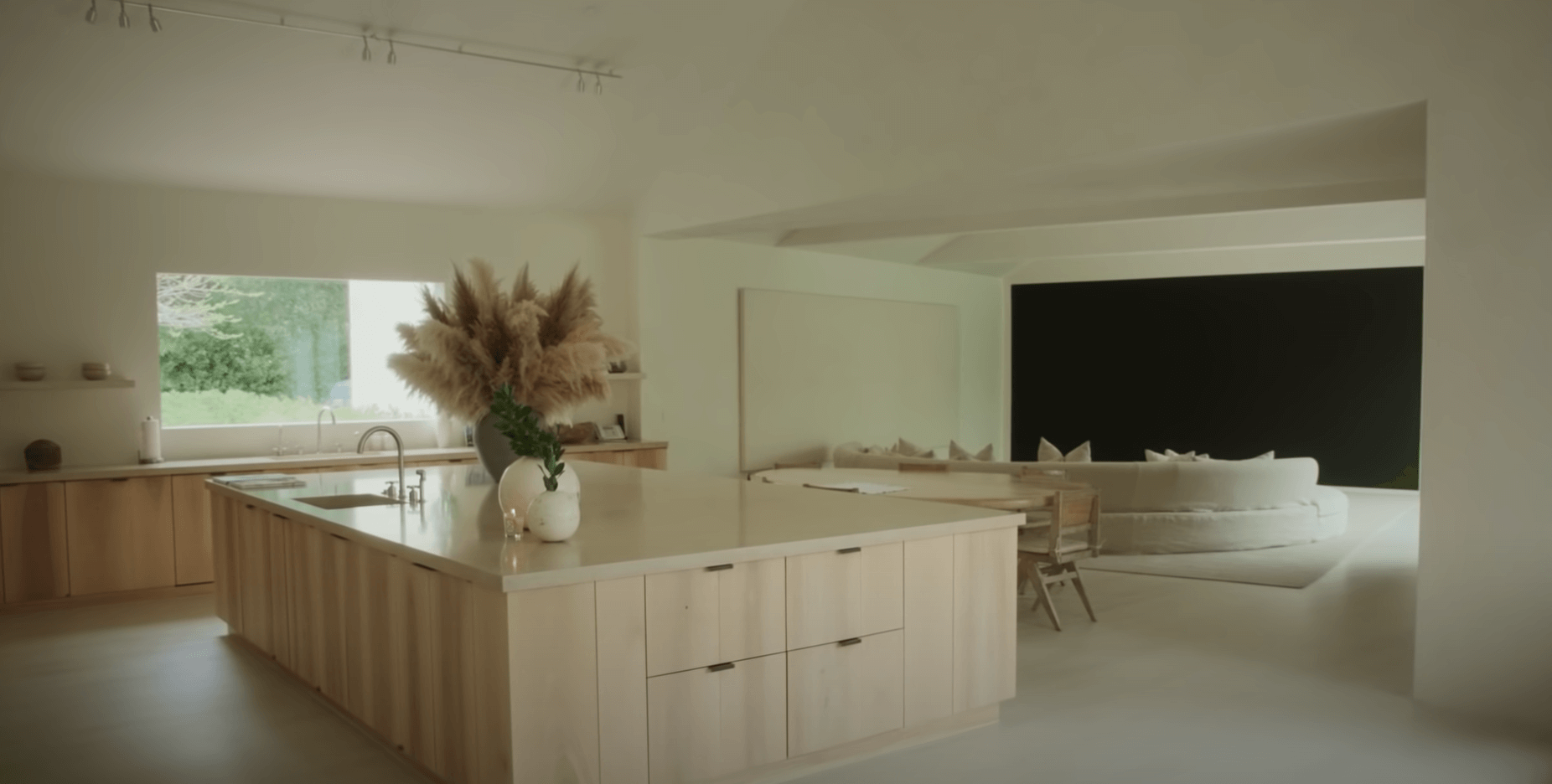 Kim Kardashian house interior is like the ones we have only seen in period homes and ones that have all the contemporary yet timeless features. In an interview given to vogue by Kim Kardashian, she gave a small tour of her mansion and showed some really interesting areas such as:
      North's paintings & Drawings
      Cozy Sitting room
      Children's Trunk
      Spacious Backyard
      Workout Room
      Basketball Court
      Wild Meadow
      Luxury Car Collection
Kim Kardashian also shared some pictures of her home and décor on Instagram. Some of those were of a mug, futuristic fireplace, bedroom, bathroom, some modern seating place, Albeit lights, some aesthetic piece of art, and many more. She captioned it "Things at home that make me happy". Cool. Some fascinating features of this mansion include clean living, a private sitting room, an immaculate kitchen, minimal dining space, and an uncluttered hallway.
What surprises us is that Kim managed to keep the house clean and sleek despite having four kids and that is something really difficult. Though, this mansion includes a playroom that has all the elements to keep them engaged and provide them with the ultimate childhood experience. She got every bedroom custom-made for her children where one is pink, one is purple, one is blue, and one is all about dinosaurs.
She also gave a tour of the private sitting area of her room. Kim just sits there and spends some quality time while having tea and writing letters to her kids. Letters in this digital era, Sounds fascinating! She also shared scrapbooks and some other items of every kid preserved here.
Each and every piece of the home matches the color scheme reflecting the muted tone of the décor. Kim got one of the most calming kitchens featuring light wood cabinetry and white marble countertops. Kim also shared a picture of a mug and saucer that complements the marble countertop.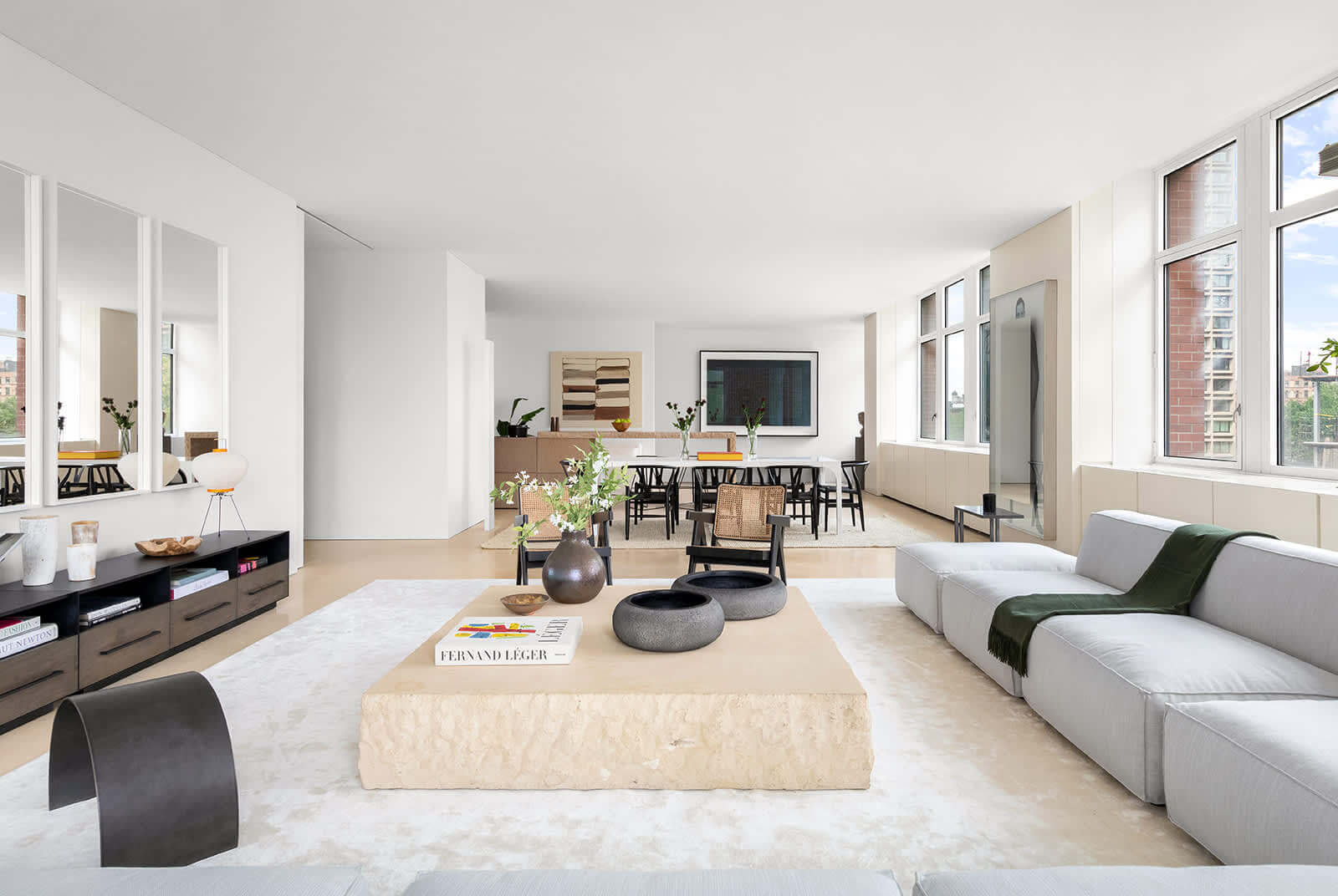 This open-plan kitchen takes you straight to the sitting area. This monochromatic smart seating strictly prohibits any color. This place has beige artwork and a white curved couch and that's it! No colors or no other elements here.
What caught our eye is this serene and simple dimly lit bedroom with a massive (of course, duh!) bed that rests on a stone platform. This place has minimal lighting and two ventilation spots with nothing else to see. Kim Kardashian's house is where she hosts parties and thus she spent millions of dollars to make it look picture-perfect at all times. Also, what is the point of spending millions if you can't show off on THE GRAM?
Kim shared many sitting areas but the one with large floor-to-ceiling windows, and two curved couches with a piano looks quiet and serene. It is full of light and is airy making it perfect for spending a day just relaxing. She also showed off her neutral hallway with simple seating that expands all the way for her to just stroll around.
Kim is so particular about matching everything with the décor that she got all her vehicles – a Lamborghini, a Rolls-Royce, and a Maybach painted grey. Her exclusive collection of fancy cars is her most prized possession- which she mentioned in the interview.
Kim's spacious backyard is a perfect place to witness calming sunset as the yard is well maintained and has all the colors with beautiful flora and fauna. Kim said, "It's the most amazing place for the kids to hang out" (And why not?).  This place also has a basketball court and a workout area with a great view. She and her sisters often use this gym to work out together – she mentioned.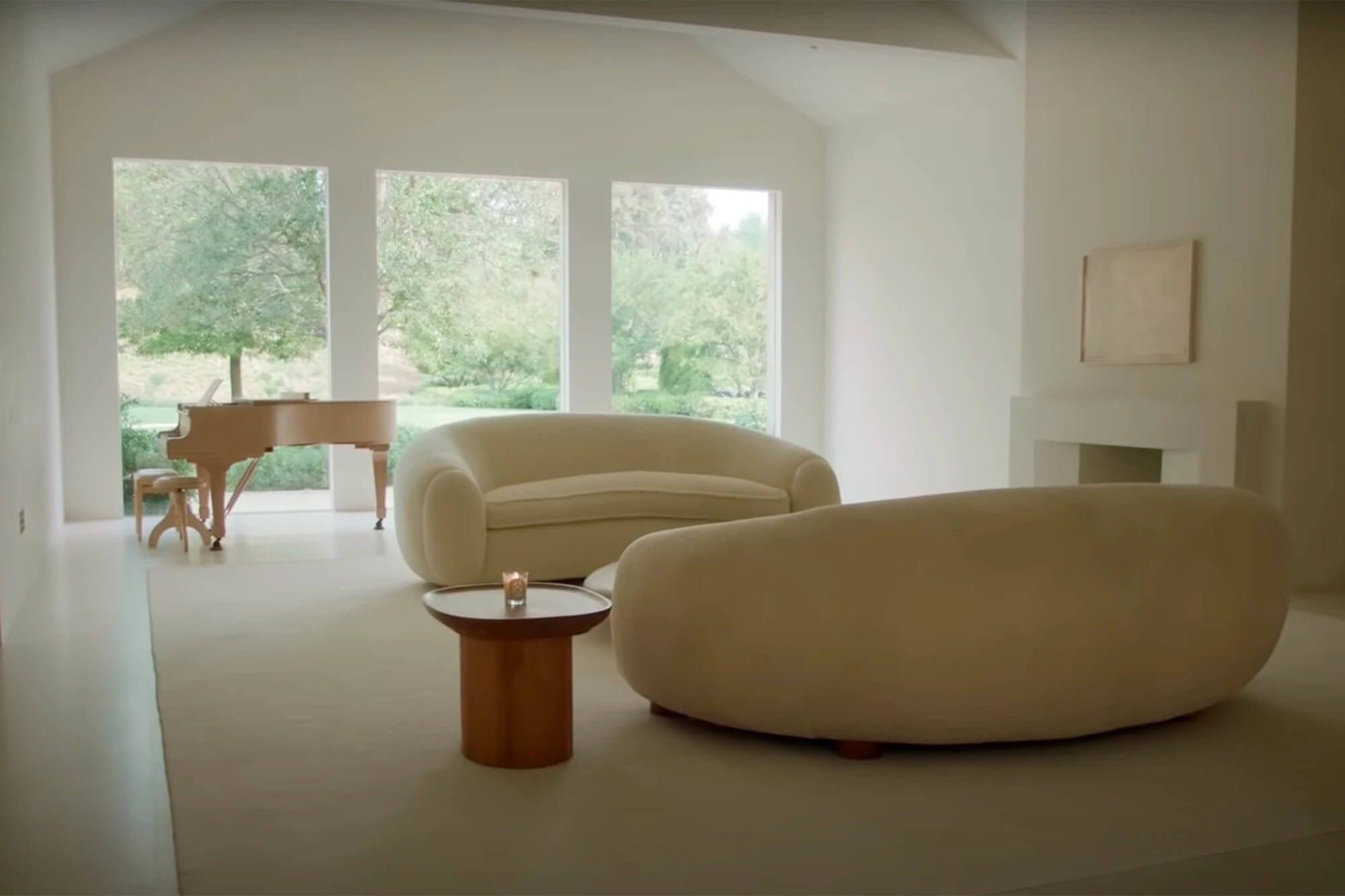 The place is far from all the glitter, glitz, and clichés and only focuses on creating a place that is pure and serene. Although the place is simple it has some really expensive additions. Let us give a list of these mind blowing features.
Jean Royère armchair, coffee table by Axel Vervoordt
Chairs by Pierre Jeanneret
Sofa by Jean Royères
Ceramic vases by Shiro Tsujimura
Table by Axel Vervoord
Sculptures by Vanessa Beecroft; Lamp by Serge Mouille
A comfy piece by Isabel Rower
While some called out Kim Kardashian on social media as they found this home very scary, cold looking, haunting, and depressing, some think this place is unique, modern, and calming. Well, this debate is not going to end anytime soon but we can surely say that we saw some distinguishing features with Kim going all experimenting with this mansion. What are your thoughts on this?